Each season brings changes to our lives–some good, some…not so good. How have you been dealing with summer this year? It's been hotter than I remember. How about you? Have you been searching for window solutions to escape the heat? What about the longer days? In the midst of winter, longer days seemed like a refreshing idea, but now? All I keep thinking is, "When are these kids ever going to go to bed?" And then there's the flip side. Did you find some DIY window solutions that you tried? How's that going? Could your latest project be featured on Pinterest Fails? It's time for window solutions that you can trust. I sat down with the designers of Skyline Window Coverings to talk real life window solutions that will solve the summertime woes.
Blackout Solutions
"Stop the vicious cycle of early wakeups and late bedtimes…"
The memories of the summers of my childhood were filled with long days at the pool and late nights of catching lightning bugs. What I don't remember was waking up at the crack of dawn, being crabby most of the day and falling asleep much later than I should have. You know who does remember? My parents. It's very clear that parents are addicted to coffee because of the brutal schedules children bring. Stop the vicious cycle of early wake ups and late bedtimes with blackout window solutions for the bedrooms in your home!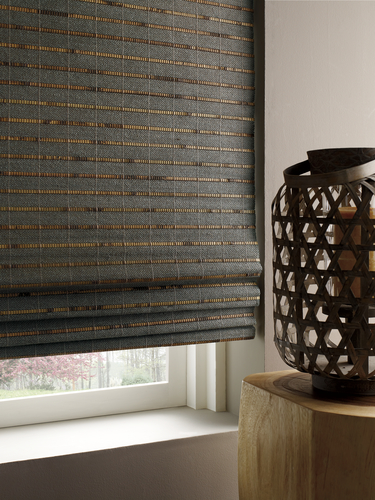 You can choose shades and blinds that have either room darkening or blackout qualities, depending on your unique situation. The latest innovation even includes dual shades–one sheer, one blackout–that give you the best of both worlds, depending on the time of day.
Energy Efficient Solutions
"No matter what Mother Nature throws at you…"
It's hot, right? The weather can wreak havoc on your summertime plans, and during the day it's been unbearably hot this summer. That means your AC has been running since the start of summer..all day long. We also see such a range in weather conditions over the course of the year. Do you find yourself sacrificing comfort for cost savings? Living in an area that's prone to dramatic shifts in temperature, you need window solutions that make sense year round. Energy efficiency. It helps your comfort, and it helps your bank account. That's where energy efficient shades come in.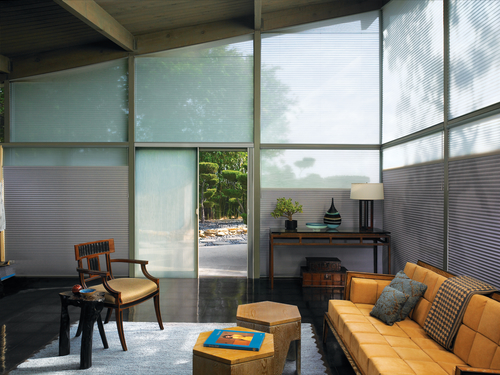 The collection of Duette Honeycomb Shades bring insulation to your home. No matter what Mother Nature throws at you, these shades will maintain comfortable temperatures when you need them most.
Privacy & Light Solutions
"Enjoy the summer both inside and out…"
I'm embarrassed to admit that one of my favorite things to do during the summer is NOT go outside. Don't get me wrong–I love the sunshine, the big puffy clouds, the easy walk to get the mail. But actually being outdoors for extended periods of time? There's bugs and dirt and sunscreen. Being the mom of two boys, I definitely get my fair share of outdoor time. That's why, if I'm being completely honest, I love relaxing in my house, simply enjoying the light that comes in my home from the gorgeous day outside. It doesn't come without its own issues, though. If I'm trying to relax in the glow of the summer sun, my neighbors can see in. And then it's hot in my house. If I close myself off, I kind of feel like I'm existing in a cave. No sun, bad mood–feels like winter.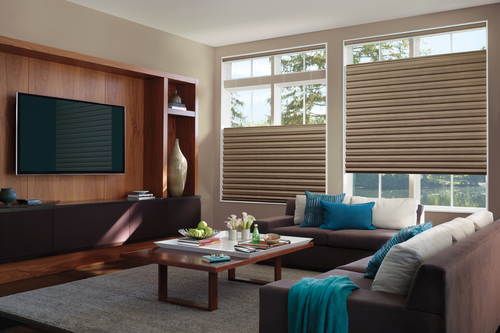 If you're searching for window solutions that let you enjoy the summer both inside and out, I'm convinced the best thing that's been invented is top down bottom up shades. Let the sunshine in–not too much–but still get the right amount of privacy. Protect your home from the heat, putting your shades exactly where you need them to be.
Motorized Window Solutions
"Will you have time to manage it all?"
Life's busy. Everyone is just running around with a never ending to do list. If you find window solutions that give you summertime relief, will you have time to manage it all? Shades that are open all the time–that's not solving anything. And no one wants shades that are closed all the time. Remember: Cave, bad mood, winter? How about hiring a personal assistant to take care of all of life's odds and ends? Out of your budget? Yeah, mine too. Let's take a look at the incredible technology of motorized shades. It's no longer just up and down with the push of a button–which honestly, was pretty cool. But now?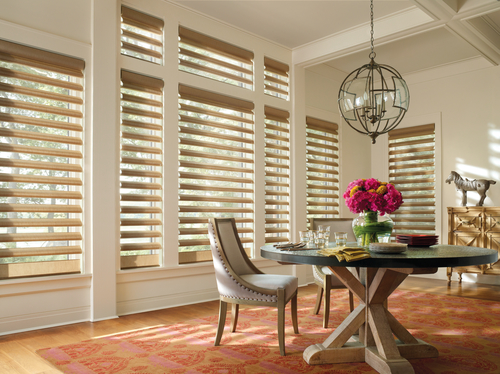 You can control your shades from your phone, your tablet–even your voice. You can see who left the shades open on the hottest day of the year, from anywhere in the world. And then, with one easy tap, your shades adjust to exactly where you want them. Yes, you read that right. You can use the PowerView Automation app to close your shades during the hottest part of the day even if you're not at home. Schedule, save your favorite settings and make the necessary adjustments. And it's better than ever. Connect your motorized shades with your home integration system for the ultimate home automation. It's all that control in the palm of your hand.
Are you searching for window solutions that will let you enjoy summertime in your own unique way? Do you need relief from the heat? Or a barrier in place from your neighbors passing by? These window solutions will lead the way to a more comfortable, relaxing, refreshing summer for you and your family. Looking for advice for your home? Skyline Window Coverings will come to you for a free, in-home consultation. Get started today!