A good night's sleep is one of the most important aspects of a healthy lifestyle. It affects your mood, productivity and overall health. What can you do when those frustrating street lights outside your window are keeping you up? Or worse, those cars driving by in the middle of the night that light up your room like a lightning storm! Blackout shades could be the solution you've been looking for! Let us show you how our collection can be the answer to ensuring that you get the best night's sleep possible!
Designer Sleep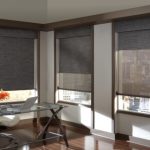 Our collection of designer roller shades and screen shades are great for any size window opening–even very large and floor to ceiling windows. They are available in a variety of fabrics in both solid colors or contemporary prints. You can roll these shades up in the daytime, and they all but disappear behind their header, giving you an abundance of natural light and an unlimited panoramic view. When it's time for bed (or a mid-day nap!) simply close the shades to block out all light. You'll instantly transform your room into a warm, comforting sanctuary for sleep and relaxation! Choose a dual roller system for maximum view-through with sheer or semi-sheer screen shades with a blackout shade behind for maximum view-through during the day and blackout bliss at night! 
Woven Dreams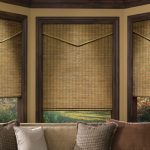 Our collection of Provenance Woven Wood shades are ideal for blackout, as well as offering a bold transformation to any room. Made from hand-woven grasses, woods and other natural materials, these designer shades have an interior lining that functions perfectly as a blackout shade and increased energy efficiency. These shades are perfect for any size window openings and are customizable to fit specialty shape window openings as well. Functioning similarly to our roller shades, these beautiful blackout shades bring a bold, yet stunning ambiance to any room.
Pirouette Your Way To Sleep!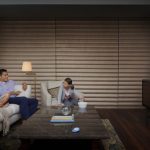 Our Pirouette collection is by far one of our most popular choices when it comes to window treatments. These beautiful shades are a cross between roman shades and shutters–and more stunning than both! While the vanes are open, you get that clean, crisp look of shutters. When closed, they not only transform into blackout shades, but do so in soft, layered fabrics. The sheer fabric backing softens incoming natural light when the vanes are open–diffusing harsh glare to give you the ultimate in light and temperature control. Speaking of sheer shadings, our collections of Silhouette shades and Nantucket shades also offer blackout options by adding a second blackout shade to use when you need it.  It's a great way to get the best of both worlds! The soft glow of diffused natural day lighting combined with blackout for movie night, naps or bed time. Who could ask for more?!
Blackout Shades – Sweet Dreams!
With the many options we have available to make your blackout dreams come true, our design experts are standing by with just the inspiration you've been looking for! Contact us today to set up your free, in-home consultation. We can't wait to get you started on a lifetime of comforting nights and sweet dreams!