If you're lucky enough to have ample natural light in your home, you know that it can be a challenge, as well as an asset. Harsh glare, harmful UV rays, and overheated hot spots can make a room so unappealing that you avoid it altogether at certain times of the day! However, if you have the right tools to control your natural light, you can have a whole new experience! Hunter Douglas sheer window treatments are designed to give you all the benefits of natural light–without annoying side effects–while adding an air of soft elegance with all the luxurious fabric choices.
Get Rid of Glare. Get Comfortable.
When harsh glare keeps you from enjoying your space, it can be a real problem. You probably don't want to get rid of all of your sunshine or lose your view! With sheer window treatments–like beautiful Silhouette shades–you won't have to choose!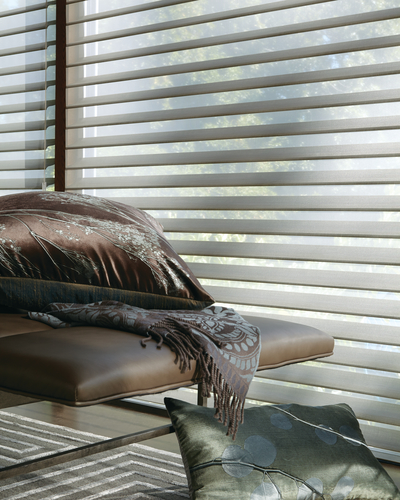 Designed with two layers of sheer fabric to diffuse light and stop harsh glare, and rotating S-vanes that allow you to direct the light where you want it, these sheer shadings give you the best in natural light control! With maximum view-through from the inside, you'll be able to enjoy your scenery and relax in an inviting glow. And evenly dispersed sunlight will help regulate the temperature in your home, getting rid of those annoying hot spots!
Protect Your Valuables and Your Privacy.
When you've gone too long without managing the direct sunlight in your home, it can really take a toll on your whole home! Harsh UV rays will damage furniture and decor, dull the paint on your walls, and in time, even damage your flooring!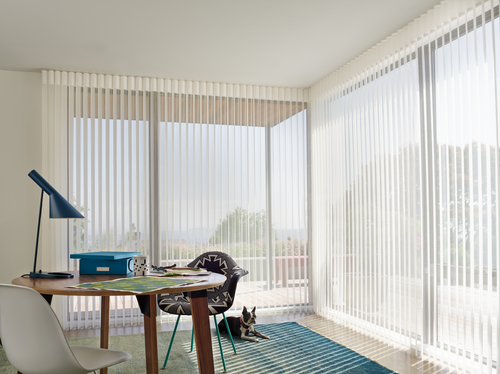 Sheer window treatments act like a layer of sunscreen for your valuables. They can block upwards of 90% or more of damaging UV rays. Stop allowing them to bombard your home every day! Styles like the chic Luminette Privacy Sheers protect your possessions and help keep your home looking its best for years to come! And that's not all sheer window treatments protect. They're also great for managing privacy! With fabric options that range from ultra sheer to opaque–and even blackout–you can find the perfect choice for your lifestyle and needs!   
Upgrade With Modern Control.
Hunter Douglas sheer window treatments are a fantastic way to take control of your natural light, and with the addition of the PowerView Automation system, operating your new shades is a whole new experience! Imagine adjusting your shades from across the room with the stylish Pebble remote, or from across town with the app on your favorite device!
You can even take advantage of the amazing scheduling feature. Set your shades to adjust automatically according to your customized schedule. They're always right where you need them to be! PowerView Automation gives you truly effortless control. Pair it with other home automation systems for an integrated smart home lifestyle!
Transform With Sheer Window Treatments.
If you're ready to take control of your natural light, don't wait. Add function plus modern style to upgrade your look. Our team can help you schedule a free, at-home consultation, and we'll bring all this stunning style right to your door, so you can view everything in your own home. Contact us today, and find out just how much sheer window treatments can add to your home!