Summer is in full swing–and while we love the sunshine and blue skies, the intense heat can be frustrating. We have some questions you may want to ask yourself as you find ways to save your home from the summer heat. With the right window shades for your home, you will find relief this summer–and save money while you're at it!
Which direction do your windows face?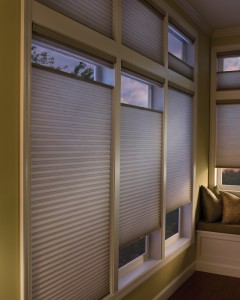 You know the expression: "Location, location, location." But do you realize the direction your windows face is incredibly important when choosing the right window shades? Those windows that face East and West need window covering solutions for direct sunlight and intense heat around the clock. North and South facing? You will benefit from options that allow you to bring in natural light for a glowing atmosphere. Read more about your window locations choices, with favorite options like top down bottom up window shades that bring in the light while providing valuable energy efficiency and privacy. The right window shades will allow you to enjoy ambient lighting as you save your home from the summer heat.
Would you benefit from effortless function?

We already know the answer: Of course you would! Who doesn't want window shades that function on their own, or with the gentle push of a button on your favorite device? PowerView automation, the latest innovation from Hunter Douglas, allows you to create scenes around your home for the perfect use of light, atmosphere, privacy and energy efficiency. After quickly creating a schedule in the PowerView App, Voila! Your home will feature the amazing benefits of window shades for light control, privacy and energy efficiency to help you save your home from the summer heat. The best part? With the PowerView App, you can control your window shades from anywhere in the world. And now–use your home integration system, like Logitech Harmony or The Nest, to control your shades for effortless control.
Is your air conditioner running around the clock?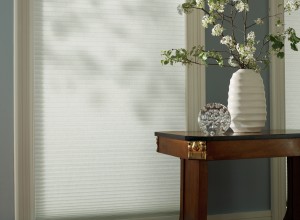 Chances are, if you don't have window covering solutions–or the right ones for your home–the answer is yes. That can get expensive. Even worse, you may not be living in a comfortable temperature because you are trying not to have the air on continually. There are window covering solutions that provide energy efficiency to save your home from the summer heat. With the highest ratings of energy efficiency in the industry, Duette shades provide insulation at the window. And that's important no matter the season. Not only will it provide protection against the intense heat of summer, but your home will be a comfortable, consistent temperature year round, regardless of the weather outside.
Enjoy your summer with window covering solutions that not only save your home from the summer heat, but provide you with light control, privacy, UV protection and incredible style. Make the most of your home with window shades, customized to your home and your lifestyle. Contact our team, at Skyline Window Coverings, for a free, in-home consultation.