How has the light been affecting you lately? Do your windows allow you to utilize the natural light in ways that improve the look and feel of your home–and your mood? Or do you find yourself frustrated, overheated and uncomfortable on a regular basis? It's time you experienced the life-changing transformation that window shades can bring to your home. Until you see dramatic results, you may not be convinced. Take a look at what before and after window coverings can do for this home, and then reach out to us for light control solutions–you'll wonder how you ever lived without them!
Does this look familiar?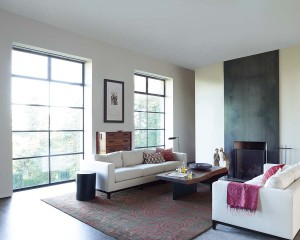 Ahhhh…the beauty of your landscape, the refreshing glimmer of natural light just beyond your windows. There's nothing quite like it. No one actually wants to complain about outside light and the view, but take a look at this scene. The harsh glare of sunlight makes it difficult to do anything without squinting. The colors throughout the room have a hazy, dull look about them. Floor to ceiling windows–as so many of us have–are intended to present a beautiful view. The blinding light filling the room makes the view impossible to enjoy. And don't even get us started on the temperature. The exterior wall is made up almost entirely of windows. Can you imagine what this feels like in the heat of summer, or even in the frigid temps of winter? This 'before' photograph of our before and after window coverings experience shows us just how much our homes can be affected by the light.
Does your home need a transformation?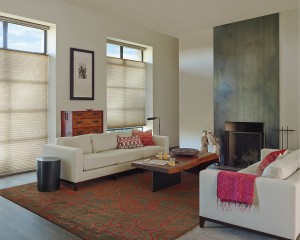 Improving the look, feel and style of this home, these Duette shades have saved the day. Comfortable, inviting, with an air of designer style, the 'after' of these before and after window coverings photographs show us the potential that is possible in this home – and also in yours. Do you notice how the glaring sunlight has disappeared, replaced by the valuable daylighting of top down bottom up window shades? You can enjoy this view at your leisure, when the sunlight has decreased slightly for the ideal atmosphere. PowerView automation makes taking in the view a breeze, as you select scenes customized to your preferences – at the touch of a button on your favorite device. And the colors? The room is filled with the vibrant glow of design elements, each one chosen by you, but protected from harmful UV rays that enter through the windows. And finally, consider how much more comfortable and consistent the temperature is. This home, as well as your own, will benefit greatly from the insulation of energy efficient window shades–no matter the time of day or season of the year.
Is it time for a change?
You bet it is! You deserve it all the benefits of window coverings in your home. Get energy efficiency for comfortable consistency. Enjoy pleasant light to improve the overall look and feel of your home. Feel relaxed with protection from glaring light and prying eyes. The life changing features–like the innovation of PowerView or the customizable light control of top down bottom up, will far exceed your lifestyle expectations. Contact our team, at Skyline Window Coverings, for a free, in-home consultation today!