In today's world, integrated technologies play an important role in our lives. We've experienced their time saving benefits in our work lives, in our entertainment, and now these technological advancements are even found in our homes. Smart homes use technology to connect us to–and help us control–our living environments. The Hunter Douglas PowerView system of motorized shades does just that! With modern function, efficiency, and effortless control of even the most difficult to reach windows, motorized shades can change the way you live in your home, and provide the contemporary lifestyle upgrade you deserve! Once you've experienced this truly innovative window treatment solution, you'll wonder how you ever got along without it!
No Hassle Controls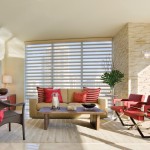 PowerView motorized shades are packed with options to make your life easier. Start controlling all your window coverings with the touch of a button on the stylish PowerView Pebble remote, or download the app on your favorite device. Now you can have instant control over your privacy and natural light. There's no need to worry about large or hard-to-reach windows, and PowerView motorization is the perfect compliment to top down bottom up shades. You'll be able to control your natural light like never before, and create ambience in an instant. Get the privacy you need, right when you need it! Motorized shades help you harness the functionality of your window treatments and unlock their potential so you can enjoy more of the time you spend at home.
Innovative Automation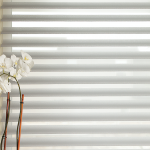 Not only can you control your motorized shades from across the room, or across the world with your phone or tablet, but you can also take advantage of the brilliant scheduling settings! This function brings a whole new level of efficiency to window treatments by allowing you to teach your motorized shades to anticipate your needs. Programming your daily routine is simple, and once you do, your shades will automatically adjust to eliminate harsh glare and give you the privacy and protection you need without a second thought! Imagine waking up to the perfect amount of sunlight every morning, and watching as your motorized shades automatically adjust themselves to give you privacy when you're ready to prepare for the day. Even when you're not around, your PowerView shades will remember to adjust at the right time of day to eliminate overheating in your home, and save your furniture and valuables from damaging UV rays.
Uniting Style and Whole Home Control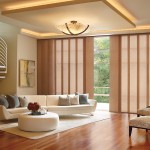 The Hunter Douglas PowerView system is offered with almost all of their beautiful window treatment options and shade styles. You're sure to find the perfect look to compliment your style and aesthetic preferences, so your home will look as good as you'll feel when you finally experience the contemporary lifestyle upgrade of motorized shades. And now, Hunter Douglas has partnered with almost all of the top companies, like Logitech Harmony, to bring you whole home control. If you're looking for an innovative home automation solution that can handle all your  smart home controls, check out the Logitech Harmony. If you already have a smart home device or system you love, visit our PowerView page to see if it's compatible!
Motorized shades are the future of window coverings, offering contemporary solutions for our often hectic modern lives. If you're ready to see the improvement PowerView motorized shades can make for your home and lifestyle, give us a call! Our Skyline Window Coverings team will help you schedule a free at home consultation. You'll be able to see PowerView options in the comfort of your own home, and find out how easy it is to be on your way to loving the benefits of motorized shades everyday!