Have you been googling Custom Window Treatments hoping to find design ideas to enhance your home decor? It can get frustrating with all of the information available on the web today. So many companies and products to choose from. Well, your search is over with Skyline Window Coverings–let our design professionals give you the inspiration you've been looking for! With top of the line custom window treatments and personalized, professional guidance, you simply can't go wrong! Shown below are the categories of the Hunter Douglas products we carry. Take the time to review our website for a full list of products, solutions and design ideas!
Custom Window Treatments: Window Shades
Create the perfect atmosphere in your home with window shades. Our window shades offer personalized designs–from classic to contemporary–to meet even the most unique tastes. We have shades to meet your individual needs–energy efficiency, child/pet safety, blackout options, large window coverage–all in a variety of operating features to not just upgrade your decor, but your lifestyle!
Whether you prefer the simplicity and sleekness of roller shades, the robust look of woven wood shades, the unique patterns of designer shades, or the soft elegance of roman shades, we have everything you need in a multitude of fabrics, colors and designs.
Custom Window Treatments: Window Blinds
If you prefer window blinds, we have a large variety available in both vertical and horizontal designs. Whether you need horizontal blinds for windows, or vertical blinds for your sliding glass doors and large windows, our window blinds will complement your home's decor.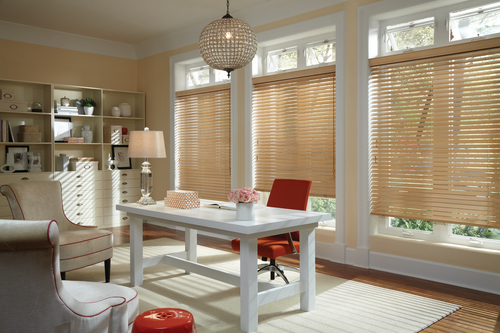 Our horizontal blinds are available in synthetic material, wood or metal. In a variety of colors and stains, they'll suit your individual tastes and compliment your home decor. Our vertical style blinds are available in various materials. From soft, voluptuous fabrics or clean, stylish vinyl, you'll add elegance and style to your home. Vertical blinds and shades, like Skyline Gliding Panels offer a contemporary appeal. These can even be used for room dividers in small spaces.
Custom Window Treatments: Plantation Shutters
The timeless elegance of plantation shutters offers your home unparalleled style with incredible view-through and light control. These custom window treatments are the very essence of classic beauty and tradition and are sure to bring sophistication and charm to any space.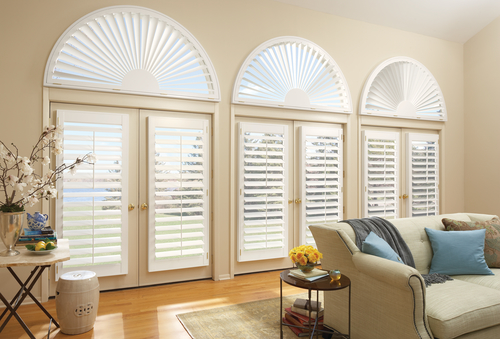 We offer shutters in three distinct designs:
NewStyle Composite Shutters are made from high-quality hybrid materials for a more budget-friendly approach.
Heritance Hardwood Shutters offer the timeless tradition of hardwood. They're customizable in six artisanal techniques–from distressing to glazing. They'll give your home the beauty of a truly custom look.
Palm Beach Vinyl Shutters are coated with an exclusive Polysatin finish. This finish allows them to exist well in areas of high humidity and moisture, like bathrooms. (Available as motorized shutters and voice controlled shutters.)
Pirouette Soft Shutters are an additional option if you love the look of shutters, but want the softness of fabric. Fabric vanes are suspended between two sheers. These window treatments provide amazing levels of light control and unique functionality.
Regardless of the exact style of custom window treatments you are looking for, our experienced design team at Skyline Window Coverings will let you leave Google behind! Contact us today for a personalized, free in-home consultation to get you started on the way to the design of your dreams!