Morning comes and your family is fast asleep. Everybody wakes up peacefully as sunshine fills their bedrooms. Then, you walk downstairs to the morning sun peeking through your windows, creating the perfect ambiance for a family breakfast. Sounds like a dream, right? Motorization of blinds and shades is bringing incredible benefits and control into homes. Make everyday feel like a dream and simplify your daily life.
Solutions for Every Room
The right window treatments will help to personalize your home's environment. With motorization, you get instant control, so you can change the ambiance at the touch of a button. Are there certain rooms in your home that could use more control? Bedrooms are a great example. You need light to get ready in the morning, but privacy and room-darkening at night. Top down bottom up shades let you guide light across the ceiling while protecting your privacy. Using motorization, you can set a schedule so your shades automatically adjust when you start and end your day. Motorized shades are also great for living rooms. Save a "scene" for movie night and watch as your space transforms into a theater. There are so many benefits of motorization for every room in your home!
Our Clients' Favorite Motorization Features
We certainly love PowerView motorization, and so do our clients. Take a look at how life changing it can be.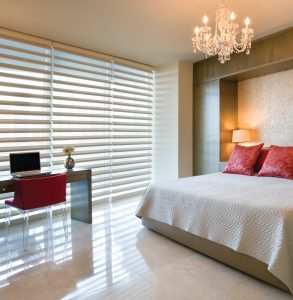 "It's one less thing to worry about when we're out the door! Our shades and blinds adjust on their own, which means our house is left in privacy."
"The room-darkening shades have benefited my kids' sleep so much. Plus, they can close their shades without actually touching them."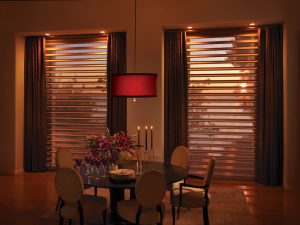 "Having a remote right by our light switch is one of our favorite features. It's in the perfect place to control our view at the touch of a button."
"I'm able to adjust our blinds, even if I forget to while at home. I can lower or raise them from anywhere."
"The 'scenes' have created balance and ambiance in our home! We love being able to personalize every room."
Get the Control You Deserve with Motorization
Do you want the convenience and control, amazing ambiance, and incredible benefits of motorization? We think you deserve it. We'd love to show you what PowerView motorization can do for your space! Contact our team at Skyline Window Coverings for a free, in-home consultation.