We love changing lives–and making the world a better place–especially when the two come together in the form of one innovation! The rechargeable battery wand for motorized shades has finally arrived. And…YES…this will fit your existing Hunter Douglas smart shades!
Get the Details
We know you'll have questions–mostly because we had so many questions when we heard the news. Let's get to the details:
The wand is small: 13 x 1.25 x 1 inches
It can be hidden in the headrail, or mounted alongside
Charging is necessary after 500 adjustments (or after one year of typical use)
Automated shades do not need removal for charging
Wand can plug into the battery plug for existing motorized shades
The charging time is between 2-3 hours
See status of battery charge with the PowerView® App
Visit a Chicago Area Home
One of our Chicago area clients recently experienced this new innovation. We are so excited to show off the results of using this rechargeable battery wand. First of all, the space is gorgeous. Here is the look after the shades were installed in this open floor plan living space.

Simple. Beautiful. These roller shades will provide a wide range of light control and privacy. The dual shades feature allows adjustments for the ideal atmosphere over the course of the day. What's the best part?
They're Motorized!
That's right–not only will the dual roller shades create the right environment, based on circumstances, but the adjustments happen at the push of a button, or even with voice activation. Automated shades are capable of integrating with almost any smart home system on the market. That means, from the day of install, you'll be able to enjoy an incredible amount of benefits.
How About Those Batteries?!?
We know what you really want to know–where does the rechargeable battery wand go? In this case, it's hidden, up inside the headrail. Because these are dual shades that operate independently, there are two rechargeable batteries to motorize the shades. But, that doesn't mean they have to be obvious.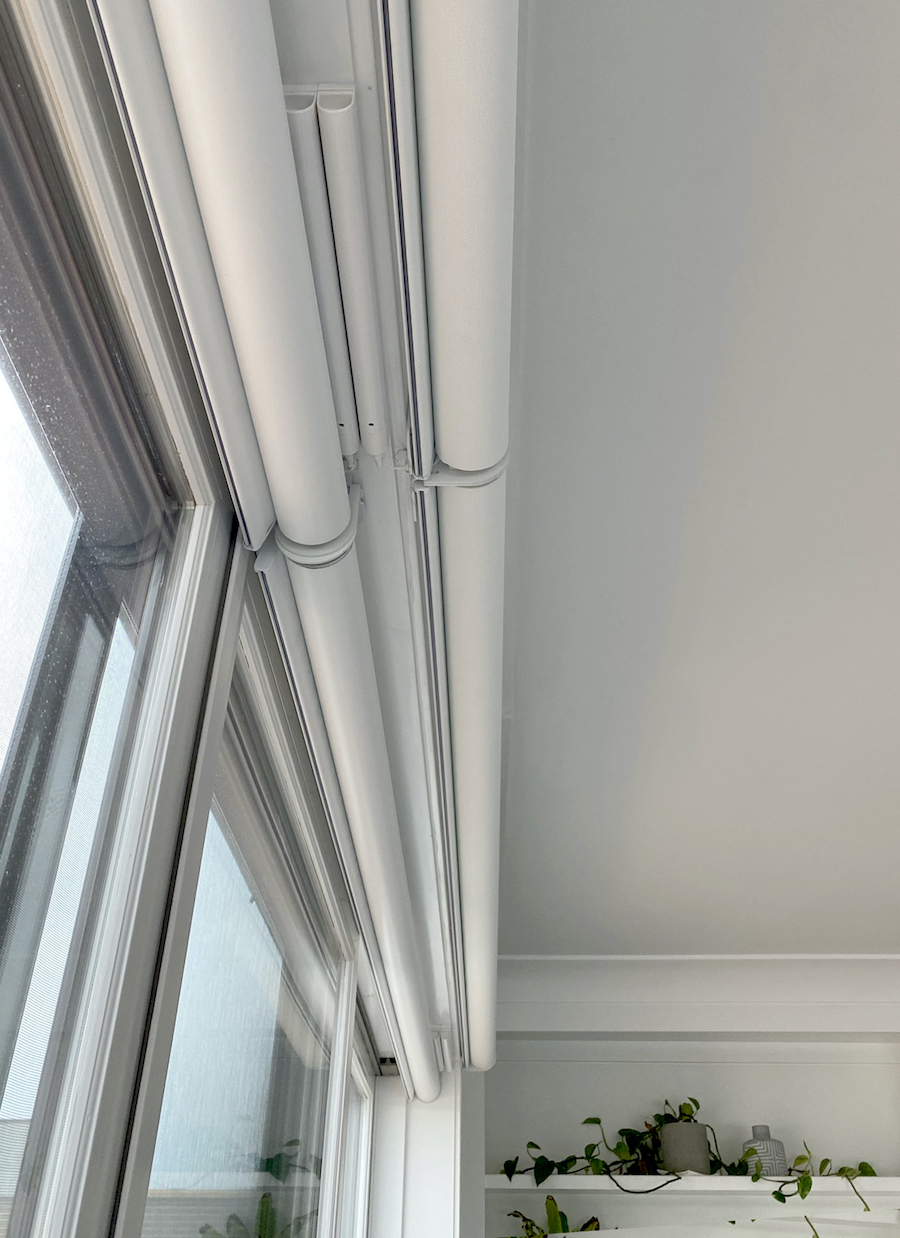 This is an ideal set-up for this open floor plan living space. Easily accessed, the battery wands can be taken down once a year (approximately) and charged for 2-3 hours. Easy peasy.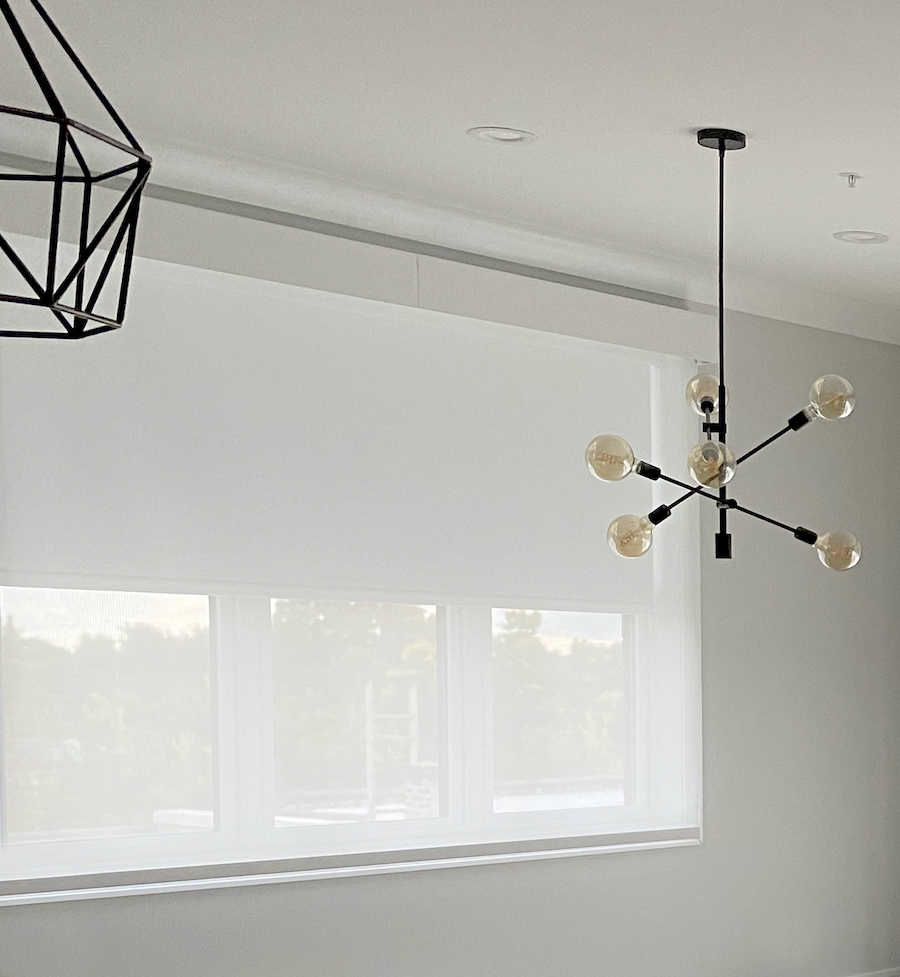 Being near the window, one concern for families can be overheating. But, with this battery wand, it will automatically shut off when it gets too warm. Eco-friendly and safe.
And, the Charger?
You've got two choices when it comes to the charging station. There is a single and a double. Depending on how many motorized shade batteries you'll need to recharge, you can make the decision on which one you'd like.

This example shows just how sleek, simple and small this system is. But, what a huge effect this has on all of our lives! No more searching for batteries, running to the store, or forgetting to swap the batteries…running the risk of interrupting scheduled adjustments of your automated shades.
What About Hard-to-Reach Windows?
Motorized shades offer many benefits–one of the biggest is convenience. Another? Automation makes it possible to adjust window shades that are far out of reach. Perfect…but, what about swapping out the batteries? One option is to mount the batteries in a satellite position, near the window, but easily accessible for changing batteries when necessary.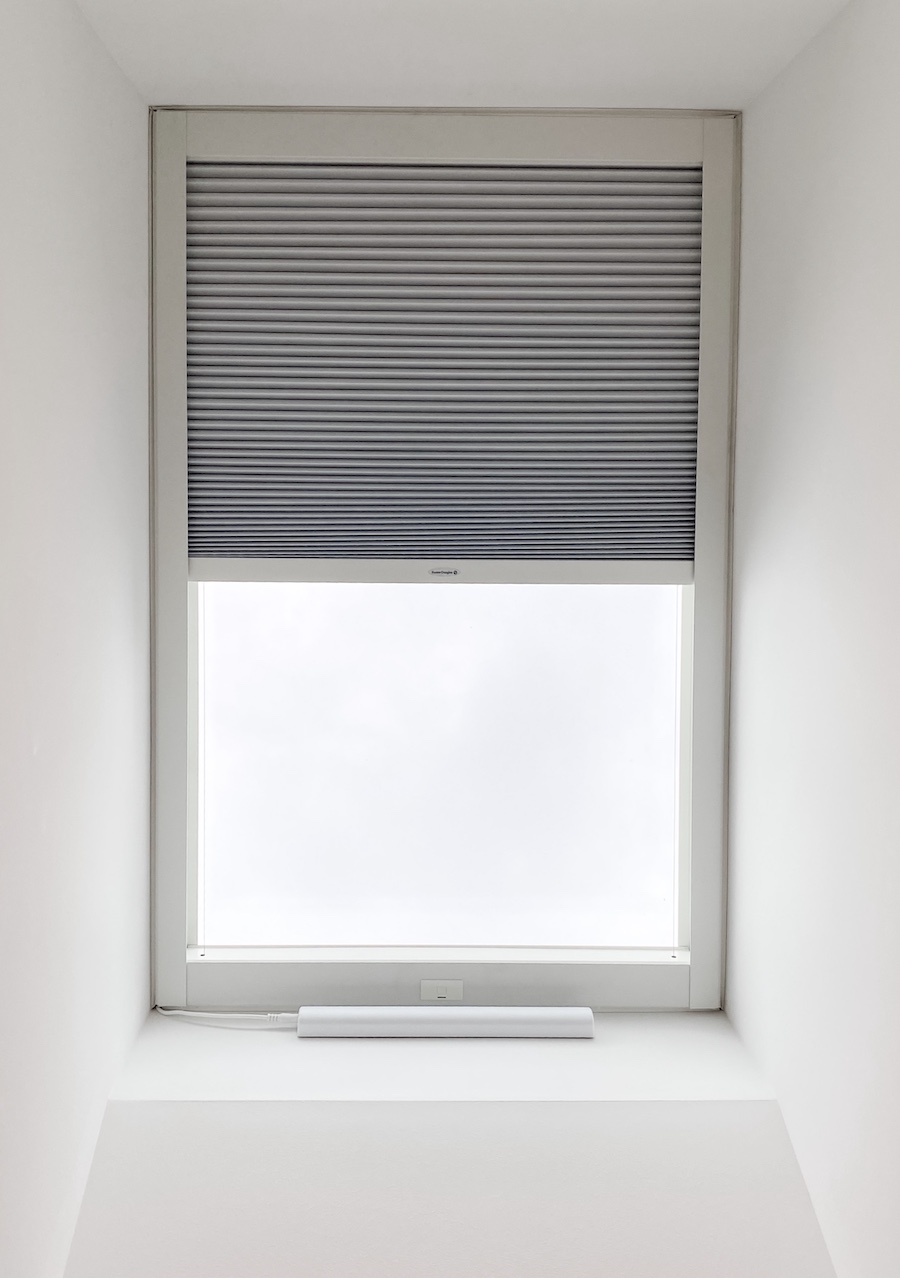 The slim, sleek design of the battery wand has been carefully created to meet the needs of placement. Whether you mount it just near the window, or even as a part of the window frame, the design blends into the overall appearance.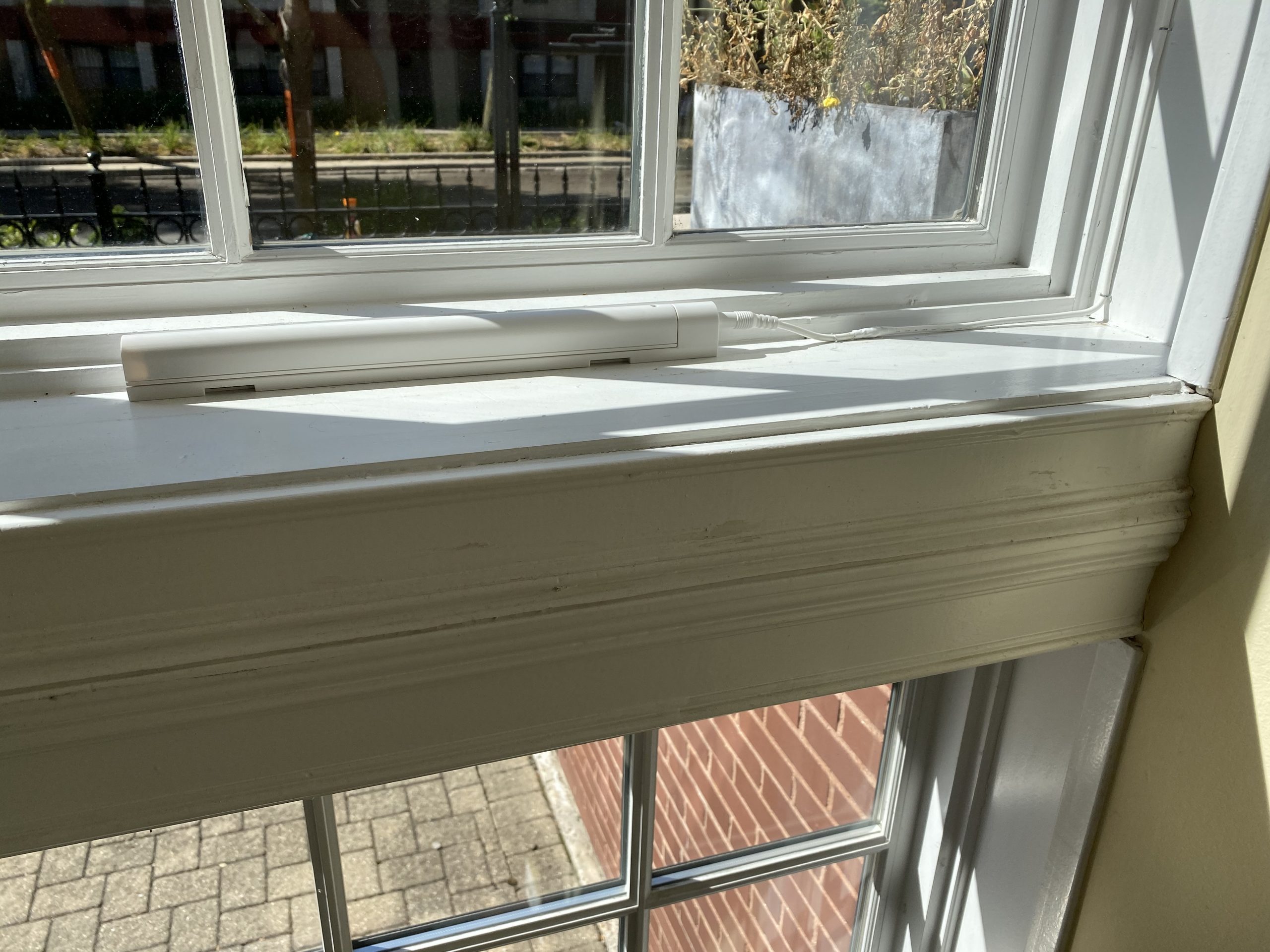 With the rechargeable battery wand, if you already have motorized shades, and you'd like to take this opportunity to switch to the new innovation, it's simple. The new wand will fit into the existing port of your window shades–there's no adjustments to be made.
What Do You Think?
Are you loving this as much as we are? It's been such a popular feature, we predict this being a top seller in the coming months for many of you that already have smart shades. For others, that are new to power shades, this will be a much-enjoyed benefit of adding motorization to their window shades. If you're interested in finding out more about this exciting innovation, get in touch with our team at Skyline Window Coverings, for your FREE design consultation.