Your dining area–like much of your home–can be unique. Do you live in an open floor plan with both island and dining area combined? Is there a separate, intentional, dining room? No matter the layout, you have one thing in common with most homes: There is access to natural light. The dining room window treatments play a unique role in creating the right atmosphere. 
How to Choose Dining Room Window Treatments
Of course, you'll want to choose style elements that enhance the look of your home. That's a given. But, when it comes to window solutions, what are you dealing with? What issues are you trying to solve? What benefits would you love?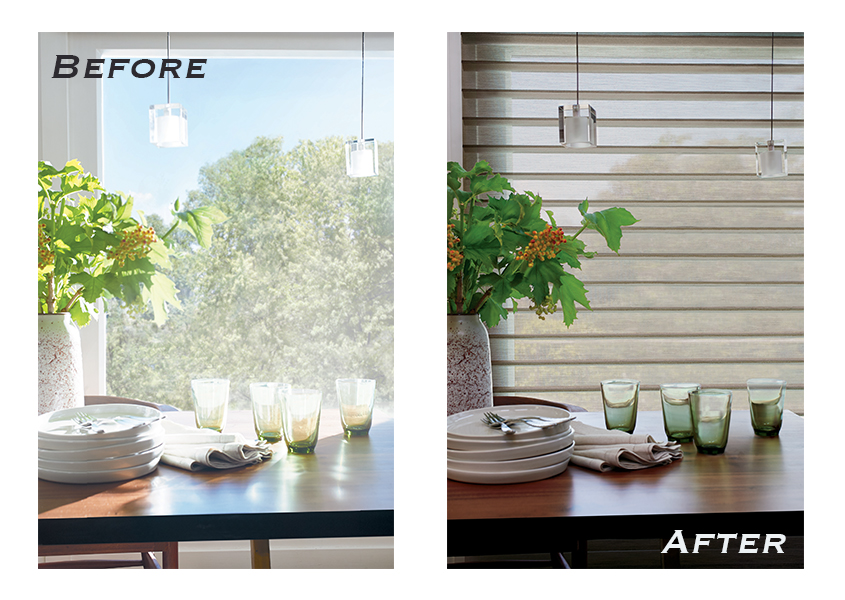 This glimpse of a dining area "hot spot" might remind you of your home. Depending on the time of day, no one would want to be sitting there. Bring in the right dining room window treatments–all of a sudden, it's glowing and beautiful. What's the answer for your home? Let's take a look at some common choices…
Frame the Windows
Fabrics are known for bringing softness into a space. If you're designing a separate dining room, draperies are a beautiful way to bring style, with a soft, flowing look. Drapery panels frame the windows, allowing you to enjoy the view. Need additional light control? This is the perfect time to layer.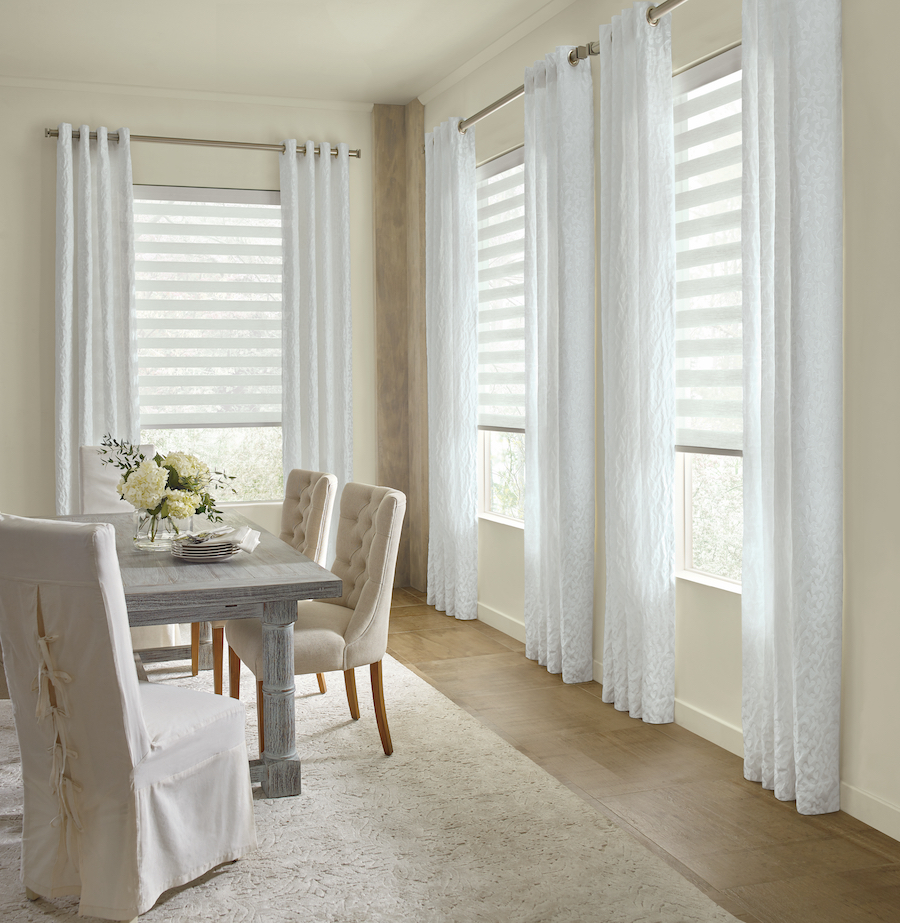 These Designer Banded Shades make a great base shade, offering closed off light control and privacy, or diffused view-through when shifted open.
Soften the Light
Speaking of diffusing the light, the last place you'll want to deal with uncontrolled glare and harsh light is the dining area. No one wants to squint all throughout dinner, or be forced to move due to sunlight. Unfortunately, if you have floor to ceiling windows, or windows on more than one wall, the light will be a culprit of discomfort.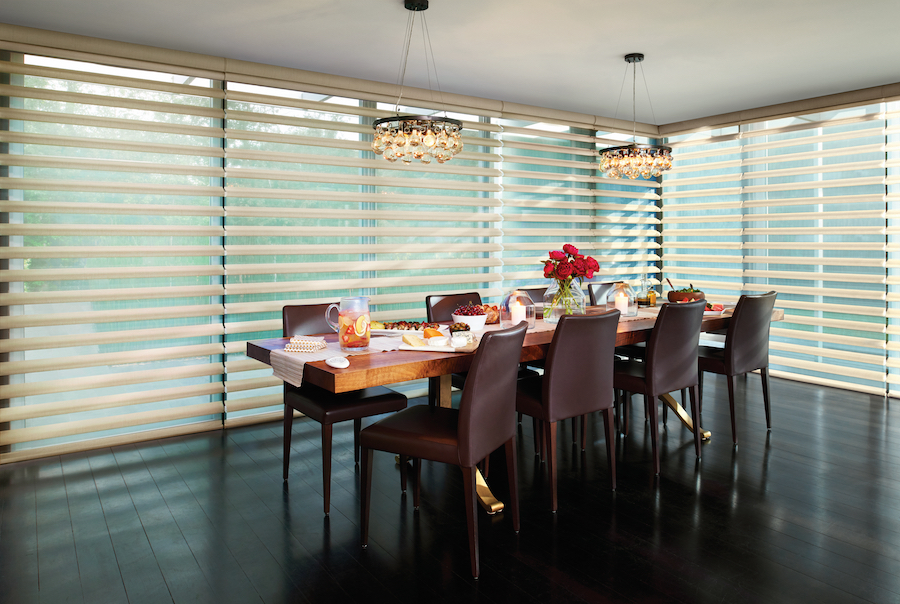 The ideal dining room window treatments will give you a range of control. These Pirouette shades are a great example. They "open" to reveal light diffusing sheer fabrics for landscape views. They also close up for complete privacy, light blocking and protection from harsh UV rays. 
Enjoy Privacy + Light
The layout of your home plays a role in what solutions your dining area needs. If foot traffic just outside your windows is a distraction at dinner time, the dining room window treatments will take care of it! Privacy is important for enjoying meal time, and the feature of top down bottom up will help deliver exactly that! Top down is for shades, but did you know that plantation shutters offer the same benefits?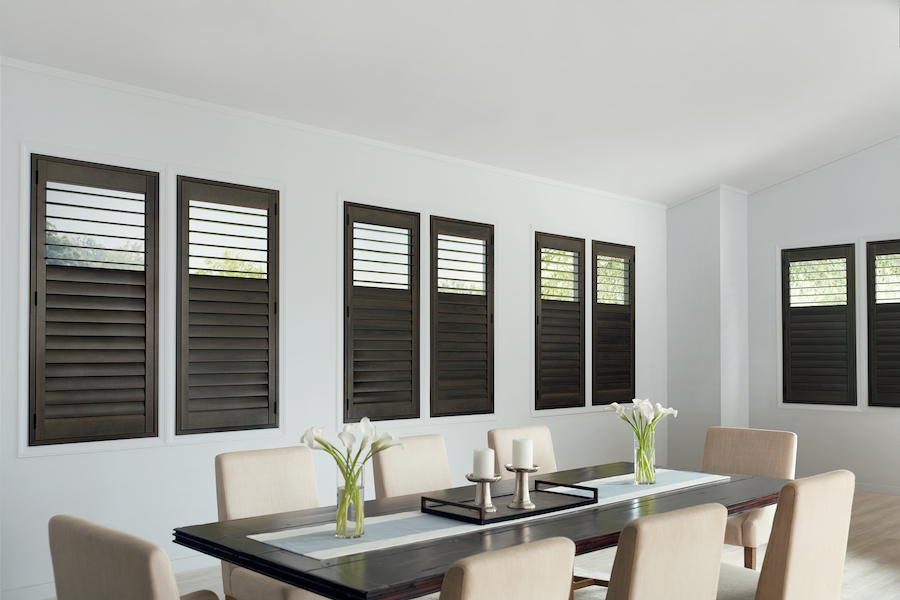 "Split tilt" allows you to adjust the top of the shutter open, directing light into the space, while the bottom louvers are closed up for privacy. So, whether you love the classic look of interior shutters, or the soft style of shades, you can have your light and privacy, too!
So Many Choices!
When it comes to styling your home, window coverings seem easy. But, if you want to choose the right ones that will not only bring style, but also the solutions and benefits that are custom, it's okay to ask for help! Our team, at Skyline Window Coverings, is here to guide you with inspiration, ideas and advice. Let us help you find just the right answers for your home with a FREE design consultation.