The largest windows of your home bring in tons of natural light, amazing views and…lots of frustrating moments. While you want to love those large windows, chances are you're in a love/hate relationship with them. We've got inspiration to share so you can enhance what you love most about them, while solving the common issues you're facing…
No More Fishbowl
If you've ever stood in front of those large windows of your home and felt like your life was on display, you know how it feels to be in that "fishbowl." If you want privacy, but you don't want to give up the incredible natural light, consider top down shades. This feature allows you to enjoy levels of lighting–while also enjoying privacy. And, you can still catch some of the view, adjusting down enough to see the sky and treetops, or skyline.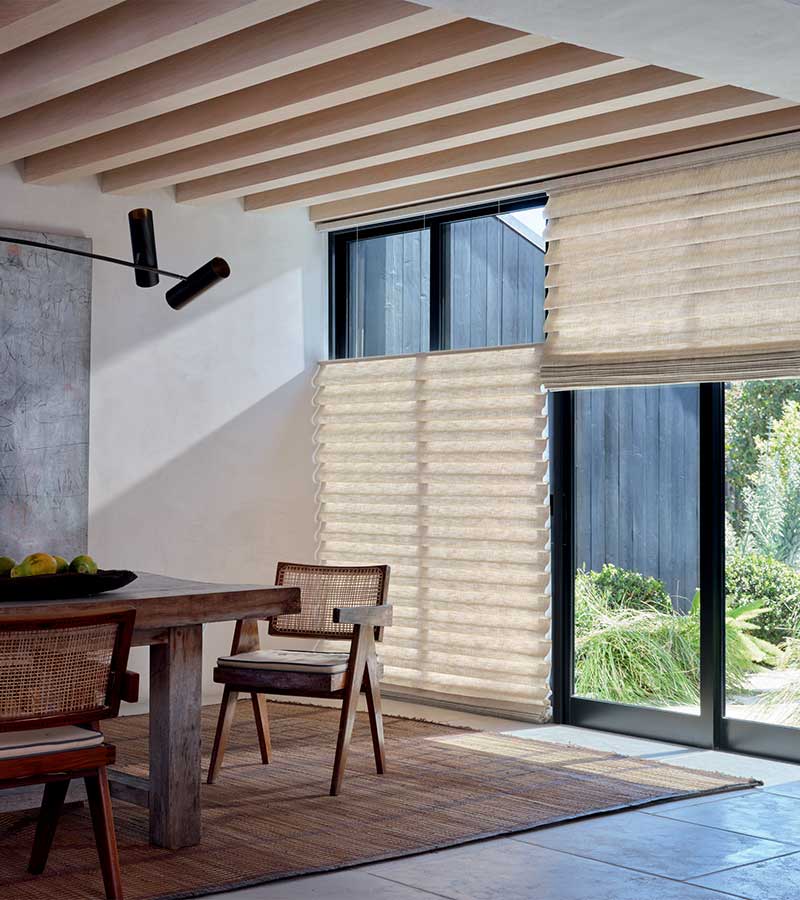 The Open Floor Plan
Open floor plan homes often feature contemporary elements, and those large windows are a favorite part of that. But, how do you cover them while maintaining the style and function of the space? Take a look at the ideas we offered in this recent article about using window coverings in an open floor plan home. The most important thing to keep in mind is that you don't have to settle for style OR function. You can have both–and you should. The shades can mirror the movement of the window so your lifestyle flows as it should, and coordination is easy when you work with a window covering designer.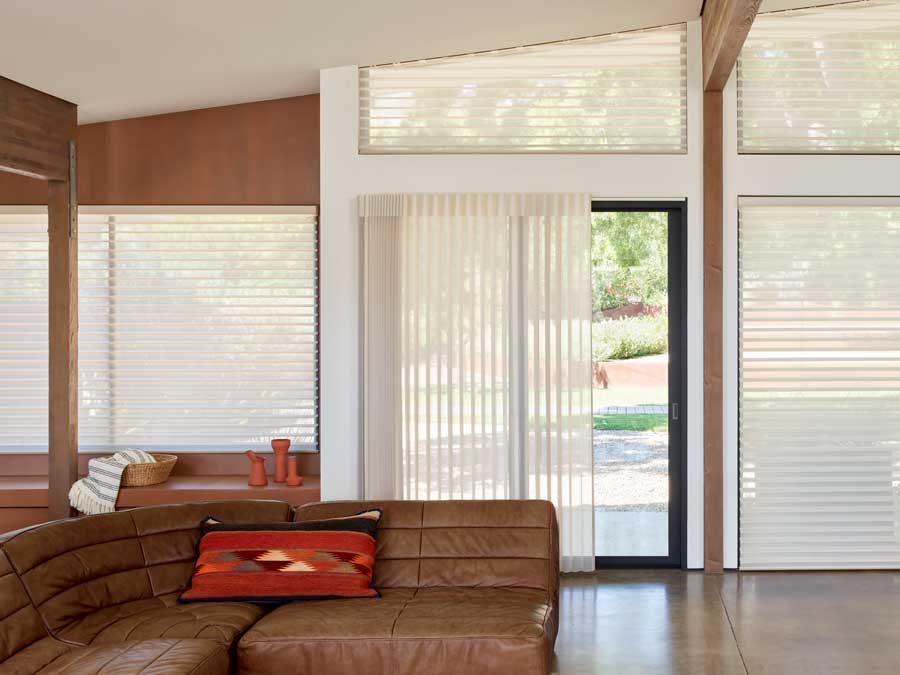 Custom Coverage
One question we hear a lot is…Do we need to cover the whole window?
The answer to that? Of course not. With custom window shades, they'll be designed to enhance the look and feel of your home, so they can cover what you want. Sometimes, clients have arches or angles they'd like to leave bare while covering the rest of the window. Other times, those large windows are part of a wall of windows, which might include transoms. You might choose to cover the transoms, or leave them open to bring in the light while retaining the privacy by covering the bottom portion of the wall of windows.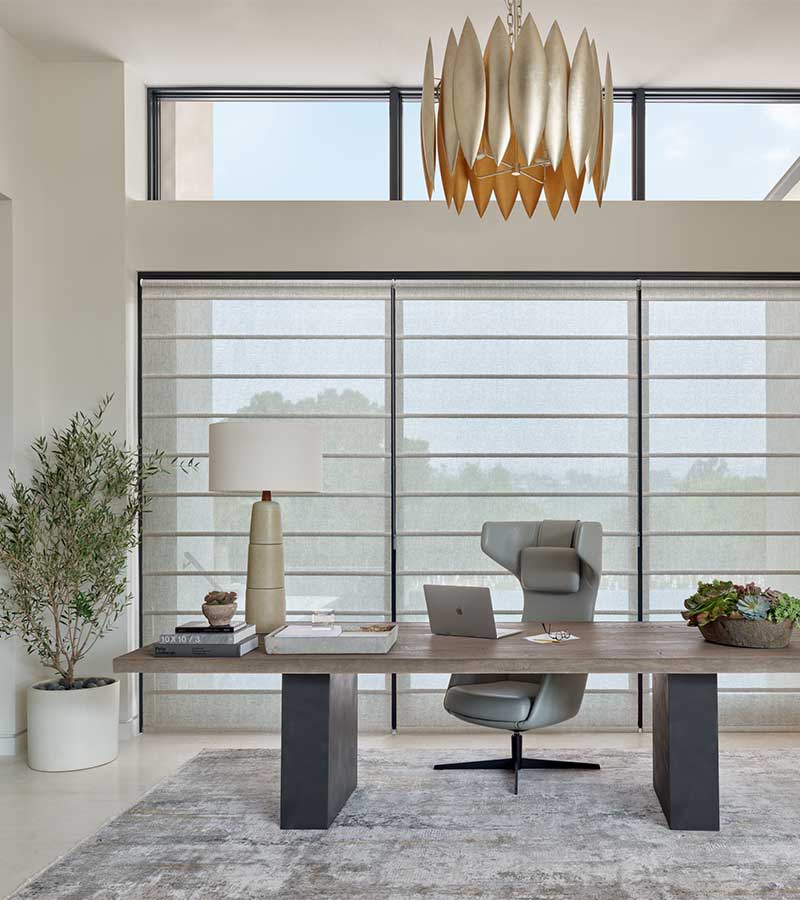 Savor the View
When you have floor to ceiling windows, there's probably a view that you don't want to sacrifice. The good news is that you don't have to. You can reduce the glare and direct light, but still take in the gorgeous landscape. Check out our list of the best shades to enhance your view to find your favorites!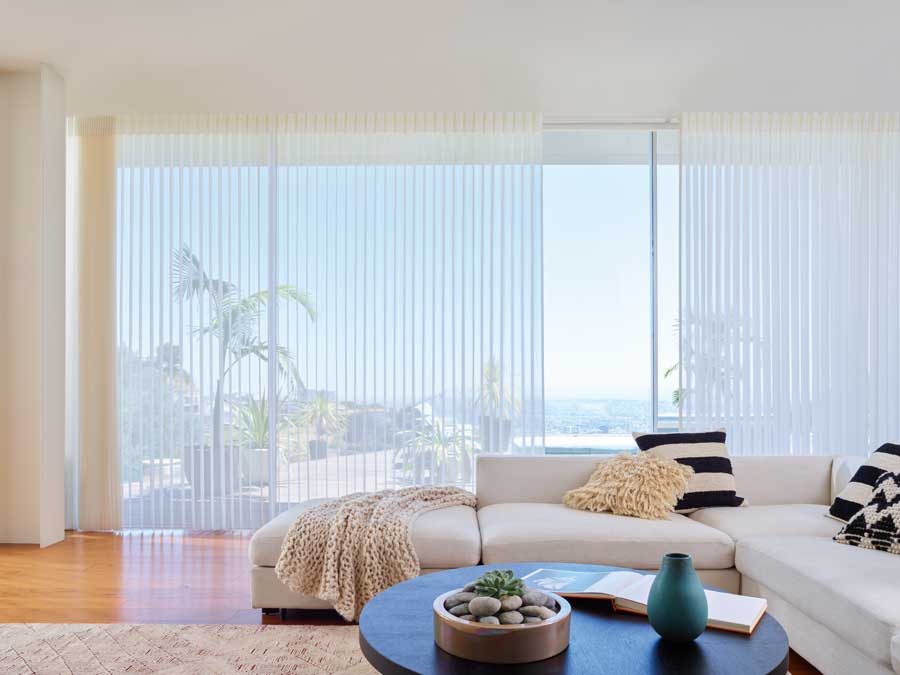 Make Adjustments Easy
Your operating system matters. With window coverings, one of the most important features is how easy it is to adjust them, right? So, make sure you choose a system which allows you access to a wide range of light control and privacy quickly. One of the best ways to get the most out of your large windows is with smart shades. No cords dangling, nothing out of reach…just simple, convenient adjustments. You can even have your smart shades open and close on a schedule, or with a voice command. They integrate easily with the smart home system you're already using.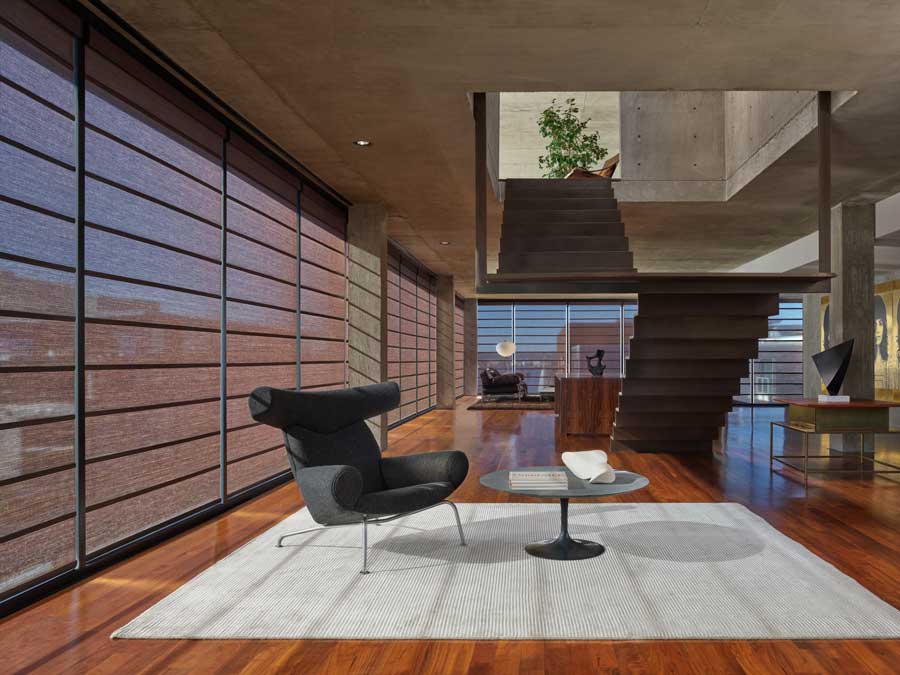 Learn to Love Those Large Windows Again!
Whether you're looking for specific room needs, like room darkening & energy efficiency, or you want to soften the look of your home with drapery panels, we can help! The team at Skyline Window Coverings would love to help you create your own sanctuary with large windows that enhance the style & atmosphere. Get in touch with us for your FREE one-on-one consultation with a window covering specialist in your home.