The Open Floor Plan home is still considered the top layout for homeowners. The open, airy vibe allows you to be close and connect with the ones you love, even while enjoying various activities in more than one space. Do you need design tips for creating the right look? Are you wondering which window coverings work best? You've come to the right place…
Cozy, Yet Open
As mentioned, an open floor plan can feel…very open. Which is a benefit in a lot of ways. Your home feels larger, and you can be with loved ones without feeling like you need more room. But, the drawback, for some, is that open feeling doesn't always lend itself to coziness. You can customize the atmosphere of your home by creating "zones," or spaces that have intentional design. An area rug, furniture situated together…these are ways to bring a cozy feel to an open space. And, lighting matters…read on!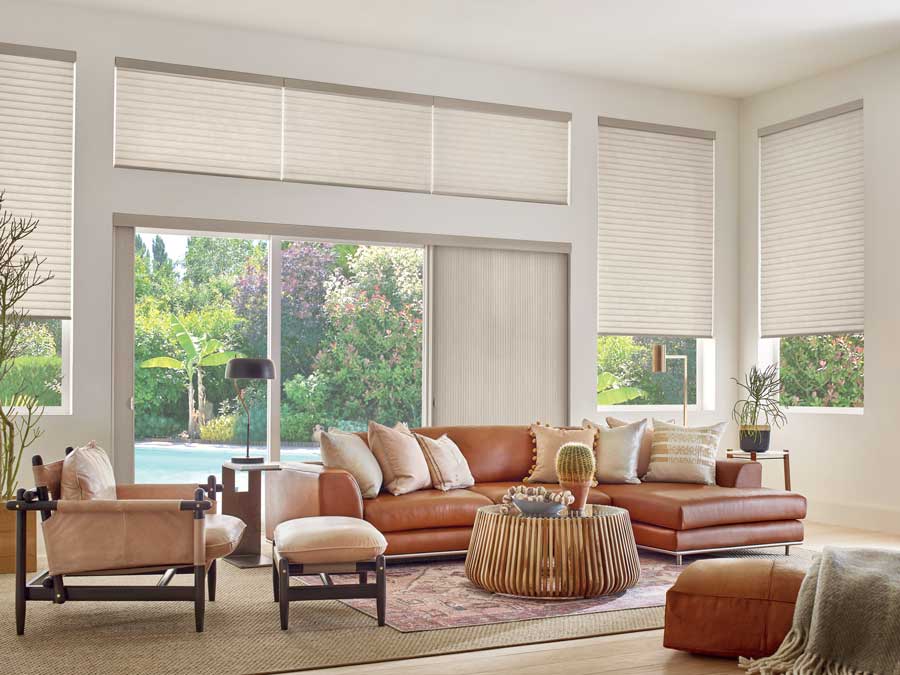 Lighting Zones
If you've always had a traditional home, you know that overhead lights can be relied on to source the light for the space. But, what about the open floor plan? Oftentimes, these homes have recessed lighting–which is great, especially on a dimmer. But, if you want to create the right atmosphere no matter which area you're in, try using different lighting sources. A hanging pendant of chandelier works great over a dining space. Wall sconces are both beautiful and functional for an open wall behind the couch. Floor lamps direct light for a reading nook. Give your family lots of options, and you'll see these cozy zones getting put to use!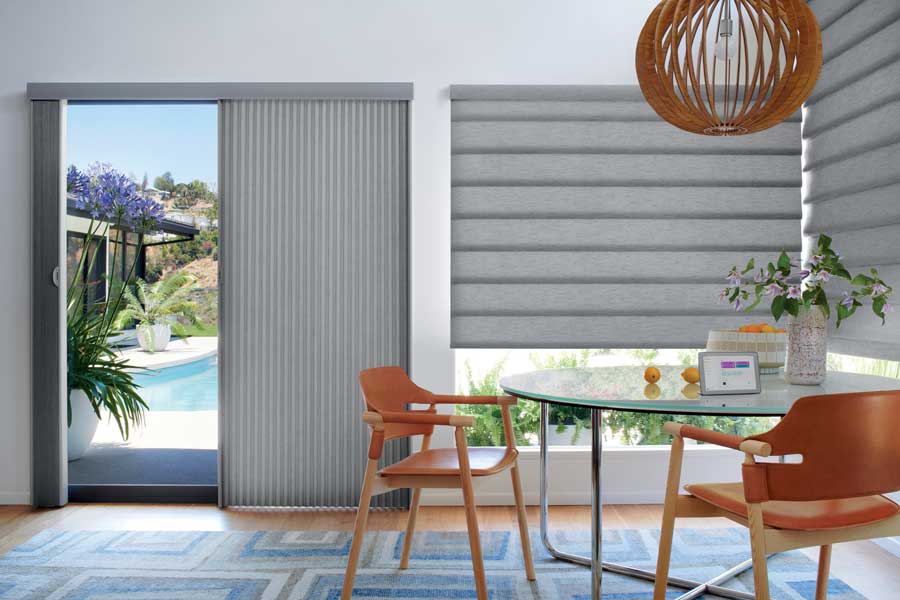 Pay Attention to the Flow
Many of us learned from the Feng Shui movement that creating balance in a space is important. It's important not to feel too "blocked" within your home. So, maintain that open, airy feel to your home by making sure it's easy to move from space to space. If you bring too much into this space, you're risking that it may feel cluttered and overwhelming.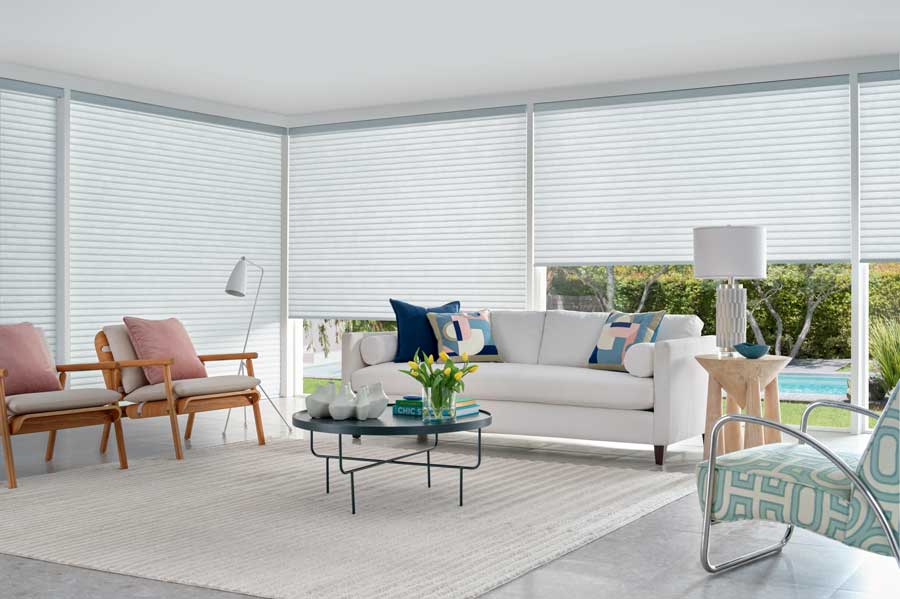 Keep It Simple
When decorating an open floor plan home, don't over-think it. Keep things simple by using the same foundational elements, from paint colors to flooring. The overall color scheme should coordinate from space to space, only deviating with accents that lend personality to specific areas. That can be true of window treatments, as well. Many homeowners like having consistency within the open space, but that doesn't mean it all has to be the same. What if you want to change up the style or function? Scroll down…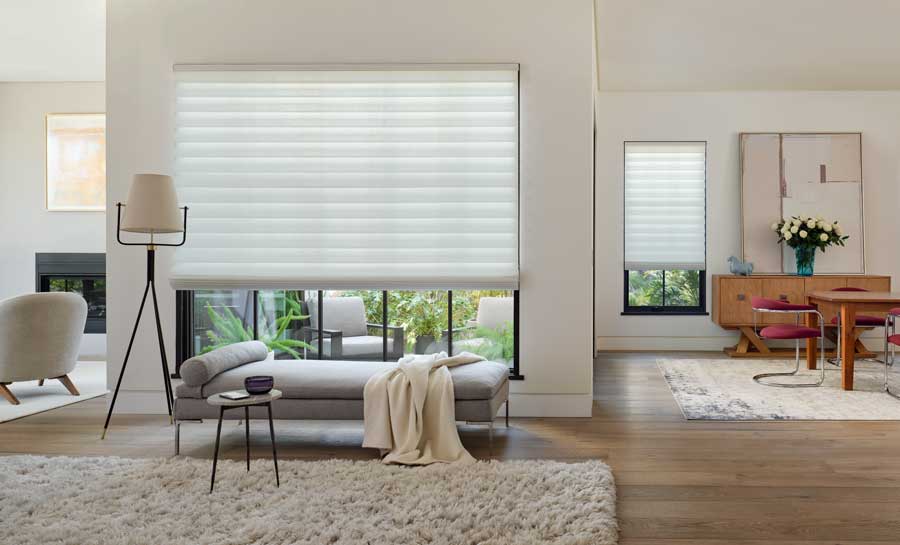 Window Treatment Options
You can use the same exact window treatments throughout your open floor plan home, but you don't have to. Since this layout will often include both windows and doors, you have to consider function. By choosing similar fabrics, you can have the consistent look with the function that matches how you'll use your home. Even more than that, you can have our window covering specialists show you coordinating designs if you want to use the window coverings to designate certain living areas for a "room-like" feel.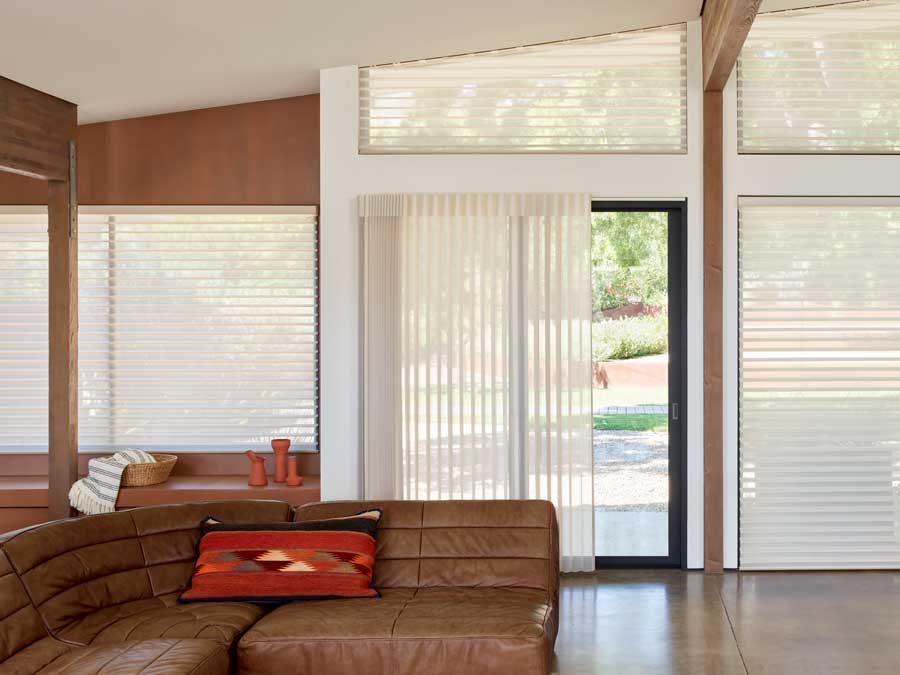 Don't Forget Energy Efficiency
That open floor plan has a downside that you can tackle–and you should! In the cool months, it can feel drafty because of the windows and doors in the wide open space. In the summer, that large space can feel impossible to cool down. Discomfort can be frustrating, but comfort comes at a cost. It's time for you to look at energy efficient window coverings. Insulate your home against the elements, gain comfort, and save money on your energy bills!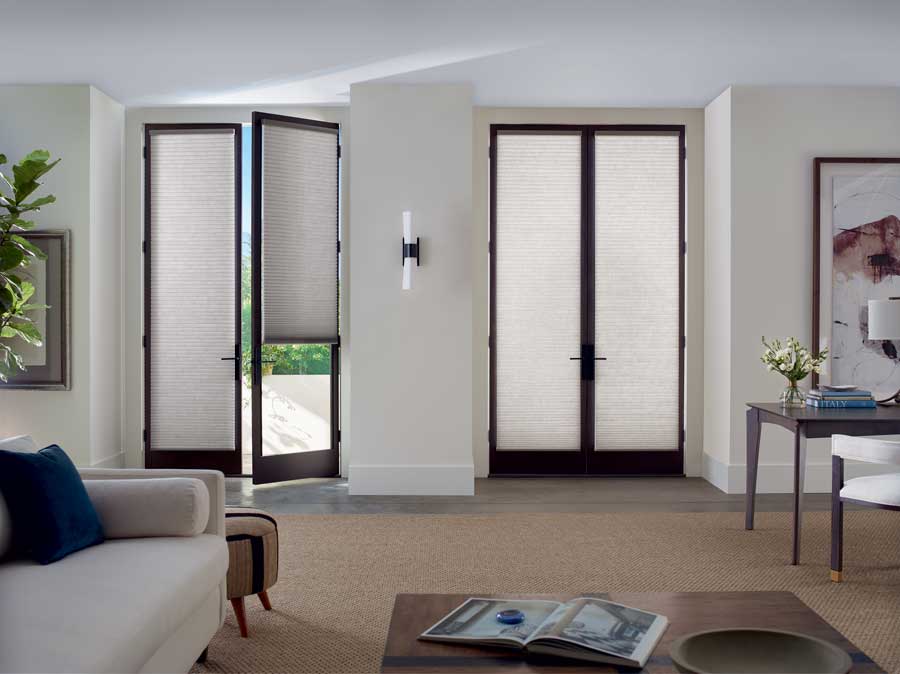 At Skyline Window Coverings, we love working with our clients to help them achieve the perfect balance of style + function. Stop by one of our showrooms to see the fabrics and feature up-close. Talk with an expert. Then, schedule your FREE consultation so we can come see what issues you're having, what windows and doors need coverage and how we can help you! Get in touch with our team today.