Autumn has arrived, and we couldn't be happier. The anticipation of fall festivals, cozy sweaters and mugs of steaming beverages is both nostalgic and exciting. The design world is buzzing with the latest fall style trends. Are you looking to redecorate your home? Scrolling through pages of Pinterest and Houzz to find the latest looks? We've gathered our favorites together for you–just wait to see how the inspiration of autumn has influenced home décor.
Fall in Love with the Colors of Autumn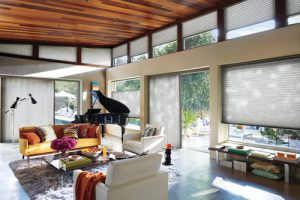 In the next couple of months, the landscape is going to transform. The breathtaking beauty of the season is highlighted with color, and so are the fall style trends. Bring the richness of autumn colors into your home in charming golds, rustic oranges and dusty purples. These enticing pops of color can range from bold and bright to a subtle palette for calm relaxation. Patterned rugs and accent pillows can feature these sought-after shades for dimension, while solids provide a much-needed backdrop. Window shades and drapery panels are a great way to bring color into your home, dressing your windows in style and function. The onset of fall means bringing light into your home as days begin to shorten. Learn how you can maximize the light while enjoying your privacy in one of our recent articles.
Add Texture with Natural Elements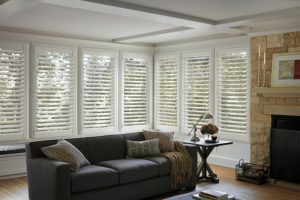 The inspiration of nature tops the fall style trends this season by bringing textures into your home. Rough-cut stone, reclaimed wood and galvanized metals add dimension and charm. Soften the space with the cozy textures such as cable knit blankets, woven pillows and sheepskin area rugs. Nothing lets you relax more than a home that, not only speaks of alluring design, but adds incredible function to your space. At your windows, we love the timeless look of plantation shutters. The authentic textures and architectural details of shutters provide sharp styling with amazing benefits. Simple adjustments allow you to enjoy the beauty of the landscape and autumn's natural light while maintaining your privacy.
Pair the Unexpected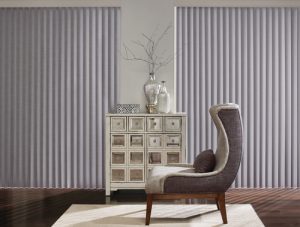 One of the most exciting fall style trends we're seeing this season is the intentional mingling of contrasting design. What's to love? It's all about surrounding yourself with your favorite finishes and design elements. Making a personal statement has never been easier. It's eclectic, sophisticated and playfully chic. The metallic sheen of mirrors contrasts with distressed wood for a unique look. Industrial metals pair with tufted fabrics for exquisite design. The mixture of old and new can add classic styling with contemporary appeal. Custom window treatments are just one more way to express your personal style, while bringing contrast and function into your home. Take a look at the best ways to choose shades to match your personality.
Embrace the Light with Fall Style Trends
A new season has begun. Are you ready? Would you love to bring the latest fall style trends into your home with colors, textures and contrasting designs? Our design team at Skyline Window Coverings will bring the inspiration to you. To get started today, contact us for a free, in-home consultation.