These days the majority of adults aren't getting the rest they need. Issues of privacy, comfort, or most of all, room darkening can keep you from a good night's sleep. That's why having the best bedroom window treatments is a big step in prioritizing healthy living. Let's dive in to what the options are…
Achieve Total Darkness
We sleep better in the dark. It's a fact. The best bedroom window treatments feature room darkening components. And it's not all about sleeping in on the weekends.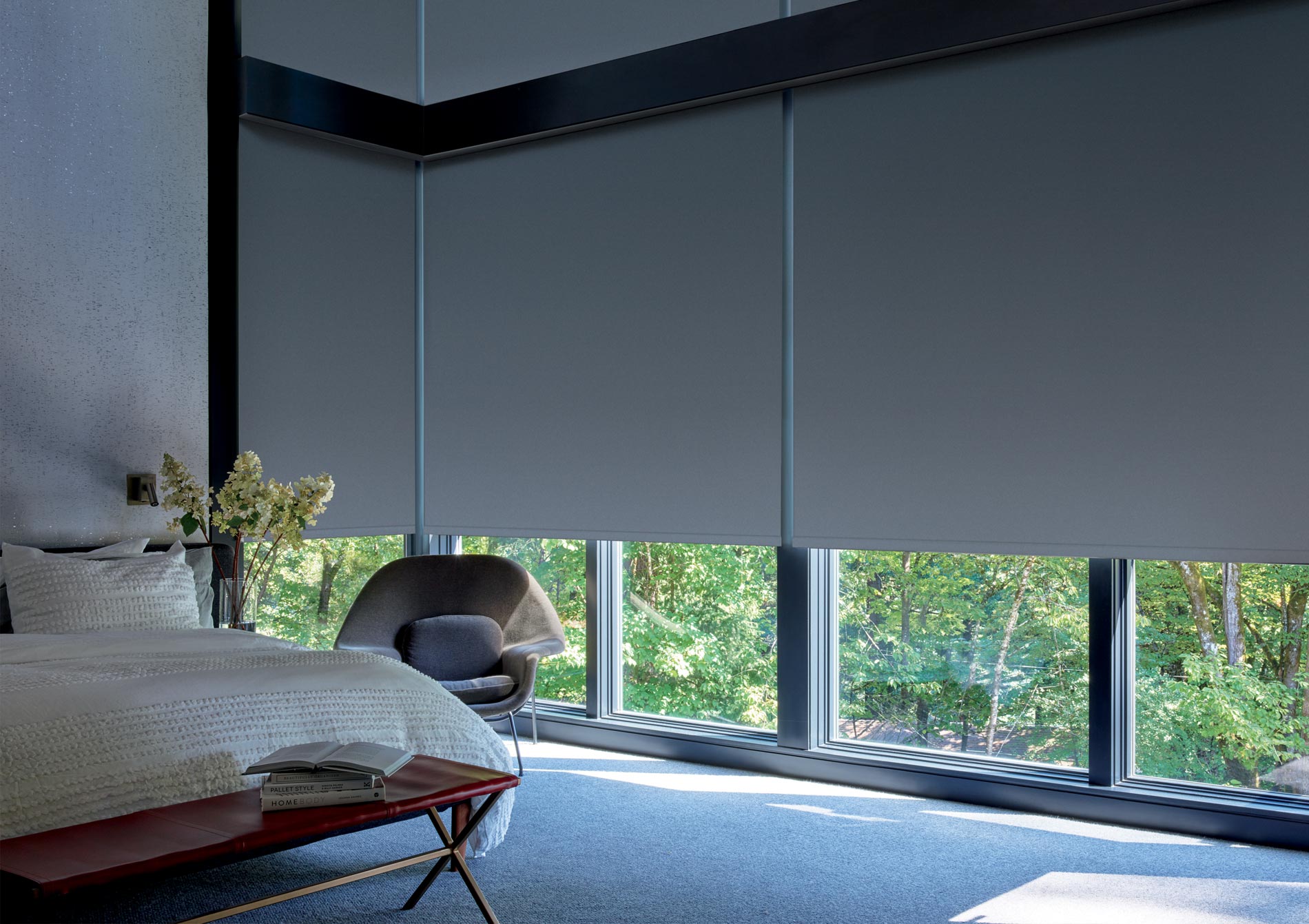 Window treatments that keep your room dark help promote faster sleep onset. Without the lights from the road, the moon, or the slowly setting summer sun, you can stay asleep too. Don't let the light keep you from the best rest you can have.
Room Darkening or Blackout?
The terms "room darkening" or "blackout" can be confusing. Although used interchangeably, they are not the same thing. What's the difference? Room darkening is the term used for fabrics that prevent most light from coming through.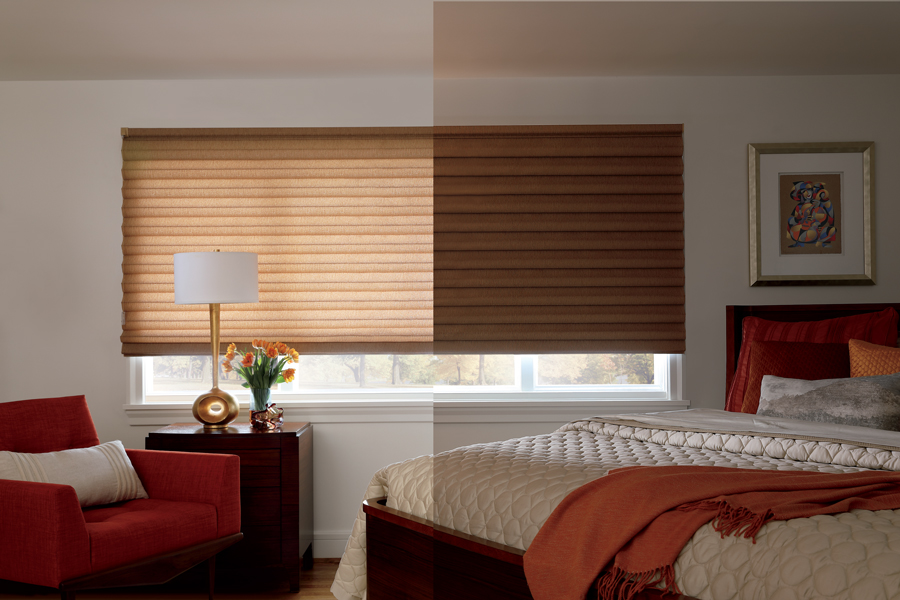 Some room darkening window treatments may still have small pinpoints of light slipping through. At the very edges, it's easier for light to escape into a room. Depending on the window being covered you may opt for side drapery panels to get full coverage. Otherwise, room darkening will give you the darkness you're looking for.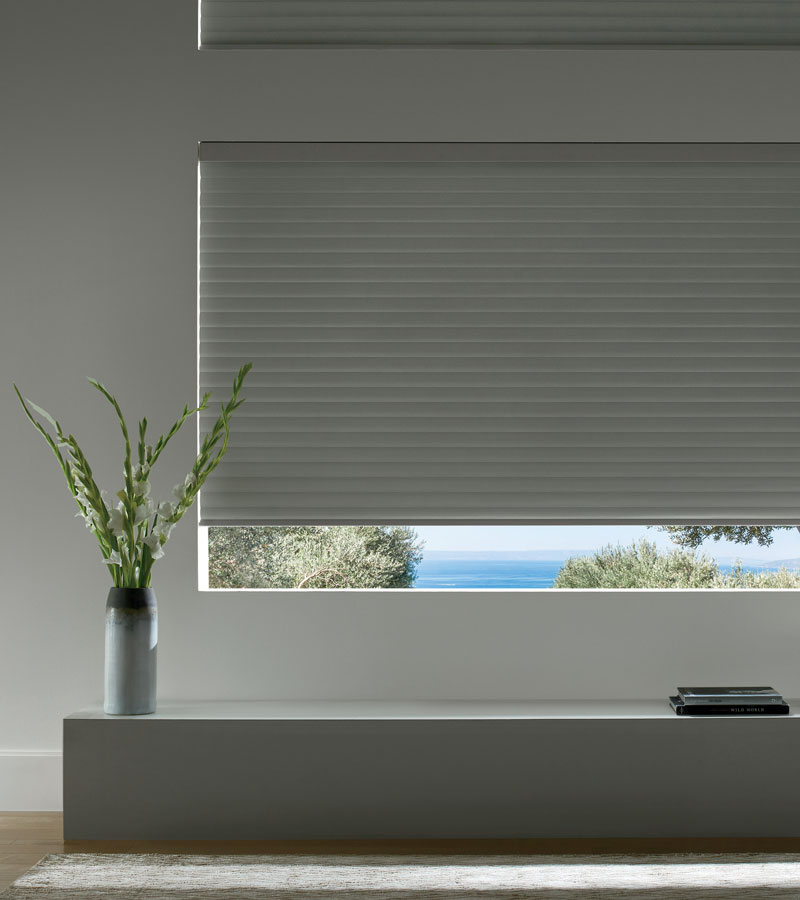 So what is a blackout shade? This is a specific term that we use for a feature like LightLock. It completely blocks lights from entering the space as the window treatments close. In rooms for sleeping or media entertainment where intense light needs to be shut out, LightLock is the feature we recommend.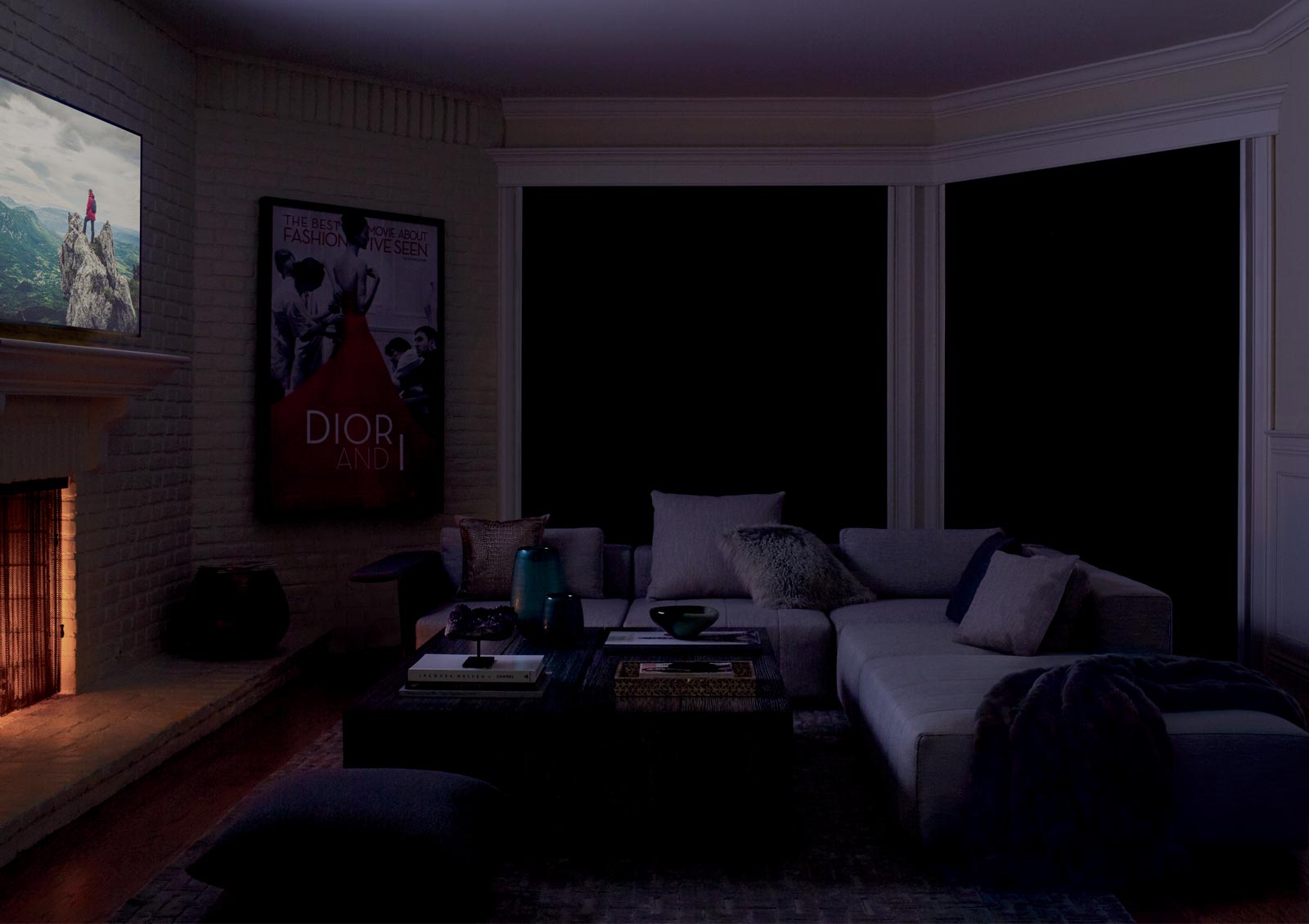 Multi-purpose Function
When you need sleep, darkening features are the way to go. What happens during the day when you need light streaming in? The best bedroom treatments do a lot more than keep out sunlight. They promote a home environment where daily living happens without interruption. Your bedroom isn't just a place for sleeping, right? From getting in a quick sweat session to hopping on a virtual meeting or snagging a few quiet moments to read, don't let lighting keep you from enjoying your space. 
Having functions that work for you and your home is a must-have. 
Smart shade technology puts the power of controlling your window treatments in the palm of your hand. Plus, you get a whole set of options to choose from. 
Voice control gives you hands free mobility so you can keep working without interruption

Out for a walk? Control your shades from your phone no matter where you are

Use the remote control for instant light or darkness in a room

Relax. Schedule adjustments with an automated system so you don't even have to think about it
Light Control + Versatility
Dual shades have grown to be a popular option for window coverings. Their versatility in controlling the light when you need in-between coverage is one of their top features. You get two shades on one window so you can have landscape views in the afternoon and total privacy in the evening.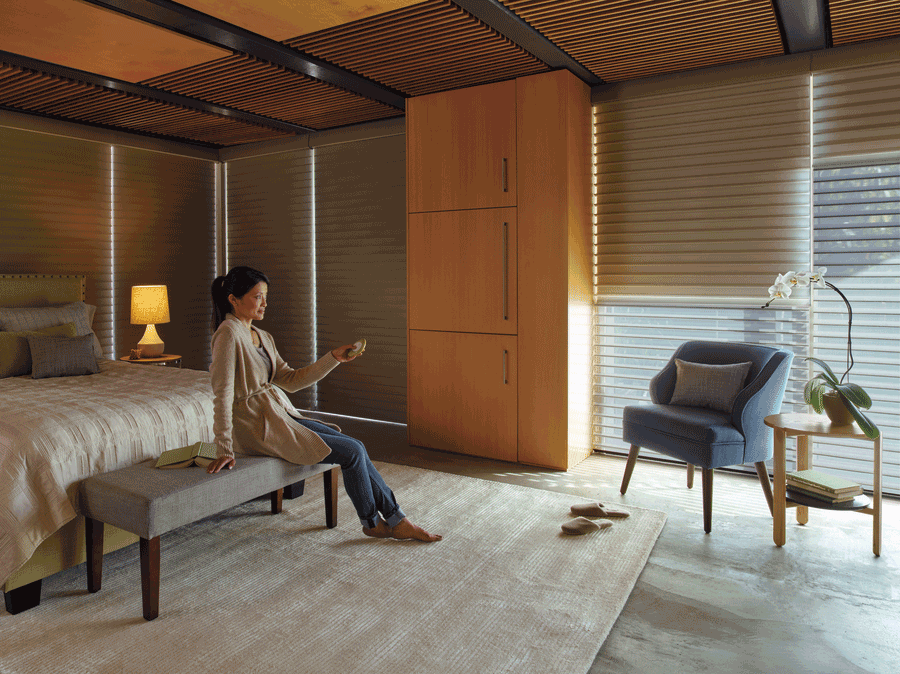 Privacy and Light
Speaking of privacy. We all know how important it can be to a safe home environment. But you don't need to lose the light aesthetics of a comforting space. The function of top down bottom up shades makes them ideal for light and privacy. Get warm sunlight streaming in at the top while you enjoy privacy during your morning rituals of working out, and getting ready for your day.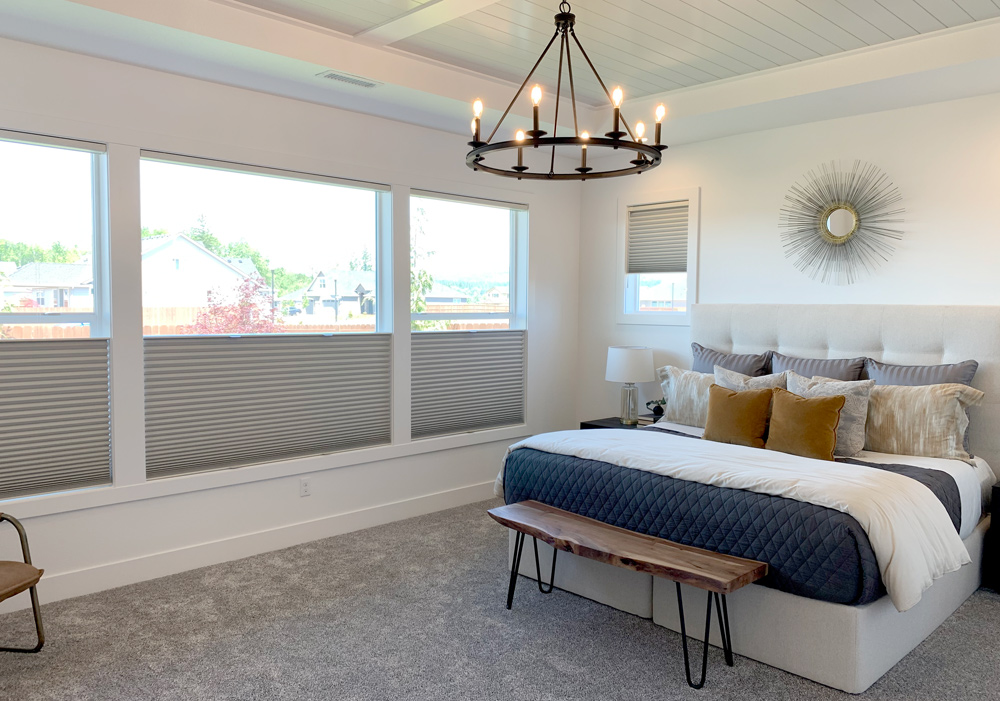 Comfort at Home
Within a calendar year it's common to experience high levels of heat, humidity, and cold temperatures. Choosing the best bedroom window treatments for your space might mean thinking about insulating options. Different spaces may need more or less energy efficiency. But your bedroom needs to be comfortable for easily falling asleep. Heat can seep out of your windows making it hard to stay warm or vice versa. 
Bring in the perfect solution to make sure you have a conforming sleep environment. Set your thermostat and pull down your window shades for a room that stays just how you like it.
Safety Considerations
Making your home a safe oasis can take a bit of work. Little ones can get into all sorts of places you wouldn't expect. Having the right window treatments can put your mind a little bit more at ease. Dangling blind cords are proven to cause hazardous situations to children or others around them without supervision. When you add in climbing and curious exploring into the mix children are more apt to see cords as something to reach for.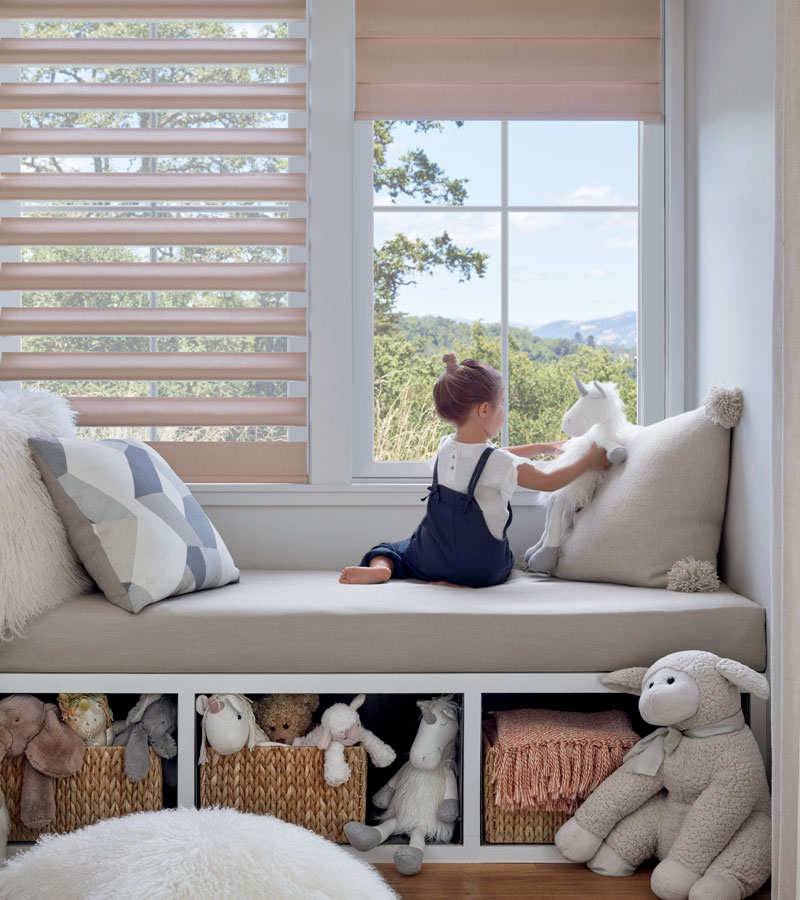 You don't have to let cords or dangling chains be an issue for safety. We have systems that give you peace of mind in your child's bedroom so you can sleep better.  
What Features Do You Need? 
Making your health and safety a priority within your home takes careful consideration. It's worth reviewing the options available and making the style choices that best suit your vision. The team from Skyline can come to your home to decide on fabric choices, features, and light control options that will create a holistic home for years to come. Schedule a FREE consultation with us!