With spring on the way, we'd like to tackle a tough subject: Your Doors. Not only do we get asked a lot of questions about covering doors, but Google is full of homeowners searching for answers to this common problem. What's the issue? Doors can be large–or narrow. They move. While the natural light can be a benefit, sometimes it's too much. And, especially for the front of your home, there's the issue of privacy. Let's help you figure this out with a few FAQs…
How do I make my front door private?
This is a top concern for the entry to your home. Oftentimes, the sidelights–narrow windows along the sides of your front door–are the culprit. Other times, it's the door itself.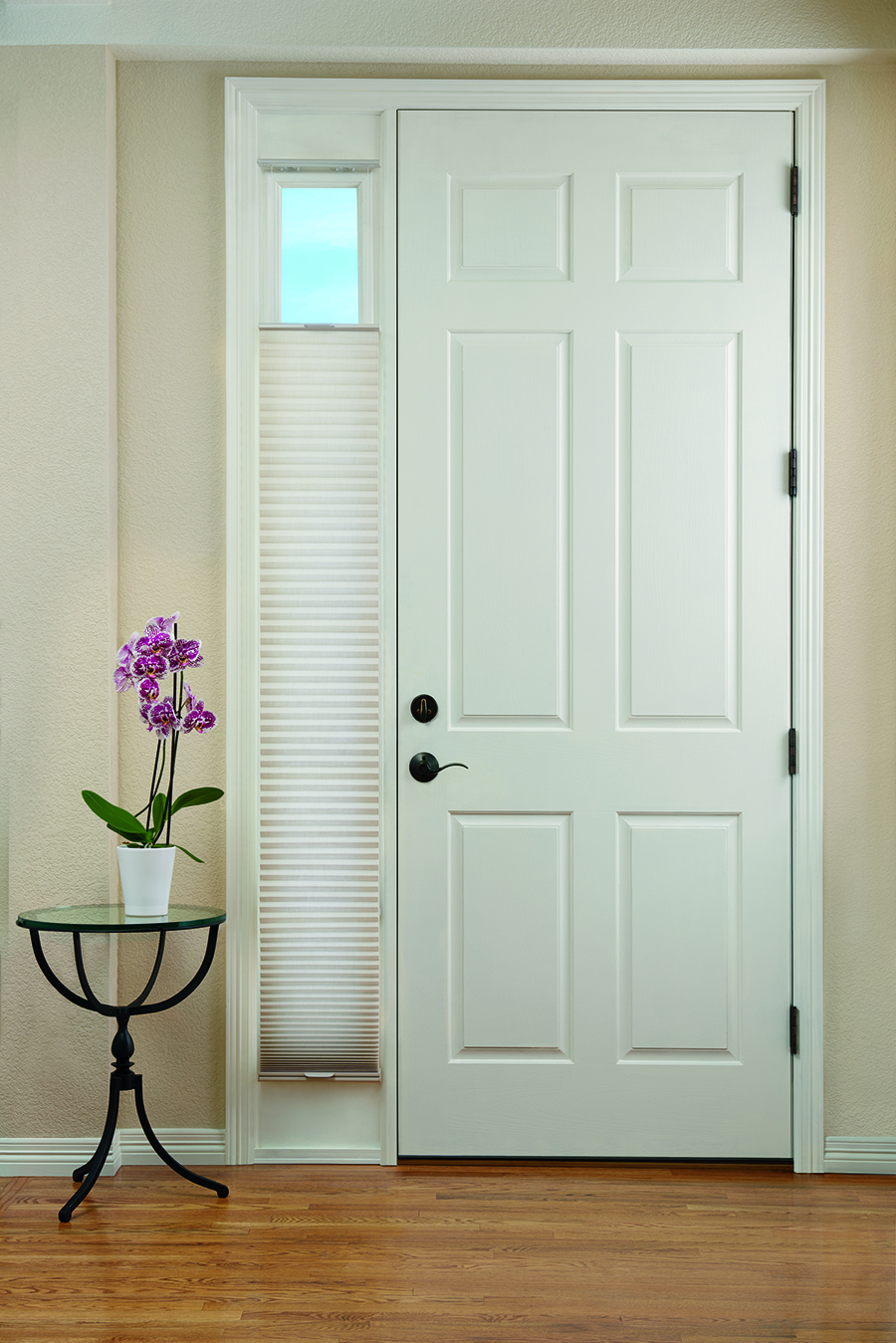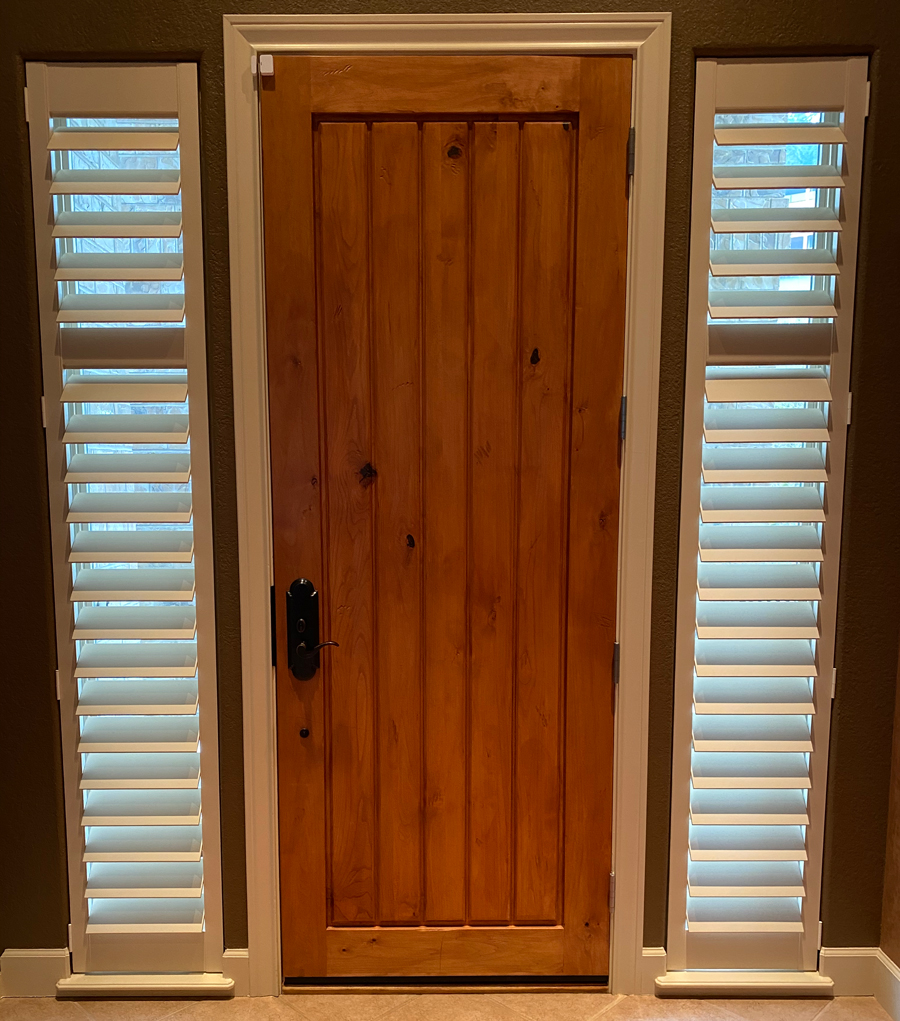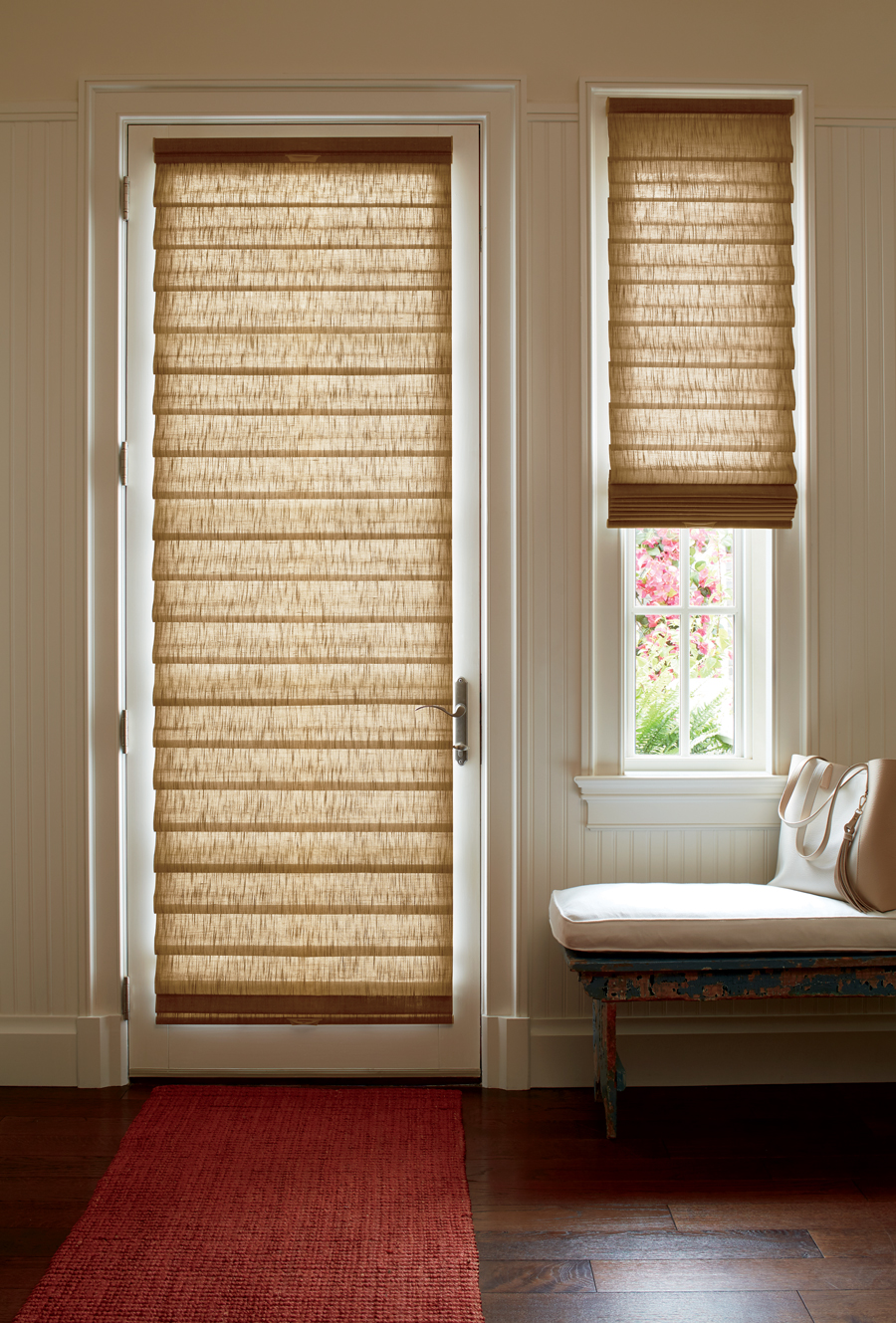 What's the best way to cover a glass pane door?
If you need to cover a glass pane door, you might be limited on the amount of space to attach window coverings. Because of this, the TrackGlide system is a great choice. It offers a very narrow track that adheres to the frame around the glass–no drilling required.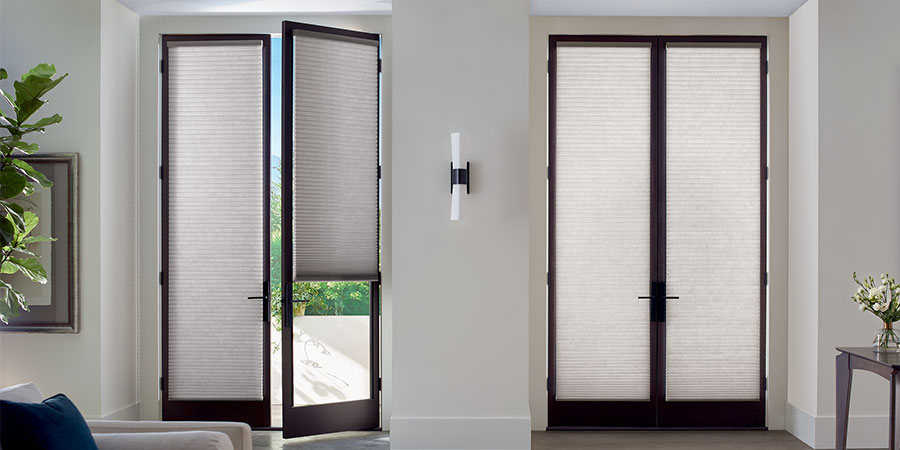 Honeycomb shades then can glide up and down along the track to adjust open, closed–and even add the top down function if that appeals to you. It's one of the newest innovations from Hunter Douglas, and it's been welcomed with much popularity!
What should I use to cover my interior french doors?
If you'd like to cover interior doors, like french doors, chances are that privacy is an issue. We often see french doors for home offices, and it makes sense that covering them would be helpful for privacy and productivity. While you can certainly use any shades that work with the style of your home, roman shades are one of the most popular options, followed closely by roller shades and plantation shutters.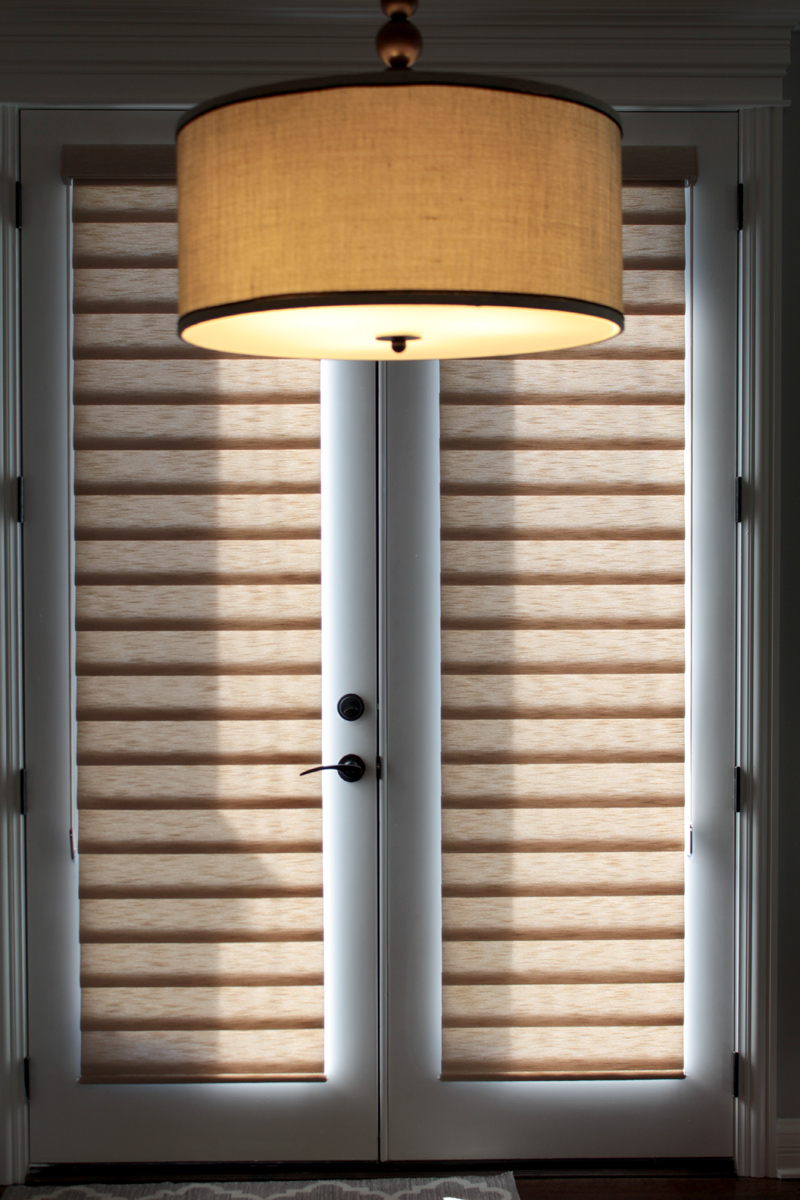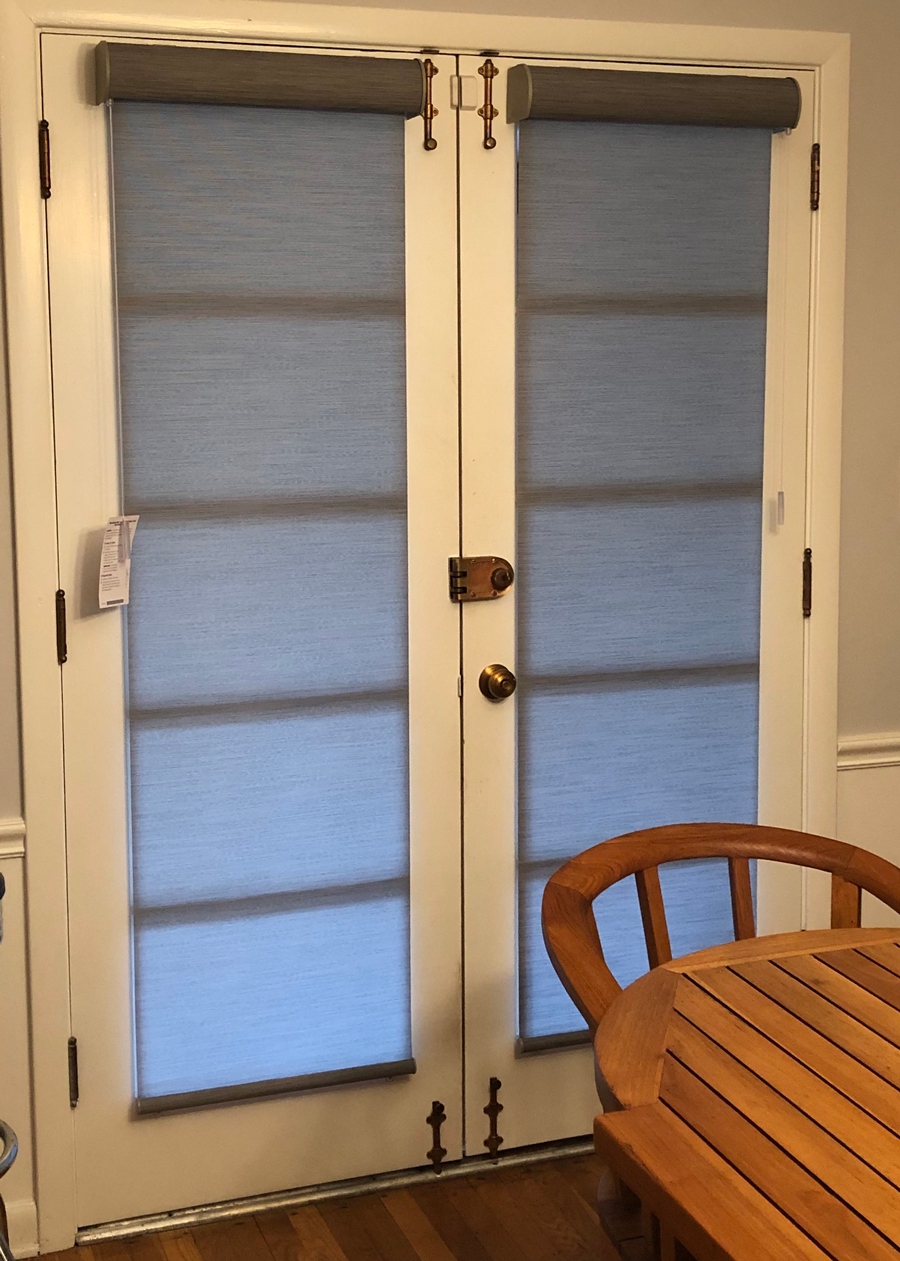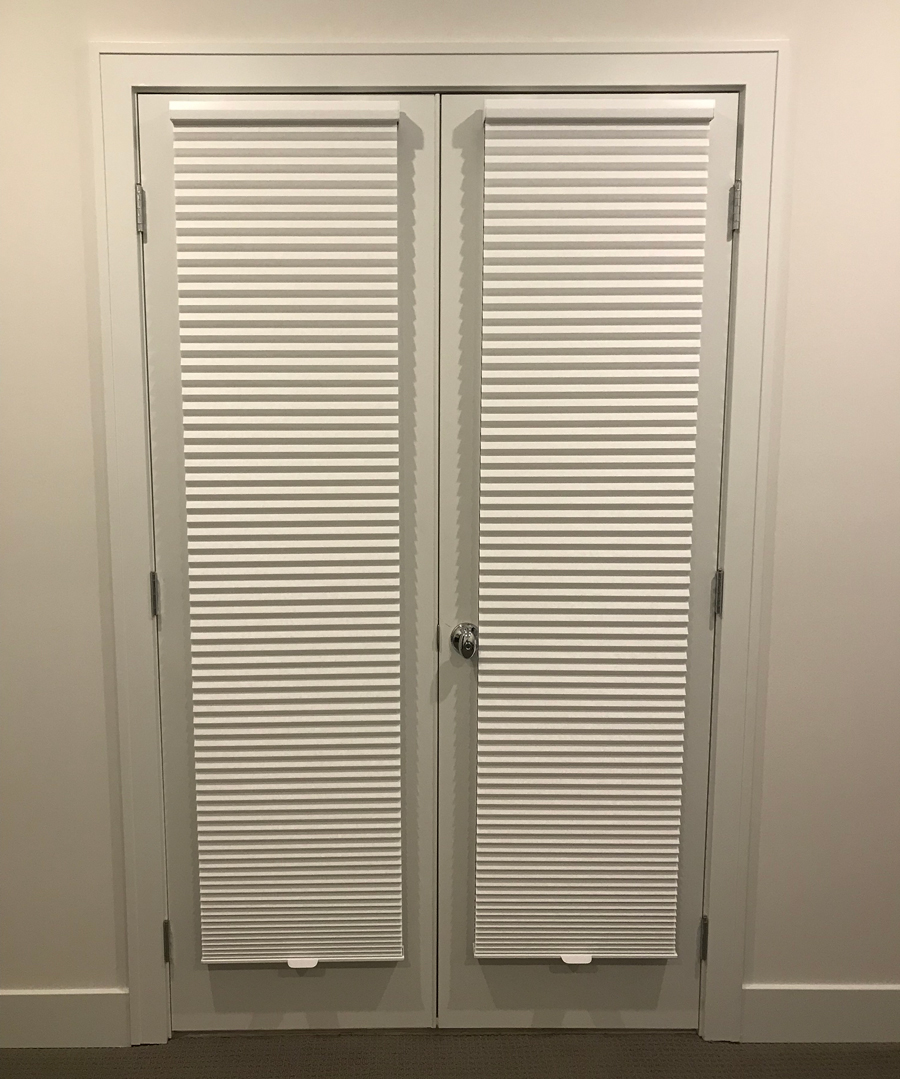 And, while this room below leads to an outdoor space, you can see how amazing plantation shutters can look on french doors! Another beautiful option for your home.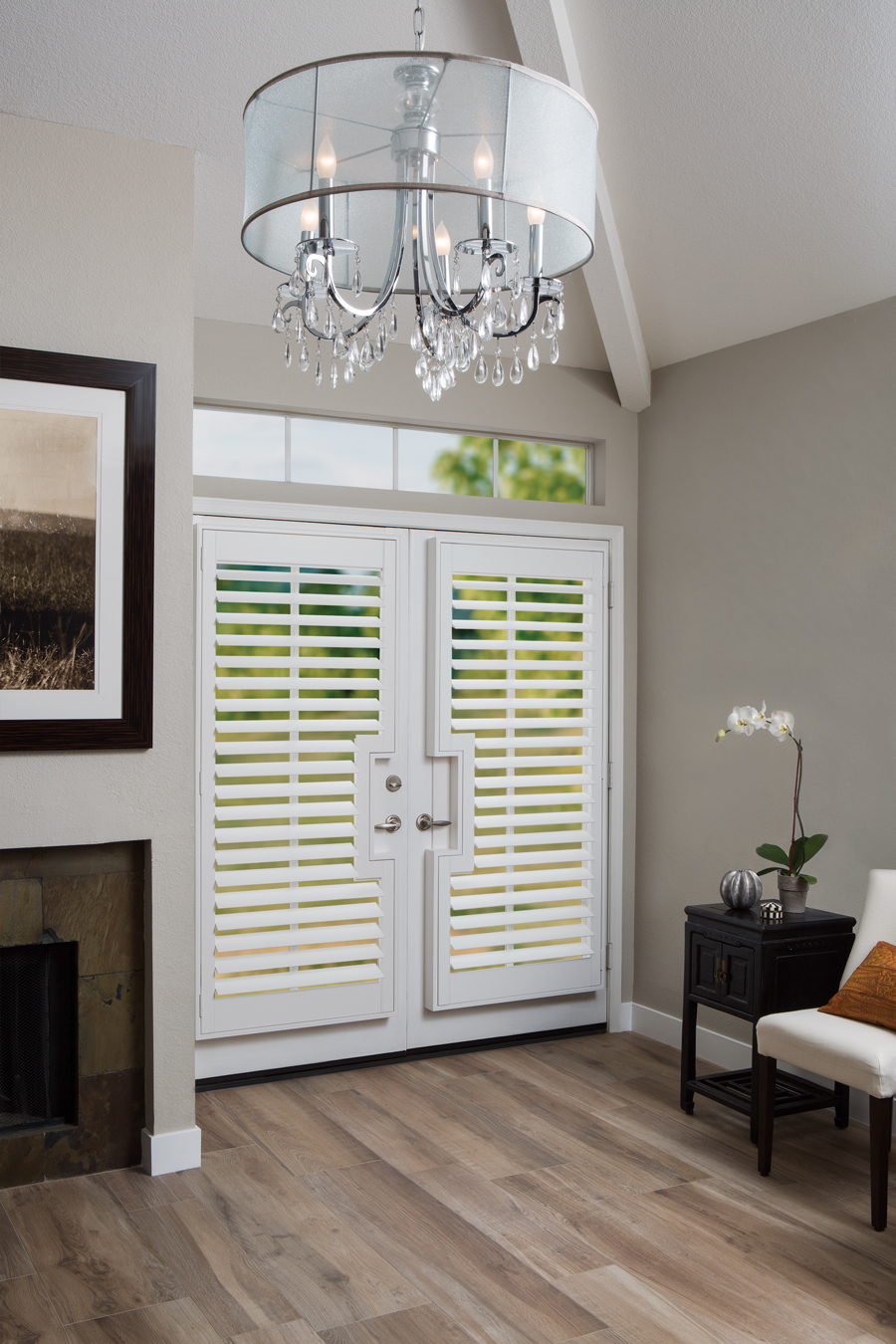 Keep in mind: French doors that have lever handles can pose a problem with usage. Knowing which shades will work with your door's specific handles is an important consideration, so that you can get the most out of your home, without function becoming a problem.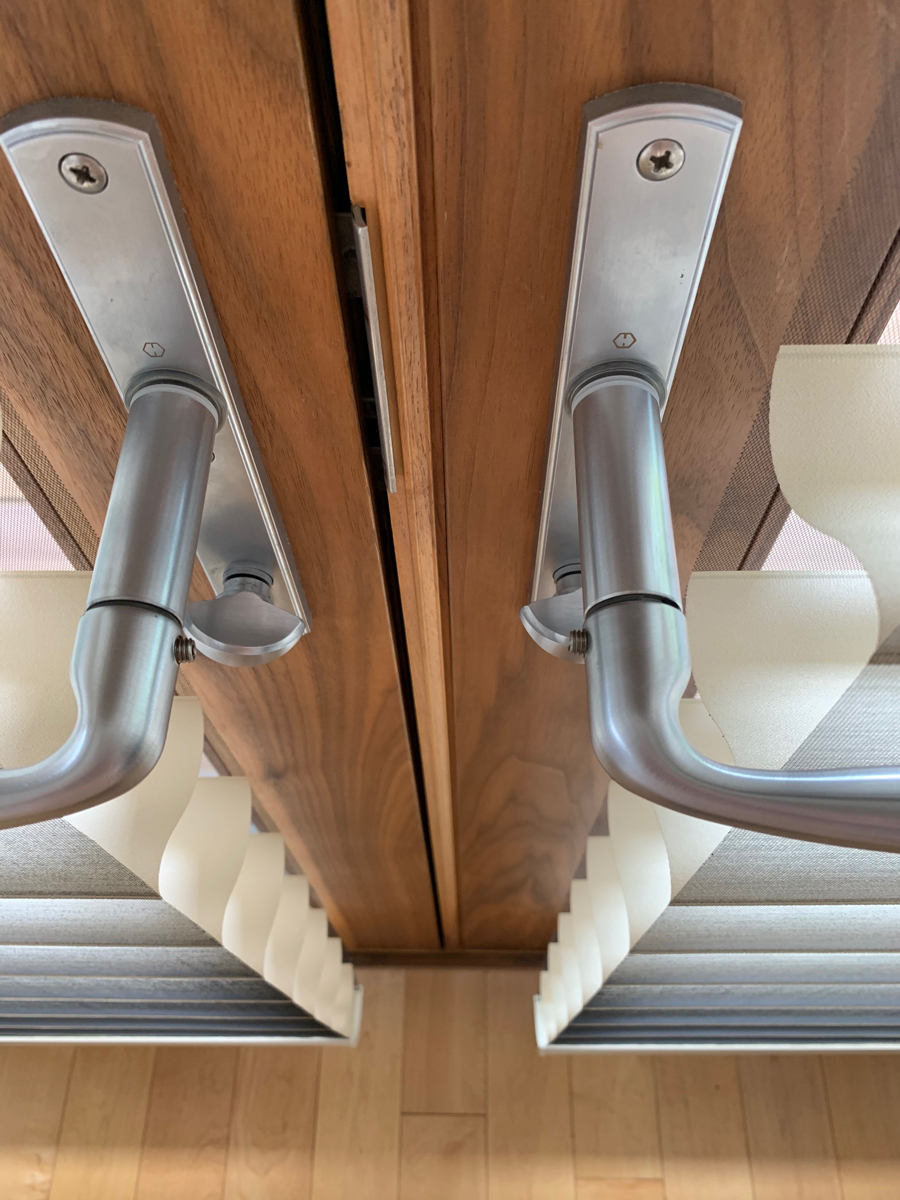 Which kind of shades can you put on doors?
The short answer is…any shades! But, when it comes down to it, there are a few considerations. These are specific to YOUR home–what works in one home may not work in another. This is one reason that if you have questions about covering doors, it's a good idea to talk to the experts. What do you need to consider?
Do they allow door knob or handle usage?
What will the shades attach to?
Can the door fully open?
Do you want them to match or just coordinate with other shades?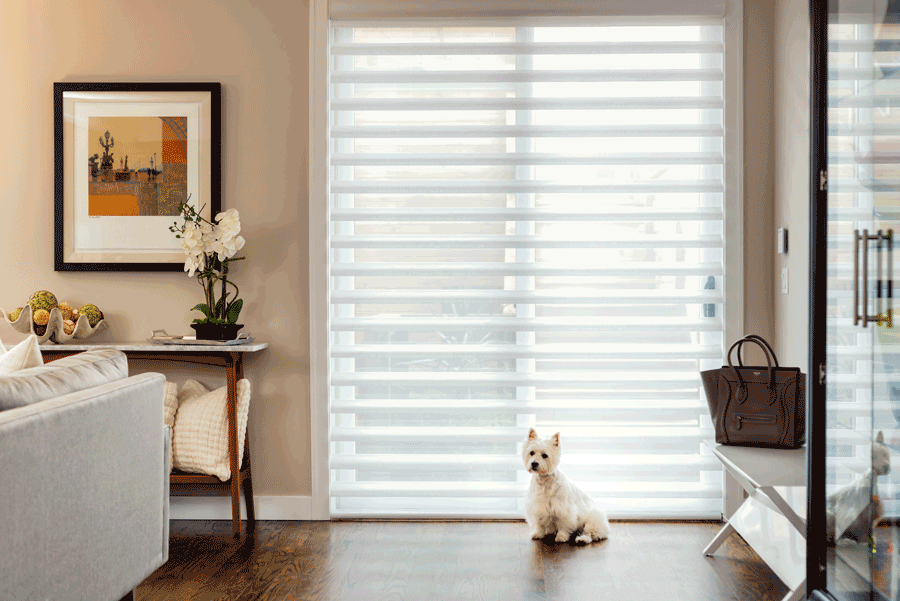 How do I cover my sliding glass doors?
There are two ways to think about covering your sliding doors. One is to match the movement–sliding side to side. We call these vertical blinds, vertical shades and custom window treatments. They move just like your doors, making it simple and easy to operate.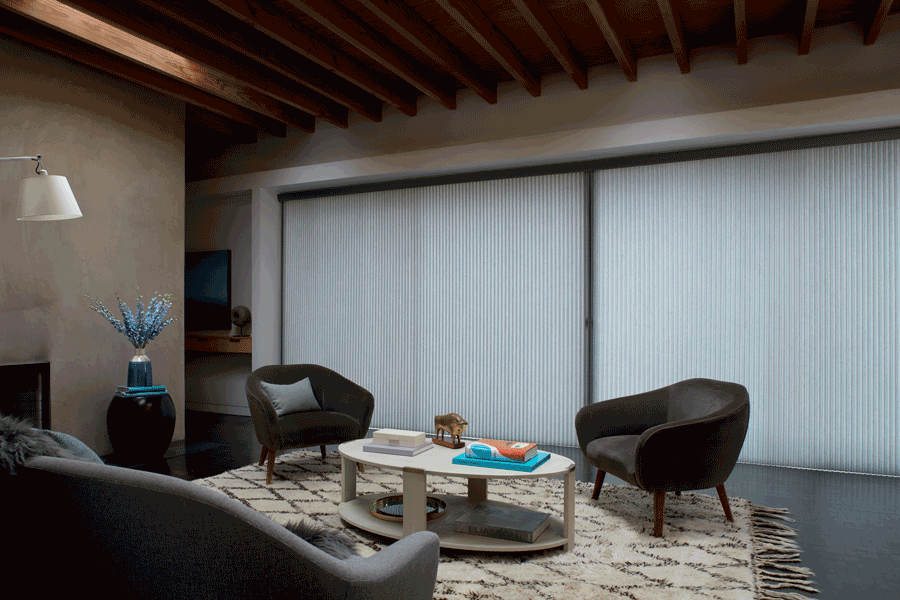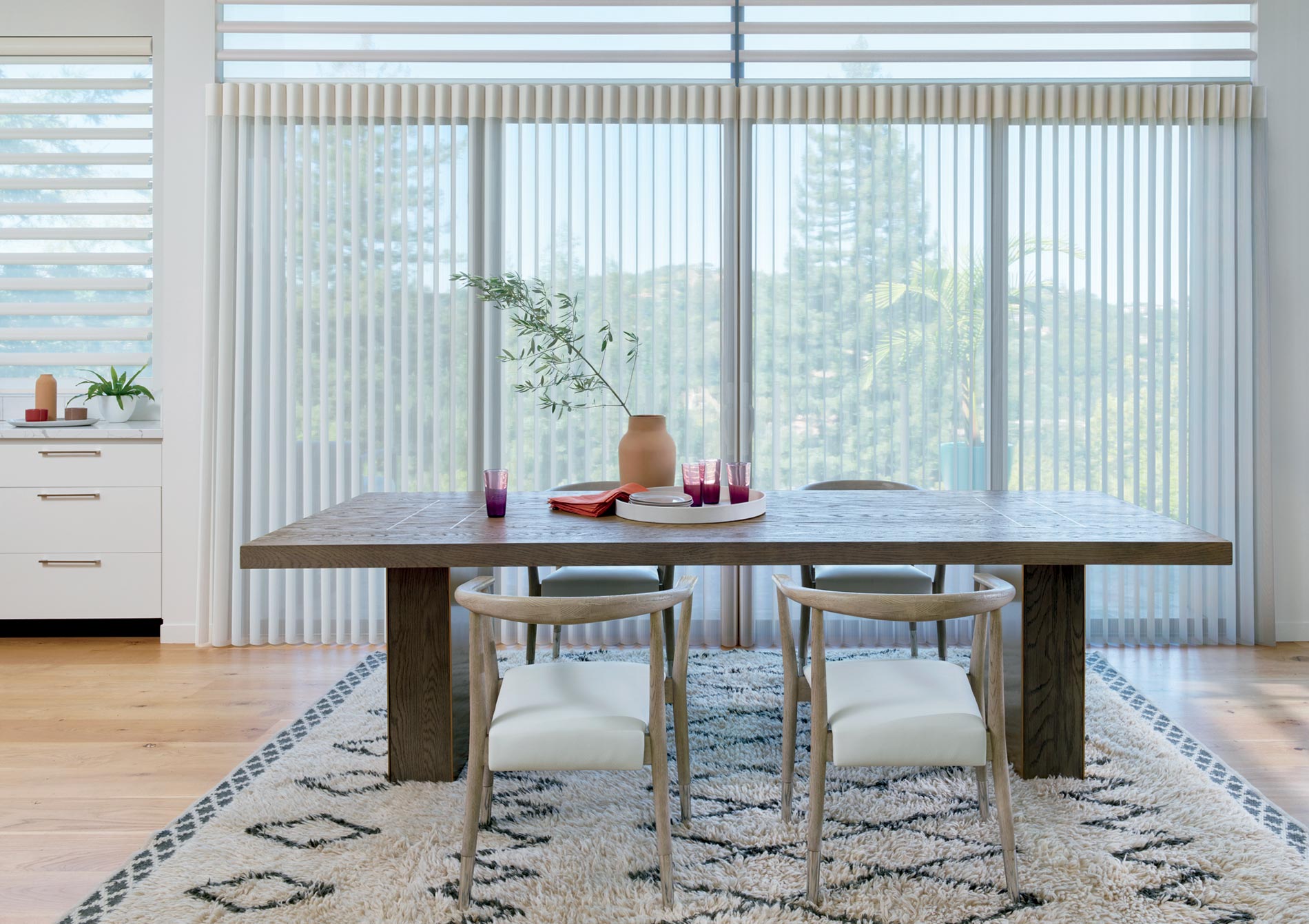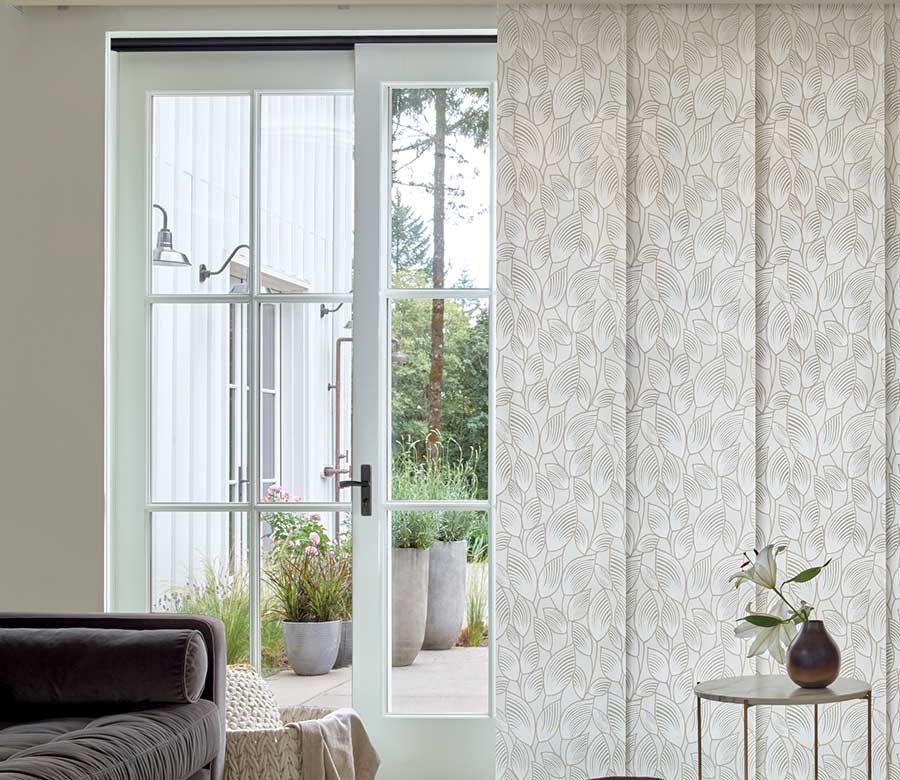 The other concept is to cover the sliders with horizontal shades–opening up and down. Based on your home, and the size of the door, will determine how many shades might work best.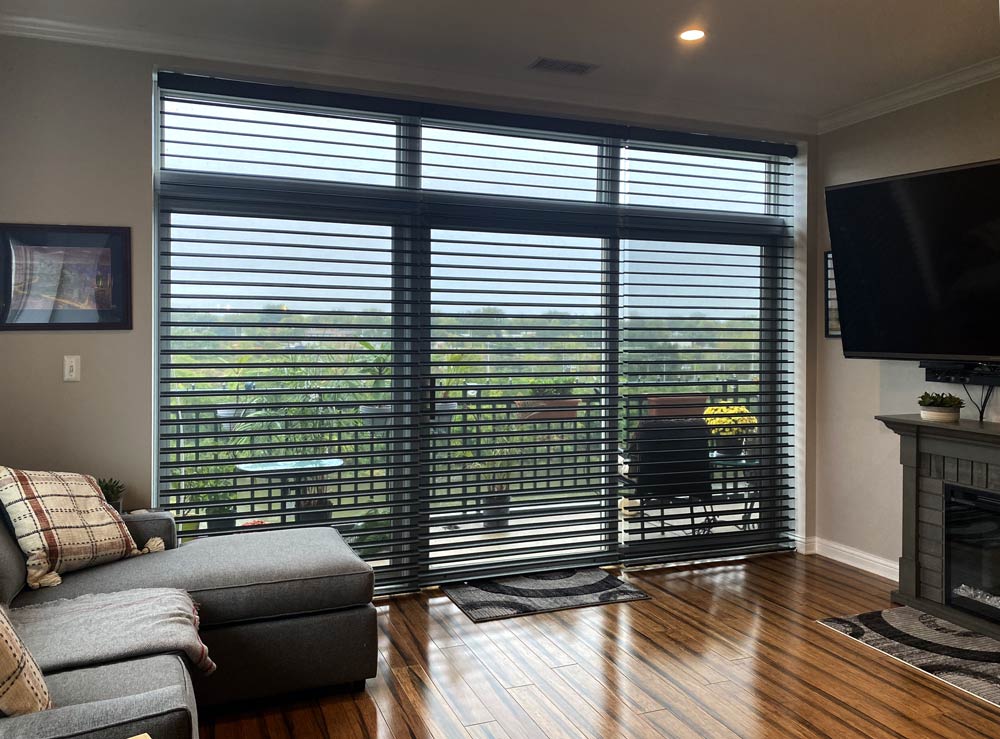 This can allow you to keep some of the shades in place, only adjusting the section that covers the door when it's necessary. Many homeowners also enjoy using our smart shade system with this option. This also allows you to enjoy the look of the shades you love most–like these Silhouettes!
Answers for your questions about covering doors? We've got them!
Covering doors can feel overwhelming. There's no reason to stress. You need options that will protect your interiors with privacy, light control and temperature management, while upgrading the look and function. All of those factors come together for the ideal experience, and our window covering specialists are pros at helping deliver that experience. Get in touch with our team, at Skyline Window Coverings, for your FREE consultation.