If you have a room in your home that seems 'design neglected,' it's probably your bathroom. Choosing new bathroom features can seem like a monumental task. Oftentimes, clients postpone bathroom decisions because they are intimidated by the list of variables to consider. If controlling the light, privacy or humidity concerns are holding you back from making improvements, we can help.
Winning Combination
Privacy + light are two of the most important elements to consider when updating bathroom features. To fully enjoy the comfort of your space, implement ways to give the space an open feel and privacy in one.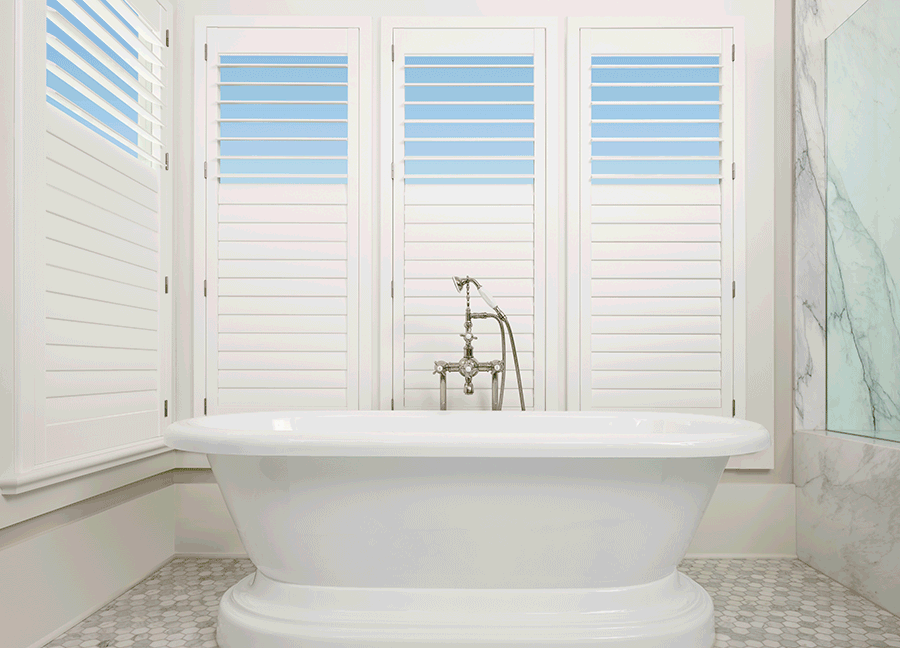 By utilizing the correct window coverings such as plantation shutters with split tilt, you can allow light in through the top of the window and still enjoy privacy at the bottom. As for shades, try top down bottom up, always a client favorite. 
Window Direction Dilemma
The topic of window direction is always up for discussion especially when updating bathroom features. The direction your windows face can have a direct impact on the comfort and needs of the space. There are many factors to consider when choosing window coverings that go beyond privacy + light. Allow the experts to evaluate your home and suggest solutions that will create the perfect atmosphere for your bathroom.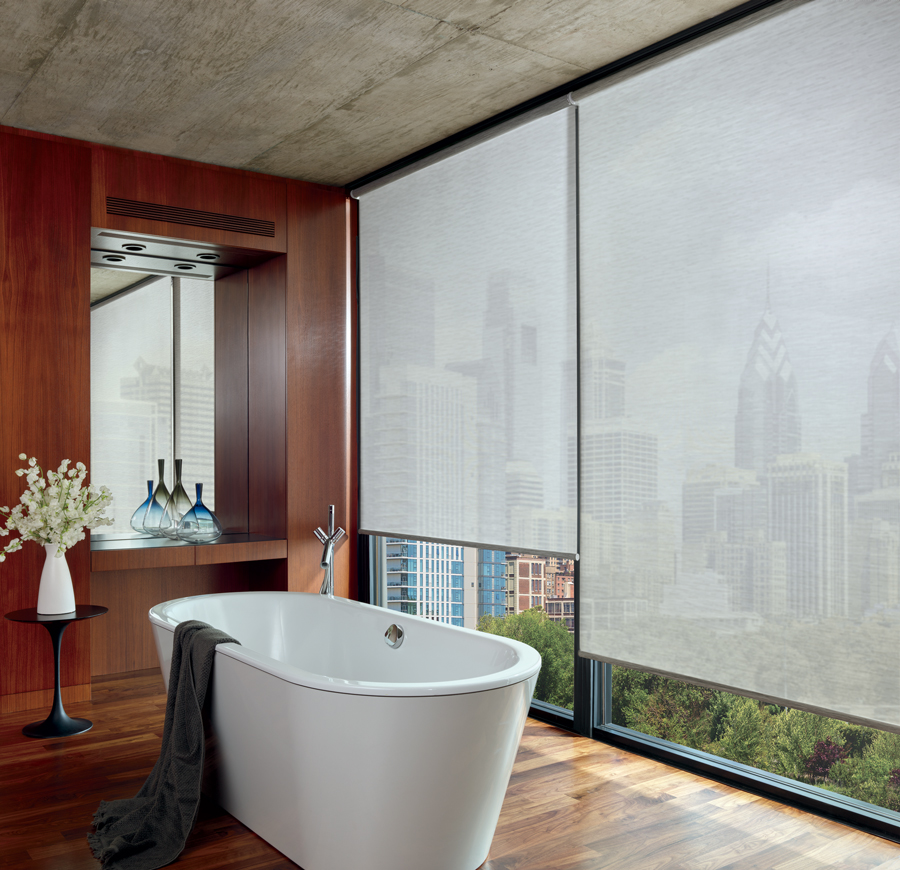 Consider this scenario. You've remodeled your master bath only to find out that strong UV rays are damaging your wood furnishings. Or, the harsh glare makes it uncomfortable to find peace. By installing window coverings with function and purpose, the new bathroom features you've chosen will be appreciated. 
Our window covering products can protect from UV rays, reduce glare and add energy efficiency by insulating during warm and cold temperatures. Fabric window shades are a popular option when you need function & design benefits in one.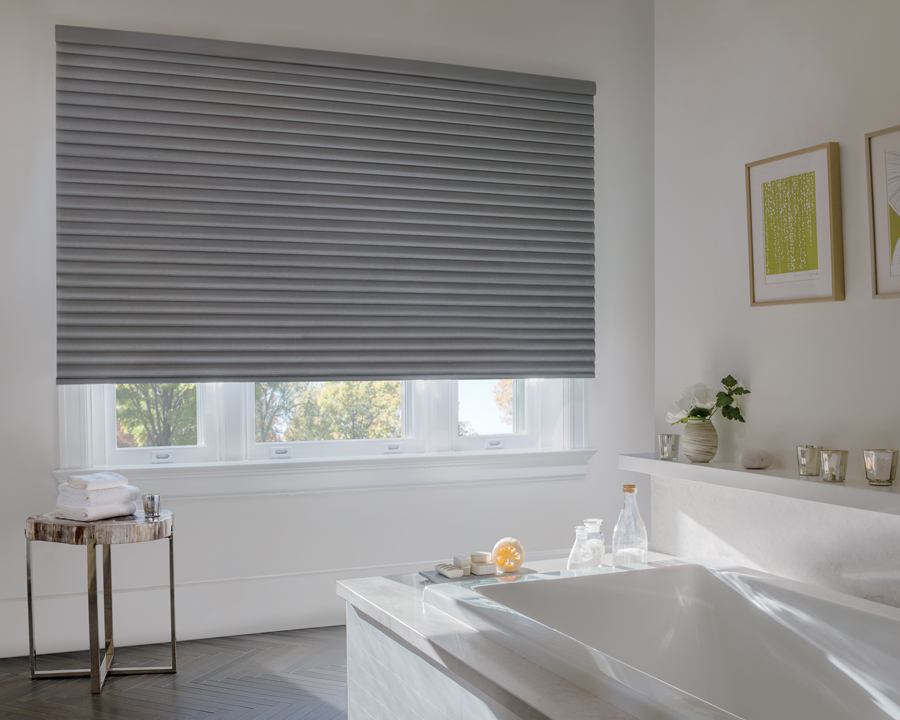 How to Dress Large Windows 
Floor to ceiling windows look gorgeous, but will definitely cause privacy issues–especially in your bathroom. With any large window, the right choice in window finishings can help create the ideal look and atmosphere. Enjoy both your view and your privacy by adding bathroom features that function purposefully.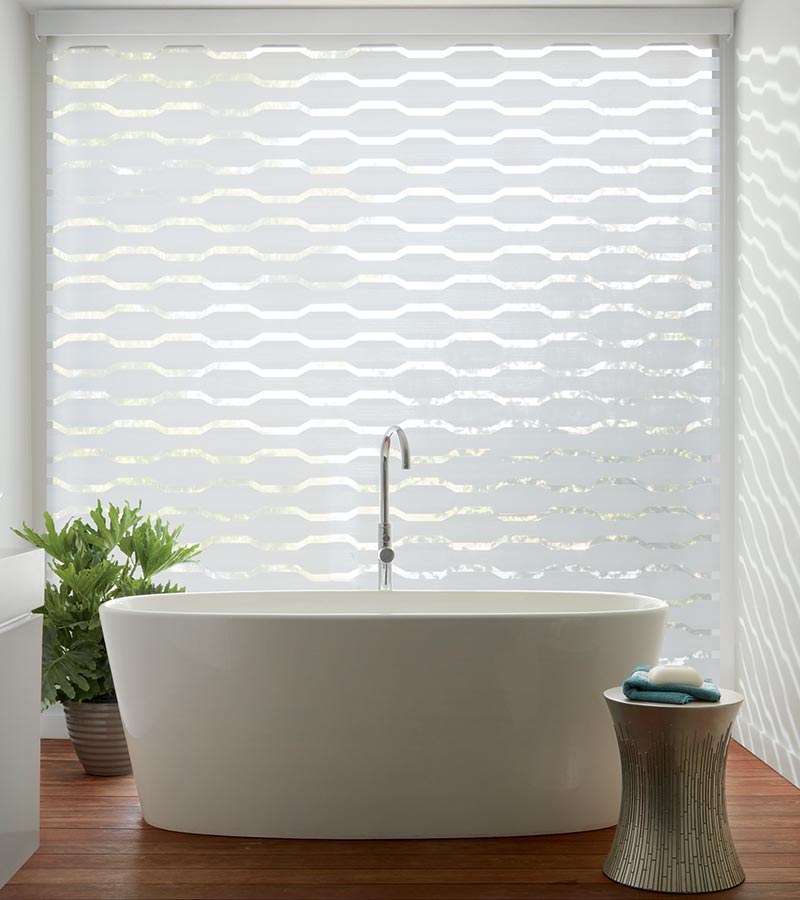 Above, style and function converge with the creation of a wall feature developed with privacy in mind. The use of designer shades resembles art when drawn closed and allows for light and landscape views when raised. What an unexpected bathroom feature. Add smart shades to gain more control and transition effortlessly from open to closed. 
The Styling of Small Spaces
In the case of small windows, try styling with neutral window coverings. This will give the illusion of a larger space. Small bathroom windows covered uniformly will make the room feel less stuffy and closed up.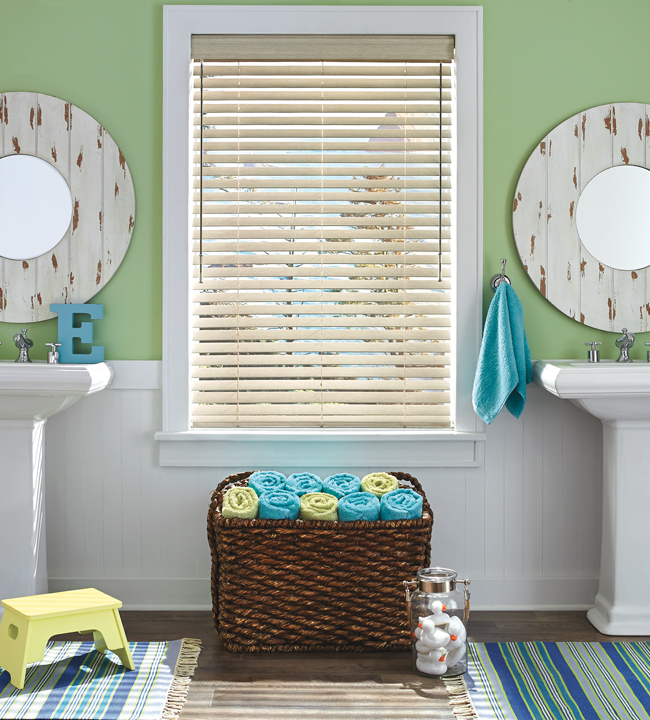 And remember: When adding bathroom features to a small space, it's important to consider adjustments. Having the ability to open and close window shades quickly and with ease will benefit you most in a child's bathroom, a guest room or a powder room. Get in, get out–no muss, no fuss.
You Deserve the Best Bathroom Features
Now that you know what bathroom features are available to you, it's time to make some decisions. Is it privacy you need? How about climate control? Want to make a fashion statement? All of these benefits and more are possible with the appropriate choices in window coverings. Let us help you in the process of making your bathroom work for you. Our experts can help, simply contact us for your FREE Consultation today.