If you want a look that's fresh, clean, and bright, white decor can deliver. When done well, decorating with white adds beauty, sophistication, and even a sense of coziness. It's also a great way to incorporate contrast. Black and white are a timeless pair, and coupling white with bold colors is a sure way to make them "pop" with striking appeal. Plus, there are all kinds of stylish possibilities in texture and the varying shades of this remarkable neutral. If adding upscale design to your home is on your to-do list this season, white decor is where it's at! And we have some tips to help you achieve a white-done-right look in all of your spaces.
Find the Right Whites
You might think that white is white, but that's far from true. Did you know that every color has a shade of white? From pinks and yellows to blues and greens, paying attention to undertones is key to finding the right white for your home. A room with a lot of natural light, will often look warm, so choosing whites with cooler undertones will help bring balance. On the other hand, spaces that feature LED or fluorescent artificial lighting lean toward the cool side, so red, yellow, and orange undertones will warm things up a bit. But, when working with white decor, you don't just have to stick with one perfect shade. In fact, layering similar whites is a beautiful way to add depth and interest to your space.
Add Layers of Texture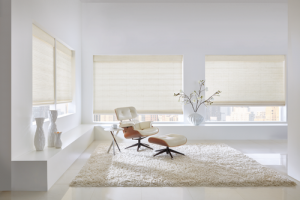 Have you ever been in a white room that feels clinical and boring? What about one that feels cozy and welcoming? What makes the difference? It all boils down to texture. A healthy dose of varying textures makes white decor comfortable and delightful. If your style is more relaxed, consider a plush white area rug, softly flowing draperies, and cable knit throws or pillows. If you like a more polished look, try accents with glossy finishes, dimensional tiling, and the organized appearance of elegantly white plantation shutters. The different textures will work together to draw your attention and stimulate your senses.
Experiment with Collections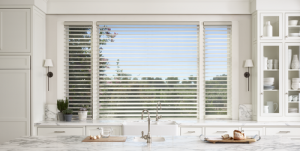 White decor is an ideal choice for creating a collection. When working with items that are all the same color, you won't have to wonder if they'll coordinate. Plus, using a single color brings a sense of unity to all the pieces, and white keeps things looking clean and ordered. As you assemble and display your collection, consider varying the size–height and width–of items to add visual depth. And, as you're stacking or grouping them, remember that odd numbers are more appealing and effective in decorating.
Want Help with White Decor & More?
Our team at Skyline Window Coverings is dedicated to serving you right in the comfort of your own home. We'd love to help you design a space with white decor and to show you the new hardware, fabrics, and designs from Hunter Douglas. Inviting us over means you get to experience full size samples and the trusted advice of our design experts in the very rooms you're planning to transform. Contact us today for your free, shop-at-home consultation!