We're in the middle of winter, and the frigid temperatures are making us wish for first signs of spring. Speaking of those temperatures, how are your windows? Are your windows – and possibly sliding glass doors – giving you issues? To take in those beautiful sights, large scale windows are a must, but they come with a host of issues that we would like to help you solve! We have answers for your trickiest problems. We've included a few favorites, but if you want to see what others have done in their own spaces, head on over to our Houzz site to take a look at some of our projects!
Experience Privacy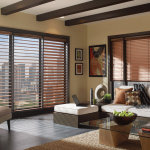 Living so close to one another, privacy has to be a priority – there are times when you need comfort and solidarity. With large windows, you want to be able to enjoy the view and natural light when you want, but easily adjust for more or less privacy. Window coverings for your doors and large windows are essential for your comfort. Celebrity Aluminum Blinds offer you the privacy you need, as well as the enjoyment of your beautiful view and natural light as you see fit. Chic metallics add a modern, upscale look. 
Control the Light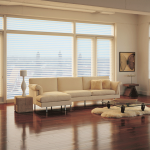 Of course, we all would love to enjoy some sunshine – especially this time of year, but too much can result in faded furnishings, relentless glare and exhausting heat. When you need light control, Silhouette Window Shadings and Pirouette Window Shadings are two of our favorite window coverings for your doors and large windows. They adjust along a wide range so you can create the perfect setting. The fabric vanes, along with the sheer backing, soften the light so you can enjoy the view while filling your home with a warm glow. For those hard-to-reach windows, and the ultimate in convenience, automation of these window coverings will allow you to add elements of energy efficiency all throughout the year.
Enjoy Fashion Forward Function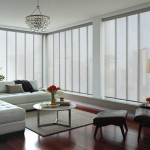 Along with floor to ceiling windows, you may be lucky enough to have an outdoor space that lets you enjoy the other three seasons of the year. Sliding glass doors can offer you access to that outdoor space, but when they are not in use, they function very much like a large window. One of our favorite window coverings for your doors and large windows is the sleek design of Skyline Gliding Window Panels. These ultra-wide panels offer contemporary design that coordinates your home for dramatic style, while also providing ease of function.  A simple push or pull on the wand, and they open and close effortlessly. Add automation to enjoy the stunning views of Chicago with just the touch of a button.
All year round, you can find beauty in the view right outside your door..and just beyond your windows. Don't let the frustration of bare windows keep you from enjoying that view and the atmosphere of natural light. We have solutions for window coverings for your doors and large windows. Contact our team, at Skyline Window Coverings, for a free, in-home consultation.