The days are definitely shortening…have you adjusted yet? How's your family sleeping? Sleep is an important part of a healthy life, and without it, sometimes we just can't function. Have you been looking into room darkening shades or blackout solutions? Not sure which will work for you? We can help. A good night's sleep can be a huge benefit to your mood, energy and productivity. If you feel like you aren't getting quality sleep, or enough of it, let our team, at Skyline Window Coverings, help you discover ways to improve your sleep.
So…Which Is Better?
The quick answer? Both! Room darkening and blackout shades will both improve your quality of sleep. It really depends on your home and your preferences. Room darkening blocks out most light, for a darkened environment, perfect for sleep. During times of bright light, room darkening shades may offer subtle light, compared to blackout shades. Blackout shades do exactly what the name states – they block out the light for a pitch black room, even with bright light outside. Now it's up to you to decide which other features meet your lifestyle and decor!
Duette Shades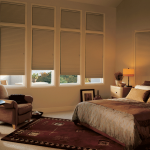 Room Darkening + Energy Efficient
For the highest standards of energy efficiency in the industry, the Duette Collection will exceed your expectations. From top down bottom up operation that welcomes in natural light during the day while maintaining privacy, to the uniform pleats of a fabric selection that is sure to offer you home a distinct look, Duette Shades provide amazing benefits in addition to room darkening.
Solera Soft Shades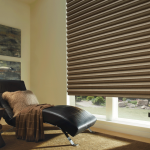 Room Darkening + Energy Efficient
Streamlined fabrics and colors highlight the flowing fabrics of Solera Soft Shades. An affordable option for room darkening and with cellular design for energy efficiency, these shades provide simplistic operation, functional benefits and alluring design to complement the decor of your home.
Designer Roller Shades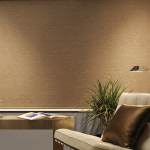 Blackout Shades + Sleek, Low Profile Design
Functioning like the simplistic on/off of a light switch, Designer Roller Shades adjust open and closed to fit your lifestyle. From soft hues to unique patterns and textures, these window coverings will add contemporary appeal to any room.
Silhouette Window Coverings with A Deux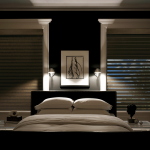 Blackout Shades + Sheer Fabrics Diffuse Glare
From the innovation of Hunter Douglas, comes the feature 'A Deux' –  a roller shade – attached behind the Silhouette Shade on the same, shared headrail. Operating independently, you control the movement for a blackout experience when you need it. Your Silhouette Shades will allow you the ultimate light control along levels of adjustment, while the sheer backing reduces the glare. Now available in Natuckets, you can choose the collection you love!
When you and your family need better (& more!) sleep, consider what window coverings could do for you. Transforming your bedrooms into environments perfect for a good night's sleep is what room darkening and blackout shades do best! Contact our team, at Skyline Window Coverings, for a free, in-home consultation.