Are you loving the arrival of crisp, fresh air? Are you ready for the vibrant colors that are about to burst onto the trees? Autumn is here, and it's always a gorgeous time of year. Invite the beauty and richness of fall into your home with rustic decor. While you might be envisioning log cabins or beefy rafters, this time-honored style is being reinterpreted with modern twists. Contemporary rustic decor is rugged yet refined and will bring a unique look and feel to your home. See how furniture, accessories, and window treatments can usher in the warmth, comfort, and picturesque landscapes of autumn with sophisticated flair.
Warmth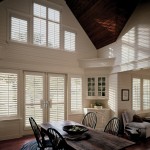 Whether cozying up to a crackling fire or sipping a mug of hot apple cider, we all cherish warmth during fall. Rustic decor adds celebrated warmth to your interior spaces. Wood tones along with a color palette that includes reds, oranges, and yellows make your home a warm and inviting place. The glow of autumn sunlight magnifies that–which means your window treatments are key. Here plantation shutters eliminate glare and direct soft, natural light to illuminate the rooms. The ambient light makes the design elements stand out with striking beauty and brings a warm tone to the whole area. Perfect for large expanses of glass on windows and doors, these window treatments create the ideal atmosphere for rustic decor and also become part of the style.
Comfort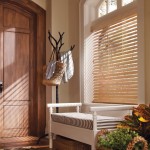 In fall, we love being comfortable. Slipping into a warm sweater and enjoying a cup of steaming hot soup bring pleasure beyond compare during the season. Rustic decor radiates comfort. Natural elements bring the peace and tranquility of the outdoors right into your home. Here a branching coat rack, fall foliage, and wicker baskets are organic ingredients in this space. The window treatments look natural too. When styling with rustic decor, you want simplicity at the window–nothing overdone or ornate. Letting in beautiful beams of sunlight, while diffusing glare, these blinds provide perfect daylighting and their earthy color blends easily into the space. They are the essence of comfort.
Landscapes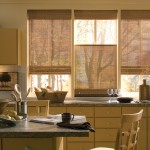 There's nothing like the beauty of autumn scenery. Trees blaze with color and sidewalks are carpeted with leaves. All of that lives outside of your windows, and it should be alive inside your home too. Rustic decor unites outdoor beauty with that which reigns from within. Your window treatments should let autumn landscapes into your home. Here the window coverings allow a view-through while providing light control and privacy. Their texture and color complement the stone countertops, wooden cabinetry, and simple accessories with a rugged softness. The magnificence of autumn and sophisticated rustic decor meet in this space and are at their best.
Love Rustic Decor?
Autumn is in full swing this time of year, and it's time to fall in love with rustic decor in your home. Its warmth, comfort, and beauty will surround you daily and be the sweetest treat of the season–even better than warm apple pie or pumpkin spice lattes. We'd love to help you design rustic spaces you'll savor all year long with window treatments that complete your style. Stop in to see us or, better yet, let us come to you! Contact our team at Skyline Window Coverings for a free, in-home consultation.