Skylights: Beautifully unique, they add a tailored look to your home while welcoming in some gorgeous rays of sunshine. They can also be a royal pain at times. With unyielding glare, an uncomfortable draft and difficult function, it can be hard to remember how much you once loved the idea of skylights. But, wait! There's hope. With amazing innovations from Hunter Douglas, you can learn to love your skylights again. Have you been searching for skylight solutions? We have the best shades for skylights, but first, you must ask yourself the three most important questions…
Is energy loss a concern in your home?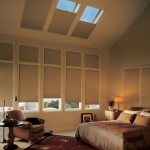 Let's be honest. If you're living here, you're dealing with energy loss. Year-round temperature changes affect many homeowners, with the overall rate at 50% energy loss through your home's windows. With skylights, this can be a huge problem–especially in the winter when heat rises and escapes through those skylights. The best shades for skylights–Duette shades and Applause shades–feature a cellular design that provides insulation at the window for greater energy efficiency. And that's not all. Skylift–an innovation created specifically for skylights–provides weather stripping that guards the air in your home.
Do you want room-darkening, or light-filtering?
Think about the location of your skylights. Depending on the individual rooms that house the skylights, your answer may change. Your bedroom is great example of a room that would benefit from room-darkening shades. No more bright morning glare rushing in on a Saturday morning. However, with other rooms–kitchen, living room, bathrooms–light-filtering fabrics might be just the answer to solve the annoying glare and harmful UV rays. Invite the warm glow of soft light, while protecting the atmosphere of the space. The best shades for skylights will allow a custom designed answer for any room in your home.
How do you want them to function?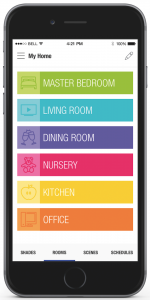 Easily, we'd guess. That's the problem with many skylights. The fact that they are hard-to-reach can seem hopeless at times. Not anymore. PowerView Automation offers you the ultimate control, accessing your skylight shades with the touch of a button. The best shades for skylights can be adjusted from the palm of your hand, whether you choose the sleek and stylish PowerView Pebble remote or your favorite device. Adjust your skylight shades from across the room or across the country. With the PowerView App, you can enjoy scene selection for your favorite setting, or even schedule the adjustments so you never have to think about it again. Unless you are thinking, "Wow. That's amazing."
Have you been struggling with finding solutions for your skylights? We have the answers for you as soon as you can answer those three questions! No matter what features you need, the best shades for skylights will help you fall in love with your skylights again. We'd love to help you find answers today. Contact our team, at Skyline Window Coverings, for a free, in-home consultation.