How do you feel about your home? Is it styled in a way that you love? Have you taken advantage of smart features to enhance your lifestyle? Do you have the right solutions in place to manage the environment of your indoor spaces? Maybe there are certain rooms that feel just right while others definitely need some help. A room transformation might be just the thing you need to perfect the mood, design, and function of your home. A lot of times a lack of light control is the main reason a room doesn't look and feel the way you want it to. The good news is that, with the right window coverings, you can create the home atmosphere of your dreams! Just look at the results of this room transformation, and imagine the possibilities for your own unique spaces.
Beauty with Frustration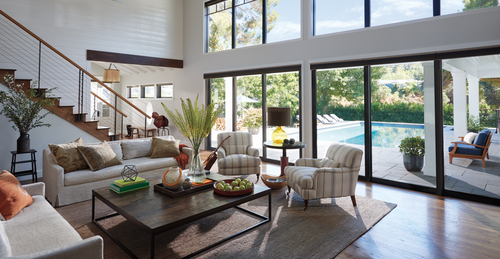 When you first look at this room, it's hard not to be blown away by the striking design. There's an intimate conversation area in the midst of a grand open floor plan. Large windows offer a stunning view of the landscape and outdoor area along with a sea of natural light. What's not to love? The bare windows, that's what! Bare windows–especially large, expansive ones like these–come with a whole host of frustrating issues:
Uncontrolled UV Rays – Fade and damage your valuable flooring, furnishings, art, and accents
Hot, Hot Heat – Is inescapable, unless you leave the room, of course
Unyielding Glare – Makes you want to bust out your sunglasses
Zero Privacy – Leaves you feeling exposed and puts your security at risk
Instead of being able to relax, enjoy the view, and chat with friends and family in this space, the homeowners found that they avoided it more often than not because it just wasn't comfortable. What this area needed was a room transformation, and that's just what it got!
Beauty with Benefits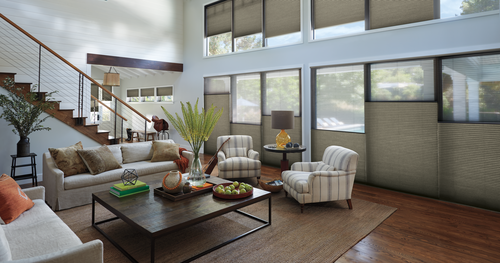 Looking at this room now, not only do you marvel at the design, but you can almost feel the comfort. That's the difference light control can make. So often, people fear that they'll lose the stylish look of their home and their view by adding window coverings. But today's innovative shades actually enhance your home's styling and keep your view intact. This room transformation is the perfect example. The fabric of the shades coordinates impeccably across the open floor plan and adds a soft touch to the space. The conversation area feels so much cozier and more welcoming than it did when harsh light was streaming in. Plus, with top down operation and the dual function of these Duette Duolite shades, the view is still there…and you can actually enjoy it!
Plan a Room Transformation of Your Own
Taking control of how light enters and interacts with your home is the best way to start a room transformation. Many times, it's all you need to do. The right window coverings add gorgeous style to your spaces and offer practical solutions for gaining the comfortable atmosphere you deserve. Whether you choose blinds, shutters, or shades, you're bound to see amazing results:
UV Protection – Preserves the color and value of your design elements
Comfortable Temperatures – You stay cool in the summer and warm in the winter
Beautiful Light – Sunlight is filtered and diffused for a soft, gentle glow
Privacy & Security – You're always in control of the view in
Are you ready for a room transformation like this one in your own home? The experts here at Skyline Window Coverings would love to create a custom plan just for you. We'll help you find the right window coverings to control the light that enters your rooms. We'll walk you through all the choices–from colors and styles to fabrics and features–to ensure a perfect look and the lifestyle benefits you need. Contact our team for a free, in-home consultation today.