Have you heard of style icon Iris Apfel? A tried-and-true, living legend of the design world, Apfel gained fame in 2005 when the Metropolitan Museum of Art celebrated an exhibition dedicated to her life through displays of clothing and accessories. This exhibition, "Rara Avis," (translated "Rare Bird"), featured collections put together by Apfel. At 95 years young, style icon Iris Apfel has partnered with Hunter Douglas to showcase her passion for timeless design and personal style. Both of these characteristics are the height of what we are all about–creating an atmosphere and lifestyle that you love. She's got a lot to say about life–and you'll be missing out if you don't stop to pay attention.
Be Present.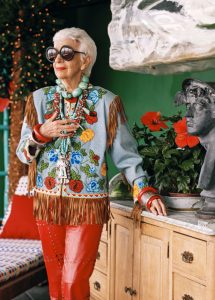 Source: Harper's Bazaar
In the fast-paced world we live in, we can multi-task like never before. But style icon Iris Apfel? She lives in the moment. Take in the surroundings, let the fabric run through your fingers, be present. She's been known to comment that all the time-saving, multi-tasking being done today is robbing us of the joy of what we have–at that moment, right in front of us.  
Be Adventurous.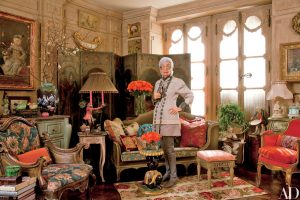 Source: Architectural Digest
She spent much of her life traveling the world, experiencing other cultures and living life to the fullest with her late husband, Carl Apfel. When looking at collections of her wardrobe or viewing photos of her Manhattan apartment, you can tell–this is a woman who lives for adventure. Use that life lesson to inspire the design in your own home. Paint with bold colors. Design with lively patterns. Create dimension with layers.
Choose Wisely.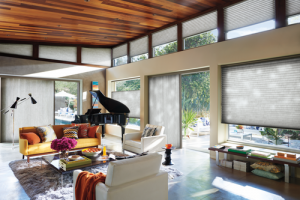 The time we have in life is precious, and there's no one who knows that more clearly than Apfel, who has seen almost a century of life. Just like with love and friendship, you need to choose wisely when it comes to what surrounds you. You've heard the expression, "You are the company you keep." The same can be said for the design elements of your home–they should be intentional. She has spent her life collecting unique pieces and creating custom design.
Tell Your Story.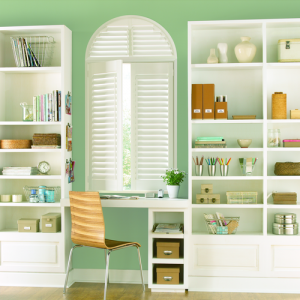 If you take time to view photos of her home, you'll see rich history and confident style. Through art, accents and decor, her home tells the story of her life. And, she makes no apologies–even at a time when "minimalism" has become the ambition for much of society. Known for both eclectic decor and maximalist design, her home is filled with memories of a life well-lived and well-loved.
Own It.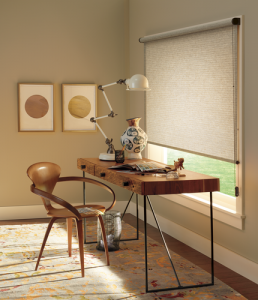 Your life is your own. Don't spend any time thinking about the hand that's been dealt to someone else, or the judgment passed from other people. Style icon Iris Apfel has stated that as an individual grows old, our society expects them to disappear. She's certainly turned that thinking around. Rising to stardom with the attention from the exhibition at the Met, she was in her eighties. She makes no qualms about her style, and she gets up each morning with a zest for living life. We should all be motivated to show such intentional vitality each and every day.
Style Icon Iris Apfel…Be Who You Are.
Such a great role model, this woman is classy and charismatic. We're so glad we have her to look up to, learn from–and just wait till you see what she does next. She lives her life with intention, and we think you should to! Are you ready to re-design a space in your home? Do you want the atmosphere of your home to reach its full potential? Like style icon Iris Apfel has taught us, there's no time like the present! Contact our team, at Skyline Window Coverings, for a free in-home consultation.