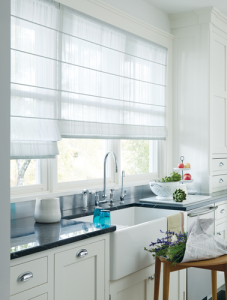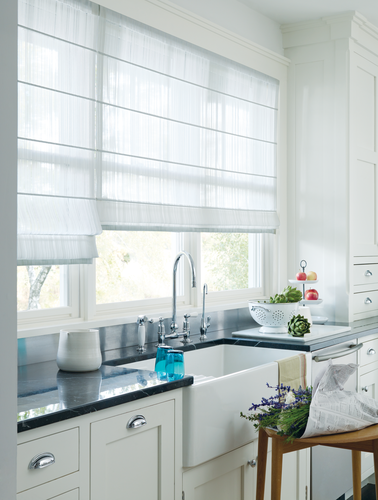 What do you love to wear? Relaxed t-shirts, trend-setting shoes, perfectly tailored pants? Your wardrobe exudes your personality, but did you know that the design of your home does too? When you put together an outfit, you send a message about who you are and how you're feeling, and when you decorate your living spaces, you do the same. Your windows are a big part of the look and feel of your home, and you should dress them to make a style statement.
From the fit and fabric to the texture and design, everything should come together to create the mood, atmosphere, and look you want for each room in your home.
And when it does, it'll feel amazing…just like it does when you're in the perfect outfit! So, where do you begin? We think you should take a look at the standard in window treatment fashion: roman shades. With so many design options, you can customize them for a look that suits you and what you love. Need inspiration? Our design experts gathered the most popular roman shade style statements. Which one speaks to you?
Tailored to Perfection
When it comes to roman shades, this is the classic look. It's the style that most often comes to mind when you envision them. Neatly arranged folds dress the window for timeless elegance when the shades are raised. Drawn, the fabric flattens out and coordinates with the whole look of the space. Paired with a matching top treatment, this roman shade style is one that'll endure through the ages.
Contemporary Sophistication
Flowing folds of fabric, comparable to teardrop or hobbled shades, bring the tradition of roman shades into the now. Vignette Modern roman shades add waterfall-like dimension to the window when lowered and stacked softness when raised. Plus, they offer the most innovative features for energy efficiency and operational control. Visually interesting and all-out gorgeous, this roman shade style can be graceful with plain fabric, bold with geometric designs, vintage with paisley, and so much more!
Polished and Chic
If you love an organized look, knife pleat or ribbed pleat shades will deliver. Pronounced horizontal seams put structure and designer styling on display. Polishing off the atmosphere of your space, this type of roman shade style will really make a statement. The fabrics, textures, and patterns you choose will play a big part in defining the look of your home. The possibilities are endless, and that makes these romans especially appealing.
Voluminous Luxury
One of the alluring aspects of roman shade style is the dimension it brings to your windows. The voluminous, flowing contours are hard to rival, and Solera Soft roman shades are the ultimate in sculpted softness. Available in a wide selection of luxurious fabrics, their beauty will make your home feel complete. Plus, they offer amazing benefits to help you create the perfect environment in every space: energy-efficiency, top down bottom up operation, room-darkening, and more.
A Roman Shade Style That's All Your Own
Like a closet full of outfits you adore, you deserve a home that speaks to your personality and surrounds you with a look and feel you love. Do you know which roman shade style will work in your spaces? Could you use a personal shopper? Our design experts at Skyline Window Coverings are here for you. They'll get to know you and your home's needs for fashion and function to help you find the perfect roman shades. And, they'll come right to you! Contact us for a free, shop-at-home experience to get started today.