Could your home use some refreshment? Inviting in natural light is one of the best ways to breathe new life into the rooms around your house. But, you can't just leave your windows bare and expect amazing results. Unchecked sunshine causes so many issues. You need ways to manage the light that enters through your windows. That's where window coverings come in. The best shades for each space in your home will depend on the atmosphere you want to create, your lifestyle needs, and the function of each room. How light interacts with the space and weather concerns also play a key role. If you're ready to refresh your home, we're ready to help. We've got the inspiration you need to get started.
The Bedroom: Customized Comfort
The best shades for bedrooms are ones that provide customized comfort. You want to them to be adjustable so you can enjoy beautiful natural light and high levels of privacy. With the wide range of weather we experience, energy-efficiency is also important. Shades that help you maintain a consistently comfortable temperature will make your bedroom a place you love to retreat to every night.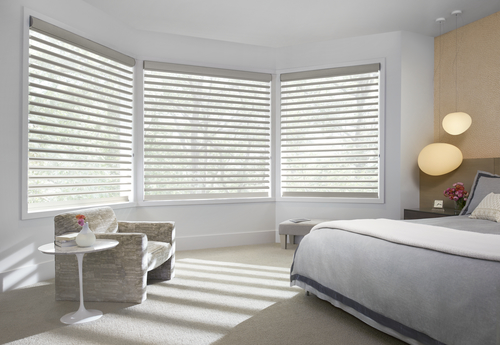 And, room-darkening is a must. It'll block out any distracting light from passing cars, motion lights, or street lamps to help you get the quality sleep you deserve. To top it all off, adding shades gives your bedroom an instant style boost. So, if you want to refresh your home, start in your bedrooms. The mood and energy-enhancing results will rejuvenate you right along with the place you call home.
The Bathroom: Privacy & Light
Two key features of bathrooms are privacy and light. There's really no question that your bathrooms need to offer the utmost privacy. But, too often the quest for complete privacy results in bathrooms feeling like dark little caves. Allowing natural light to come in is essential. It makes the spaces feel more open and provides optimum lighting.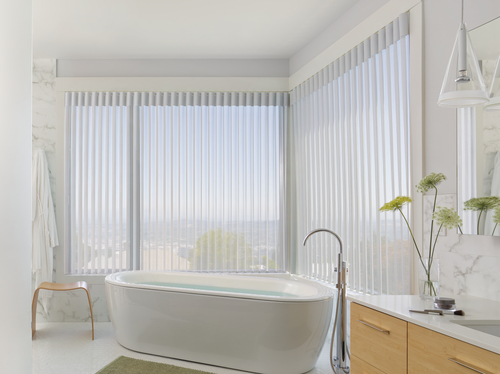 The best shades for bathrooms help you achieve the perfect balance of privacy and light control. They also make adjustment simple. Bathrooms are known for skylights and hard-to-reach windows. Motorized blinds and shades are huge assets in bathrooms because control is in the palm of your hand. A quick tap creates the ideal atmosphere.
The Office: Productive Success
Whether you use it to do most of your work or to manage the crazy business of family life, your home office is a vital space. It should help you achieve high levels of productivity and success. The best shades for this room will filter entering natural light and let you enjoy a gorgeous view.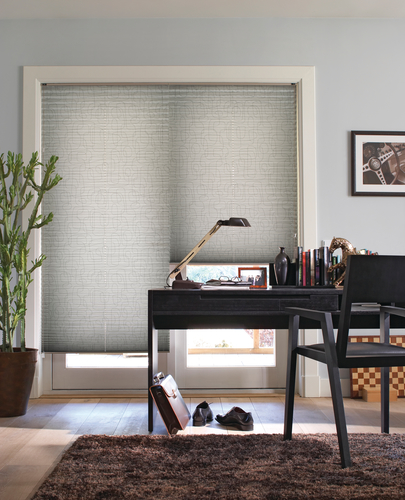 Light-filtering shades are crucial in a home office because you want the benefits of natural light, but nothing will hinder your work quite like annoying glare bouncing off screens and making you squint. Light-filtering shades cut the glare so you can focus on the tasks at hand. Shades that also provide a view-through are valuable because after staring at your computer with tunnel vision, it's nice to be able to look up and see out.
The Living Room: Come Together
So much goes on in your living room. Depending on the time of day or day of the week, the circumstances are constantly changing. One minute you're snuggled up on the couch with a book and some coffee, later the kids are spread out doing homework, and after dinner–well, it probably depends on the day of the week. One evening, everyone gets together for family time with fun and games.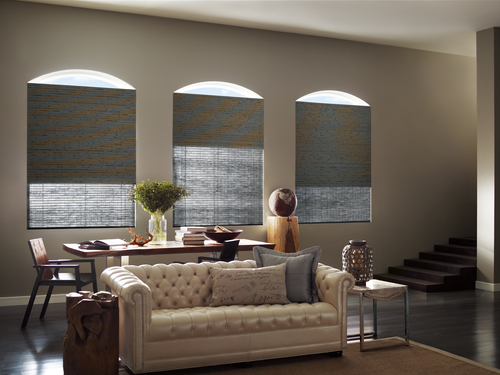 Another night, you'll need room darkening for movie night. The best shades for a gathering space with ever-changing needs offer innovative design, custom control, and gorgeous styling. Did you know it's possible for your shades to draw in ample natural light without glare, provide a view-through with options for privacy, and protect your home from extreme temperatures and UV rays–all while creating a designer look that brings everything together? When it comes to fashion and function, custom shades let you "have it all!"
The Best Shades to Refresh Every Room in Your Home
Are you ready to refresh your home? Finding the best shades for every room will help you create the perfect atmosphere, amp up your styling, and rejuvenate the look and feel of your home. And, our design experts would love to help. They can bring samples, ideas, advice, and inspiration right to you. Contact our team at Skyline Window Coverings for a free, in-home consultation, and let us help you get started today!