Are you looking for home design inspiration? Have you spent more time than you care to admit collecting ideas from Pinterest and Houzz but find yourself stuck in the dreaming phase? Well, you're not alone. Crafting a beautiful, functional home that speaks to you is something that a lot of people struggle with. It's the main reason home design inspiration sites have exploded in popularity over the past five years. It's just tough to turn your house into a home that bursts with style, personality, and gorgeous appeal all by yourself. But, the good news is, you don't have to! We're here to help. Our design team can make your ideas and dreams a reality.
Meet the Designers Behind Skyline Window Coverings…
Guess what? We're just like you! We're Houzz addicts and ecstatic Pinners. If you want to find out what we're all about, take a look at what we love. Meet Chrissy, the owner and lead designer of Skyline. Visit our About Us Page to discover how we find design inspiration for clients. And learn about our team, who all bring tremendous design experience to your home. If you're still unsure about what exactly you want to do, we can offer advice and inspiration tailored just for your spaces. Take a look at how window coverings and a custom experience with our experts will transform your home into all that you want it to be.
Window Coverings Matter
When you envision the home of your dreams, what do you see? The atmosphere is exceptional, the style is incredible, and you probably visualize yourself enjoying life in each and every room. So, how do you make that a reality? Start with the windows. Why? Because the look, feel, and function of your home all begin there. The right window coverings allow you to control entering light so glare and brightness don't overwhelm your spaces. They give you options for privacy and energy-efficiency so you can live your life in comfort.
And, when you do pick out the perfect furnishings and accents, window coverings protect them by blocking damaging UV rays. Not only that, but blinds, shades, and shutters are stylish in and of themselves. They add instant beauty to your home and are a gorgeous backdrop for showcasing all the other aspects of your design. So, if you're seeking design inspiration, you've definitely come to the right place. Check out our work on Instagram, browse our design ideas blog, or, better yet, work on-on-one with our design team to get personalized advice and ideas just for your home.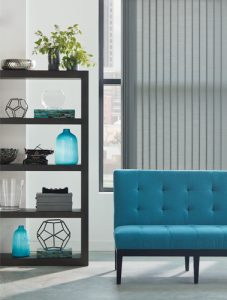 Invite Us Over
You're busy. We get it. More than likely, one of the reasons you haven't started acting on those Pinterest and Houzz ideas is because you just don't have much time. You're bogged down with a hectic work schedule, always running your kids from one thing to the next, or just can't seem to find the time to shop. That's the reality of life these days, and that's why we come to you…on your schedule. Simply set up an appointment, and we'll send a designer right to your front door for a free, in-home consultation. You can share all that you want for your home with us. And, if you aren't sure exactly what it is that you want, we're right there to offer advice and design inspiration that'll help shape your home into one that's better than you can even imagine!
Enjoy
Trying to do everything on your own is simply a recipe for stress, and you already have enough of that in your life. So, let us help. Designing your home should be fun and exciting, and with us on your side, it is! We'll walk with you every step of the way. Our designer will guide you to find your style preferences along with the right balance of beauty and function. Allowing you to relax and enjoy the process of your project is important to us. We're committed to helping you realize the finished look of your design inspiration dreams.
Are You Ready for Customized Design Inspiration?
You deserve to live in a beautiful home you love with all the function you need. But, you aren't going to get it if you just keep pinning projects and drooling over Houzz designs. It's time to take action! If you're ready to finally have the home you've always dreamed of, we're here for you. Contact us at Skyline Window Coverings to get started with your free, shop-at-home experience today!