The day we had child safe window coverings installed in our new home, we knew we had made the right decision. Only moments after the window treatments had been put in place, our two-year-old grabbed the bottom rail, launched it upward (where it stayed!), and energetically yelled, "Rainbow!" We had known all along how important it was to choose wisely, so we concentrated on operating features that would combine safety with durability and long-lasting quality to last for years to come.
Be Mindful of Cords.
The window treatment industry has provided the most innovative operating features in the last few years, focusing on child safety as a top priority. The best choices for blinds & shades are ones that don't have cords. Cords can be confusing and dangerous, turning a situation that started off with complete innocence, into a wrestling match in a tangle of cords. Make your family's convenience and safety a priority with these innovations in operating systems.
LiteRise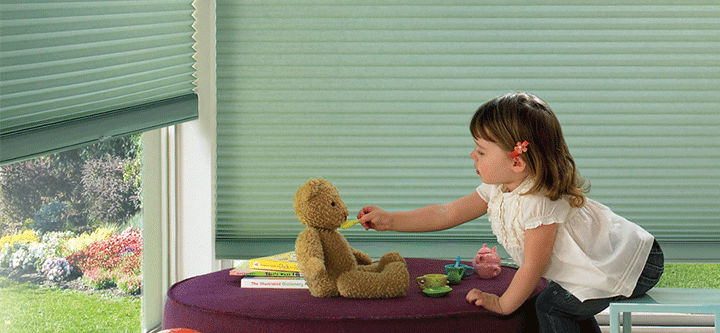 This is a fantastic option for a child's room. Simple movement that stays in place for ease, convenience and safety. With a simple push, the window treatments adjust up or down, allowing your child to adjust his or her child safe window coverings without a hassle or any danger.
PowerView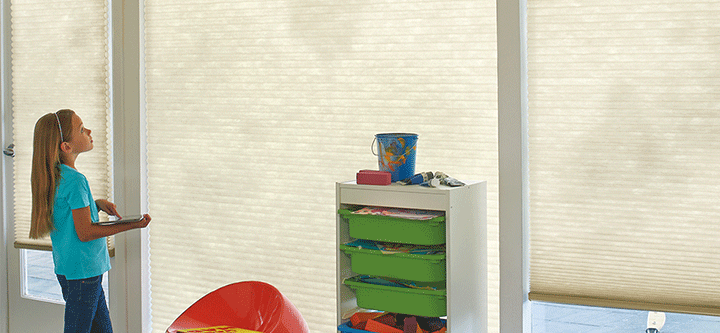 This operating system offers amazing benefits of safety and convenience for your home's highest functioning window coverings. Cords are no longer in the way, and the 'touch of a button' technology offers the ease and convenience for everyday operation. The best part? Your child can teach you how to operate your automated shades on your favorite device.
UltraGlide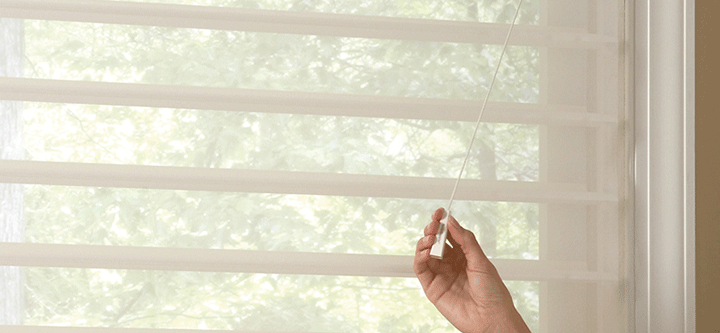 This system offers a retractable cord, meaning that it never extends itself after your adjustment. You pull on the short, retractable cord at the top of your window treatments, and it automatically goes back into place. This cord stays out of the way, resistant to danger.
EasyRise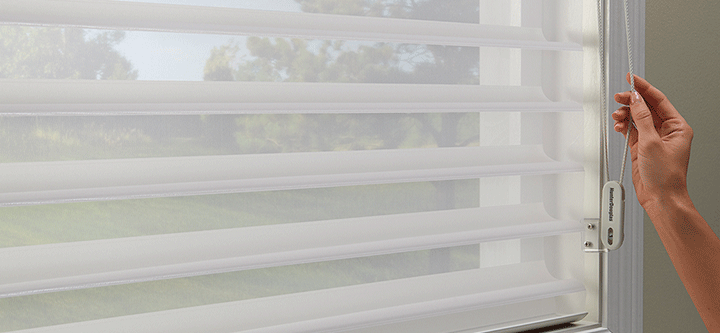 This fastens a tight cord loop to your window trim, leaving no loose cords to dangle or wrestle with. With a small tug, adjust your child safe window coverings open or closed as the cord slides on the track.  
Choosing Child Safe Window Coverings…
What other advice do we have for you as you choose child safe window coverings? Children need durability; if not for their sake, choose durability for yours. Children tend to be rough on everything in your home. This does not bother your children. Many window coverings products are designed with qualities of safety, durability and cleanliness in mind. When choosing child safe window coverings for your home, you can have nice things again. Our team at Skyline Window Coverings would love to help you figure out the best options for your home.  Contact us for a free, in-home, consultation.