Sunshine and natural light is a valuable resource, especially with a mixture of gloomy days outside. It feels refreshing to have a day of sunshine outside. What about inside? Do you know that you have the ability to have light control inside your home that can transform, not only the atmosphere of the home, but also of everyone living in it? Mood, sleep, productivity…all of these things are affected by light control. The team at Skyline Window Coverings has solutions for you! We can help you bring in natural light, even on dreary days!
Brighten Your Home & Improve Your Mood.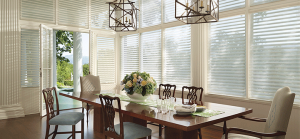 Natural light is powerful. It can brighten your day, make you feel alive, invigorate your spirit. The key is the ability to have the light control to pull the natural light in and disperse it in levels that refresh your home, while still maintaining levels of comfort. You also want to be able to enjoy your view while this dramatic scene is set. Bringing in the valuable and beautiful outside light, while allowing you to enjoy the colors of your landscape is done easily with the versatility of both Silhouette Window Shadings and Pirouette Window Shadings. Be more productive while improving your mood.
Get Rid of the Annoying Glare.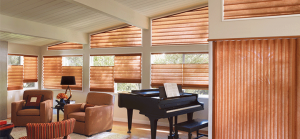 Oh, those trouble spots. Every home has them, and everyone knows how frustrating it can be to deal with that beaming light that just doesn't quit. For one thing, no one functions better on less sleep. Window coverings with room-darkening qualities can change your life. But during the day? Productivity can plummet if you are distracted by rays of sunshine, and when you can't get away from the glare, your mood will be irritable, at best. You need to be able to have the ability for light control that allows you to decide when and where you want natural light. Duette Architella Honeycomb Shades and Vignette Modern Roman Shades, offer you options to fit your lifestyle and your home, with features like top down bottom up operation, for the ultimate in light control.
Light Control You Actually Use. We Can Help!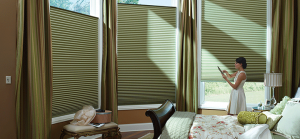 Window coverings that improve your mood, sleep and productivity are so important, but the most powerful aspect of window coverings is often your ability to use them. You will only experience the benefits of light control with window coverings if the operation of them is easy and convenient. We would love to help you decide which operating systems fit your lifestyle so that you can capture the best atmosphere for your home. Whether you want the simplicity of LiteRise or the touch of a button technology of PowerView Motorization, we have solutions for you! Contact our team, at Skyline Window Coverings, for a free, in-home consultation.