Winters can be tough: cold weather, icy roads, and slushy snow. But– we can be tough, too!
Although you've probably been through a tough winter before, it's always good to remind yourself how to prepare your home for these upcoming months. It's also important to learn new ways to save money on your heating bill. One way to do that is by grabbing a sweater instead of turning up your thermostat. Statistics show that wearing a heavy sweater can save 3-4 percent off your heating bill.
Programming your thermostat can also help you save a lot of money this winter. Schedule it to turn down when you aren't home and turn back up when you are. Consider turning it down at night and grabbing an extra blanket. You might then want to look into using an "Energy Monitor," which identifies how you can cut waste in your home.
If you and your family find yourselves spending most of your time in one room, and you don't want to heat the entire house just so you're comfortable, use a space heater. Caution: Always make sure your space heater is not left on, plugged in or near children or pets. Many space heaters come with temperature gauges, an automatic shut-off feature, and other safety precautions.
Simple changes you can make this winter include changing your filter every one to two months, reversing your ceiling fan blades so they turn clockwise when looking up, and empty your water lines to outside faucets so water doesn't freeze and burst your pipes. There are sites to help you do all of those fixes, but please hire a handyman if you do not feel comfortable making these changes yourself.
It's important to remember that taking care of your home now just might keep you from spending tons of money years from now. Work you should consider doing annually includes:
Duct cleaning and maintenance
Furnace tune-up
Chimney inspection and cleaning
Repairing air leaks and gaps
Updating/adding insulation for pipes and attic
Gutter cleaning
Trimming branches that may harm your home.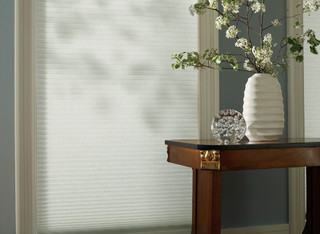 Finally, install energy efficient window treatments to beautify your home and cut the cost of heating your house. Cold air makes its way into your home through windows, so it makes sense to buy window treatments that keep this air out and warm air in. Energy efficient window treatments also allow you to use natural light to add warmth from the sun, meaning you won't have to rely on your heater as much. Plus, you can install motorized blinds and use an app, like the one with PowerView Motorization, which will do all the work for you. Contact us today to find out more about how window treatments can help you this winter.