We are all looking for a sanctuary. A place that holds an invitation to unwind and let go of the day's tension. A place that welcomes you to take a deep breath and just relax. A place to call your own. Your ideal sanctuary.  In case you missed it, Houzz put an article out to start the year called, 'The 25 Most Popular Photos Added to Houzz in 2013'. The interesting part was that as much as the spaces varied in location, area of house, and style, there were some strong commonalities. For many of us, creating that sanctuary requires the same list of necessities when it comes to achieving our dream space.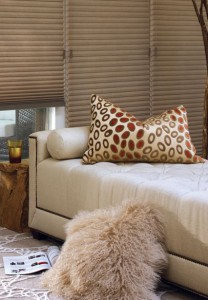 Color matters. Certain colors can be eye-catching, while others freshen a room in subtle ways. Choose the main color to create the backdrop of mood, then highlight the atmosphere with a color that defines you. The palette is yours. Don't forget that accent walls, accessories and window treatments can play a big role in making a statement with color.
Clutter gets in the way. I am just going to say this: We all know that when the pictures are taken for Houzz, they are perfect in every way. Not many of us actually live like that. However, the lesson here is that Less is More. A space, uncluttered, clean with just the right accessories placed in the perfect position is very desirable. Bring yourself one step closer to the dream by working on one room at a time. Take accessories out. Decide what works. Stir things up by moving a beloved treasure that doesn't quite fit. You may realize how much better it looks in a different spot, or even a different room.
Light it up…or down. Lighting, and the ability to control light, can help you create an environment perfect for any occasion. Sometimes that means turning the lights up, sometimes turning the lights down is the answer. Having a dimmer installed or adding a table lamp could easily enhance the atmosphere.
Window treatments, window treatments, window treatments. The perfect accessory. Even if you don't do anything else, window treatments will change the look and feel of your space. Window treatments add style and definition to any room. The perfect shade can allow you to control the atmosphere of your home. Creating your ideal atmosphere has never been easier. You control the privacy and lighting with your window treatments. With the advances in technology of PowerRise Blinds and the Platinum App, your relaxation and calm is yours at the tips of your fingers.
Don't forget about you. This is your space. It should reflect who you are. When making any choices about the space, make sure those decisions contain bits of your character. You will be happier with the finished product.
We can help. Give us a call for a free, in-home consultation. We have amazing options available with Hunter Douglas window treatments. We would love to help you on your journey to your ideal sanctuary.