Have you ever lost a remote? Of course you have.  Although homes can be wide open spaces, nothing is ever where you need it. If you're a parent or pet owner, your remotes might disappear more often, only to resurface again over time. And if you have multiple remotes, it can be even harder to keep track of every single one. Thankfully, with smart shades, you no longer need a remote.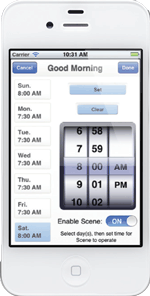 The Powerview App by Hunter Douglas can do so much more than the remote ever could, offering privacy, light control and energy efficiency at your fingertips. Using your iPhone, iPad or iPod Touch, you can control your blinds and shades in any room throughout your house with just a swipe or click.
Here's why you need the Powerview App, as well as PowerView Shades.
A Daily Schedule: Want to come home from a long day at work to a house filled with natural light, but don't want to leave the shades open all day? Use the app to schedule when your shades open and close. This feature also allows you to wake up sleeping children (or spouses) on Saturday mornings without yelling up the stairs.
Adjustment: Not only can you use the app to open and close your shades, you can also change the percentage at which they are adjusted. You will always be able to enjoy filtered light while still getting the privacy you need from nosy neighbors.
Special Settings: Were you finally able to gather the family for a movie night? Make sure you have the ultimate movie watching experience by selecting the "Movie Night" setting on your favorite device. Or select the "Good Night" setting when a migraine hits at 2 in the afternoon. Your bedroom will suddenly be a sanctuary of healing.
Ready to have the best shades you can possibly have? Let us guide you through the process, helping you set up your home so you can have the ease of light control, privacy and energy efficiency at your fingertips. Call today for a free in-home consultation to see just how PowerView Shades can change your life.
Want to see more pictures of this project? View this project and more on our Houzz page.