When it comes to owning & loving your pet, there are a lot of factors that come into play to make them feel like part of the family. Window treatments can be one that is overlooked. But finding treatments that make the home comfortable and cozy for everyone is important! We're diving into some of the most frequently asked questions we get regarding pet friendly window coverings.
Are There Easy to (Keep) Clean Window Treatments? 
Pets seem to always make a mess, we love them, but there's no denying the messes they're capable of. To keep your window coverings clean and new looking for years to come, we have a number of products to recommend. One favorite is interior shutters. Their durable surface is always easy to clean, no matter what they come in contact with.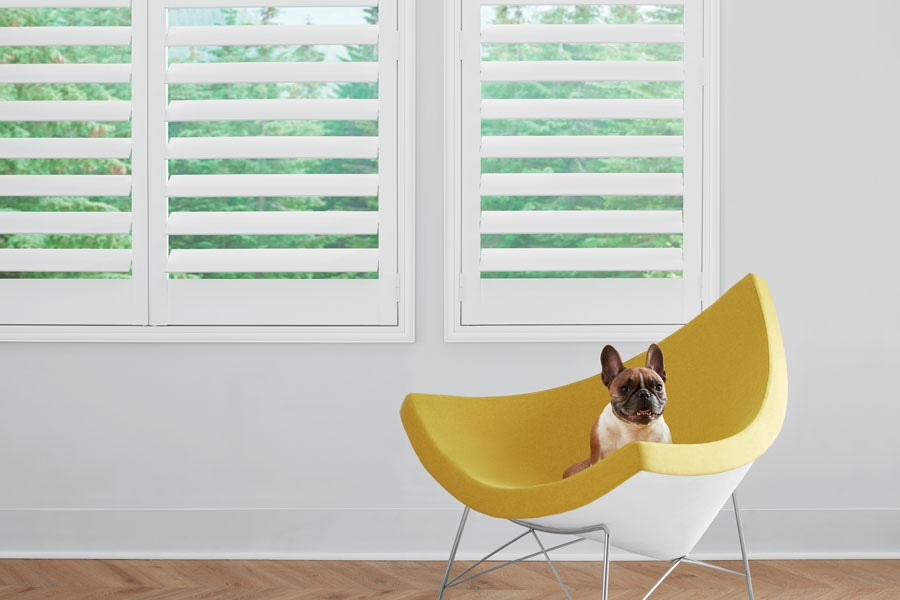 One factor to keep in mind is the location of your pet's messes. For example, by the back door or their food bowl, you may need a durable, easy clean option. But, other areas in your home may not be so heavily trafficked by messy paws. Location is everything, and we can talk you through your choices!
I Have a Jumper, Are There Pet Friendly Window Coverings for That? 
Pets often gravitate toward windows, and some get a little more excited at the window than others. If your pet jumps up or rests on the window sill, no need to worry. Most window coverings can simply be raised up to cover the top portion of the window and be free from any animal's reach at the bottom.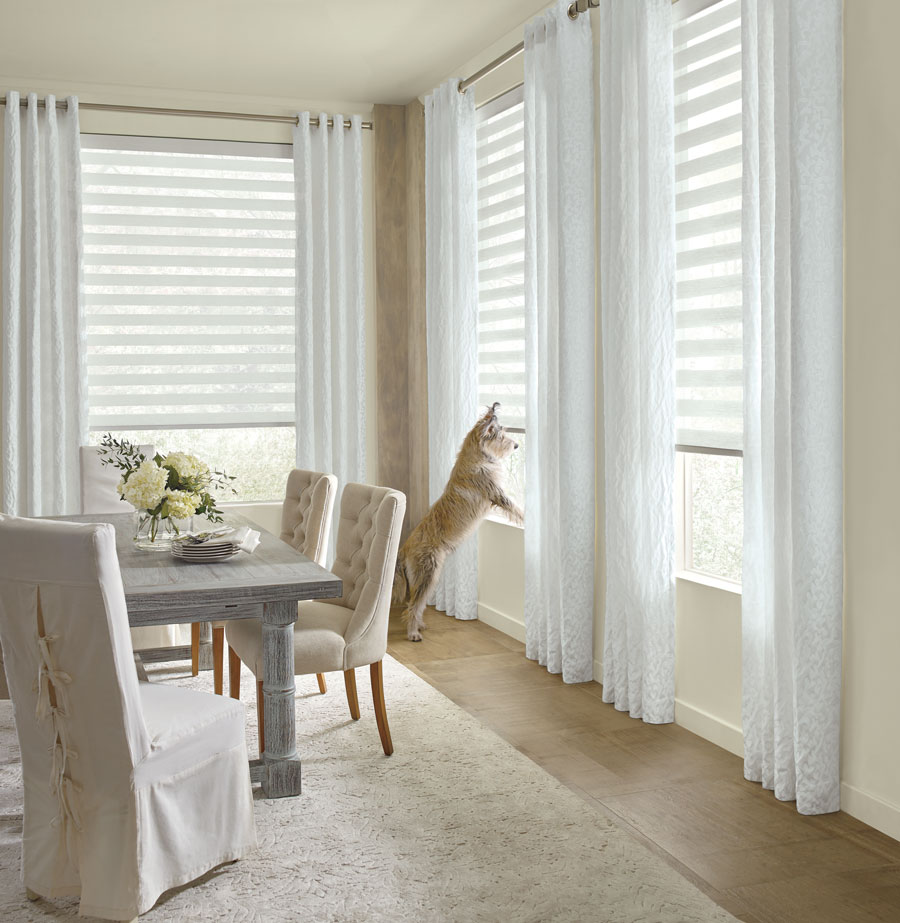 Another factor to keep in mind is safety. For kids and pets alike, cords can be a danger. That's why some of our favorite pet friendly window coverings are cordless options so there are no temptations for your pets to play with and get tangled up in.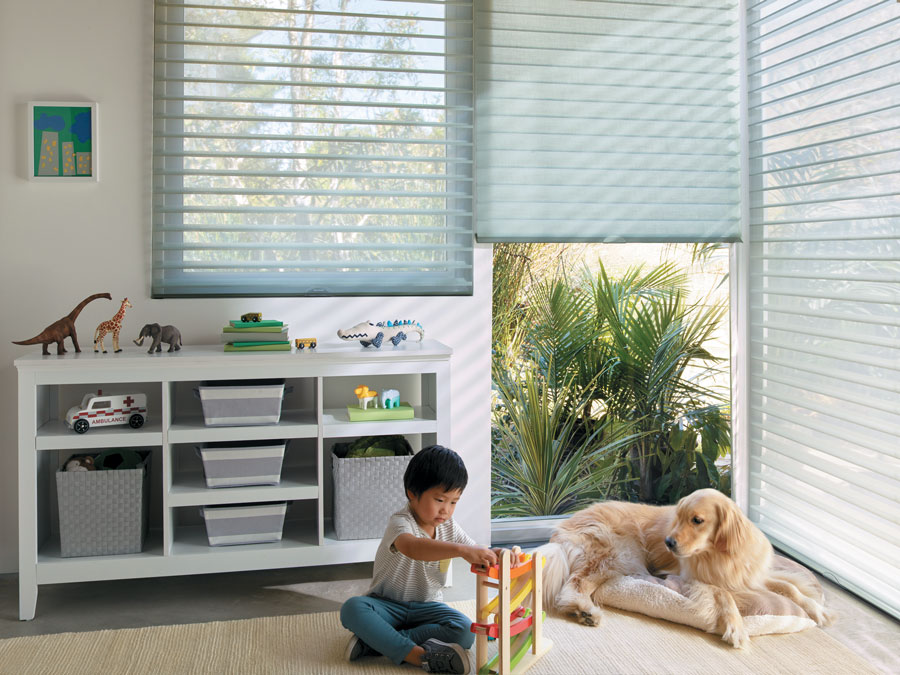 The Pup's Go-To Napping Spot: Right In the Sun
Does your pet always lie in the sunniest spot in your home for their afternoon nap? They seem to love it! However, keeping an entire room open during the hottest part of the day can warm up your house pretty quickly.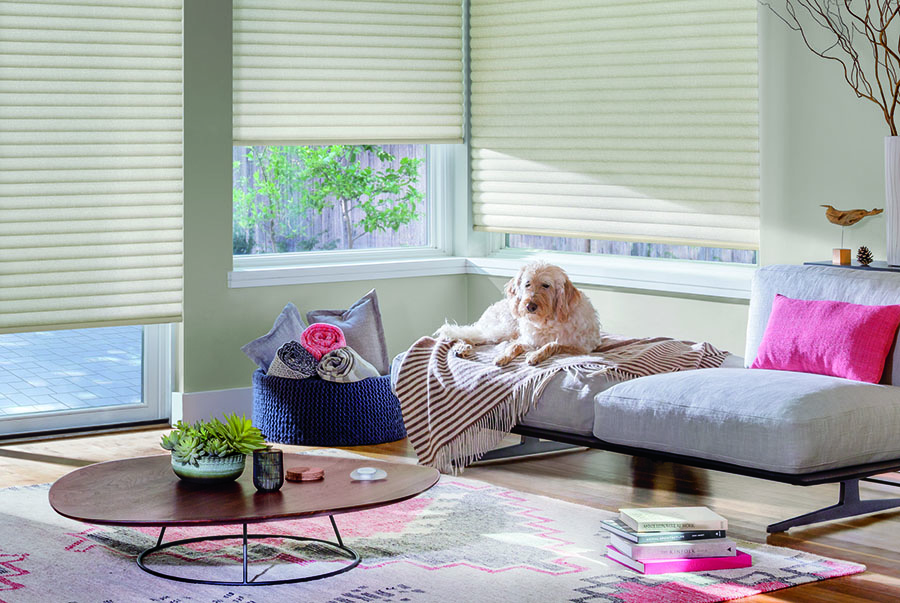 Energy efficient window coverings are great for those large windows where the sun rays flood the room. Even better, you can keep your pet's spot open to the sunshine while shading the rest of the room to keep a comfortable atmosphere for everyone in your home. 
Creating a Tranquil Space, Starting In the Entryway
Dogs especially like to let us know when someone is coming up the front walk. Adding window treatments to your entryway can help them to feel more relaxed as they won't have to see every passerby all day long. You'll also experience more tranquility as they're more relaxed. 
Shades that offer a range of vie wand light control are ideal. Clear view-through, all the way to complete privacy, are a great option for entryways. It's completely up to your preference to adjust them to create the atmosphere you desire. Automated shades are another way to manage the opening and closing of them around your pet's schedule. This allows them the ability to feel more comfortable and naturally alert when you're gone, and relax when the family is home. 
Window Treatments for the Entire Family
Choosing window treatments that benefit the entire family, including the four legged members, can be a bit of a big task! That's why our team here at Skyline Window Coverings is always here and eager to help you. From interior shutters to automated shades and everything in between, we're your one stop shop for pet friendly window coverings. Contact us for your FREE consultation.