The doors of your home welcome both friends and family. It's obvious they play a huge functional role, but they also have a big part in completing the style of the space. Doors with windows are stunning–helping to bring the outdoors in. But when it comes to adding window treatments? It can be a bit tricky to know where to start. That's where we come in, with custom door coverings.
A Good Go-To: Verticals
These are one of the more traditionally seen door coverings out there. And for good reason! In addition to classic vertical blinds, we're now seeing more options that lean toward the contemporary style as well. The Skyline® collection offers a wide range of colors that are sure to fit into any space.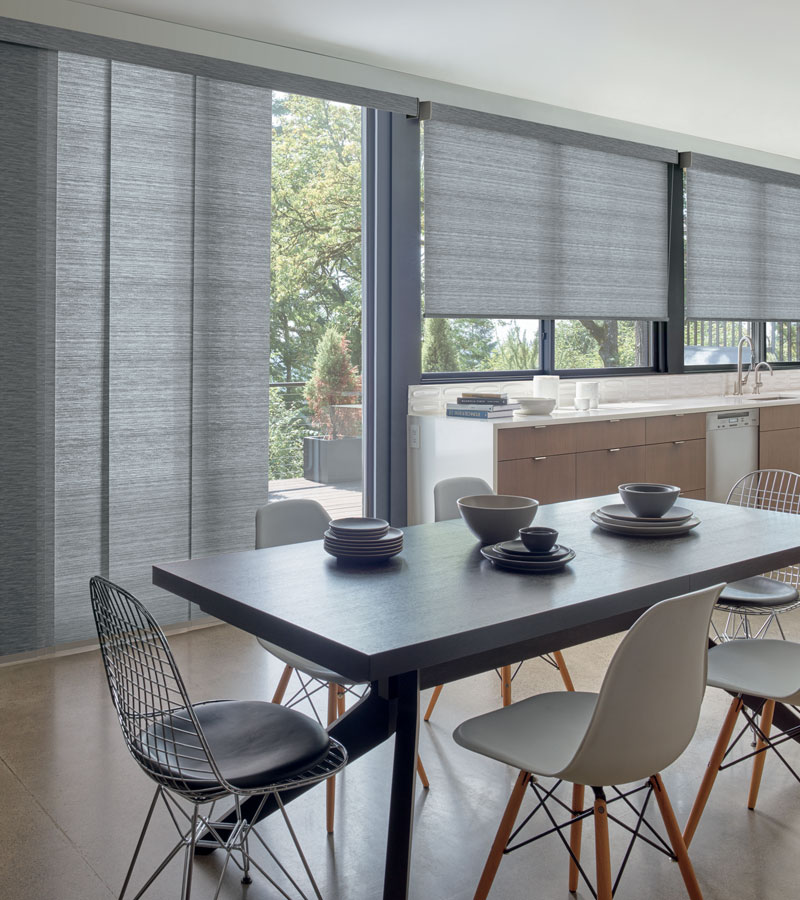 Another favorite choice of ours is the Luminette® Privacy Sheers collection. These are best described as a combination of verticals and draperies. While they work like shades, they look more like drapes. With lighting control ranging from view-through to room darkening, what's not to love?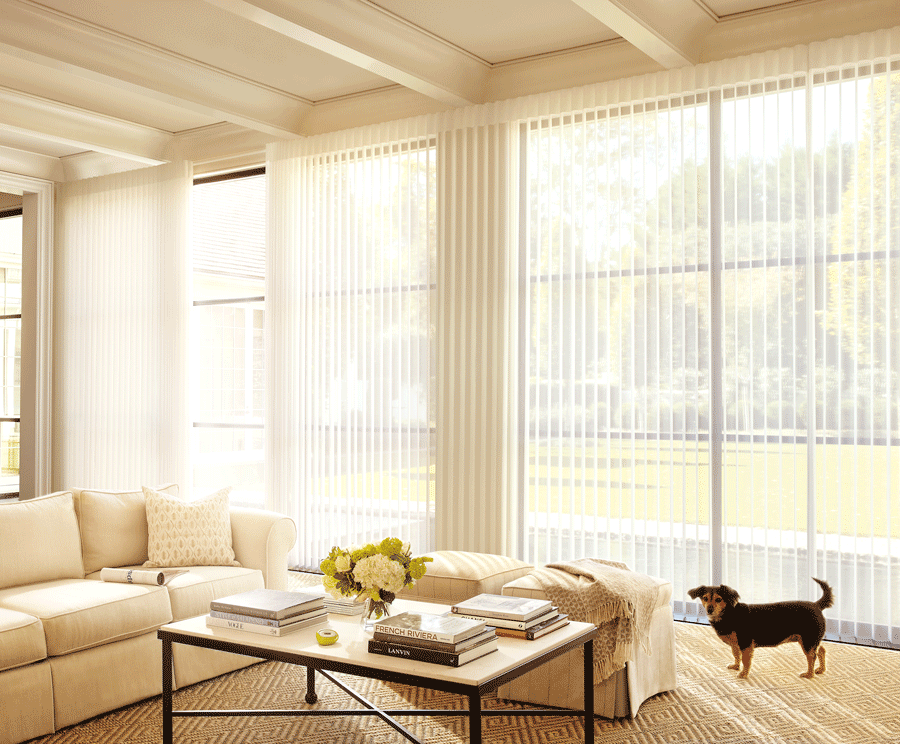 Stunning Shutters as Custom Door Coverings
Interior shutters are timeless for a reason. They are eye-catching, blend right in with the trim work, and are–oh so–functional. Adding shutters to doors won't make them bulky or difficult to turn the handle. These shutters will be custom to fit your doors, with handle cutouts and all.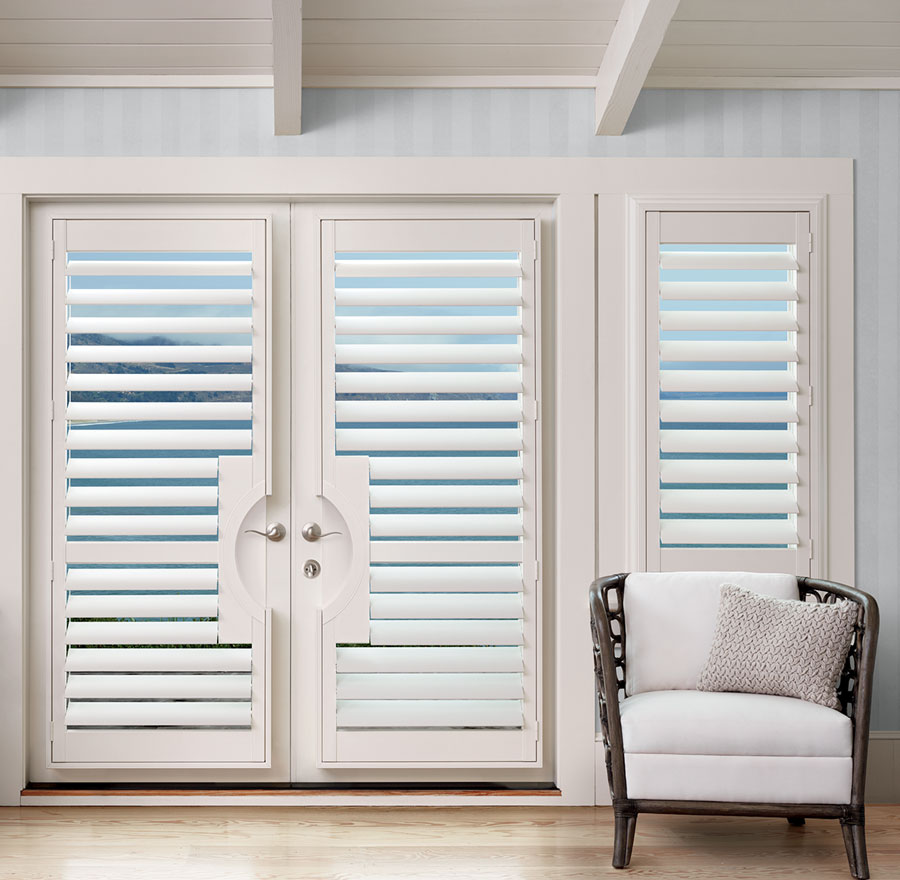 Darling Draperies
If you're wanting to add more style and warmth to a space, draperies are a great way to do so! Adding the textiles helps to cozy up your space, while the color, pattern, and texture can fit right in to complete your desired look in the room.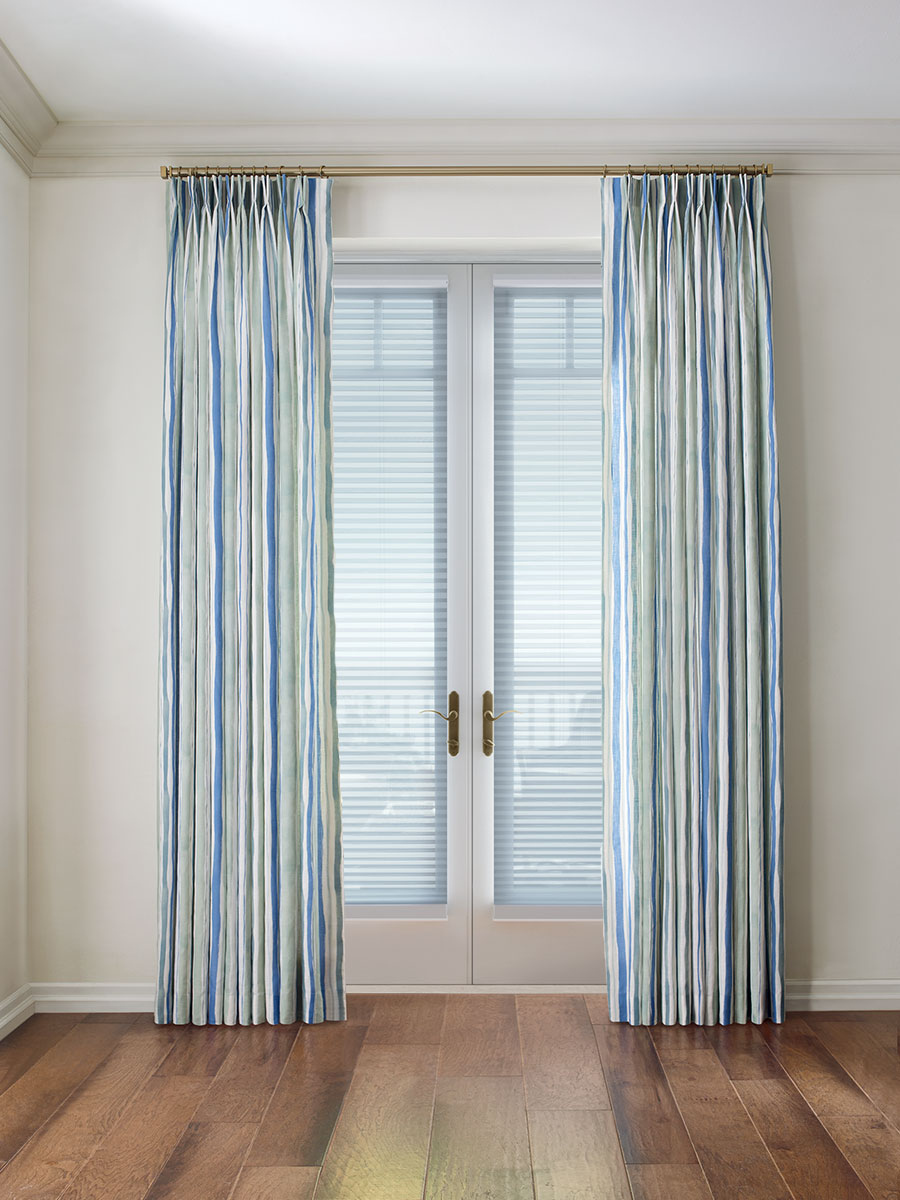 Draperies are truly the custom door coverings perfect for any home. With seemingly endless options, full panel draperies are a great option if you are wanting privacy, light control, and style all rolled into one. Likewise, side panels will frame out your doors beautifully. It's purely up to personal preference when it comes to which type of drape is best for your home. On top of that, by layering with shades, you can achieve levels of light control and privacy.
Specialty Shades for Glass
The TrackGlide® system's a new, innovative design makes them ideal for covering doors. We recommend TrackGlide® mostly for doors featuring full glass, like french doors or a sliding patio doors, due to their nature of not having to drill hardware for installation. The track simply attaches to the edge of the framing around the glass.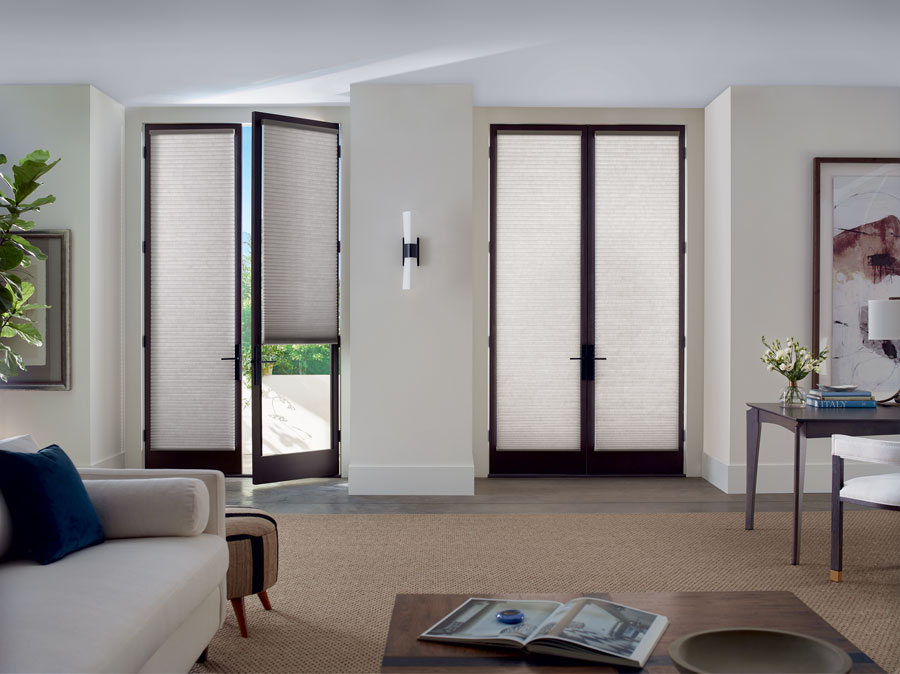 These custom door coverings can be adjusted all the way up when you want to enjoy the full view, and easily pulled down when it's time to block out a bit of that strong summer sun. They will seamlessly fit onto your doors and not interrupt the use at all. 
Our Team Is Eager to Help! 
We understand that covering doors, the right way, can be a bit tricky. That's why our team here at Skyline Window Coverings is here to help! From providing information and guidance, all the way to install, our team will be here for anything you need with your custom door coverings. Contact us today to get your FREE consultation started.