Each room in your home has a personality, a life of its own. You use your rooms differently throughout the day–the perfect window treatment should reflect that. Depending on the time of day, combined with what the circumstances are, you may need varying levels of light control and privacy. Deciding which window coverings will best suit the function and lifestyle of the rooms in your home can be a daunting task. At Skyline Window Coverings, we want you to enjoy the atmosphere of your home. The best way to do that is with window treatments that fit your home, your rooms and your lifestyle.
Energy & Function
The rooms in your home all have their own set style, energy and function. By choosing the right type of window treatments, your home will offer you and your family options to create the ideal atmosphere, no matter the time of day or circumstance. We understand that many clients live in condos and homes with open floor plans.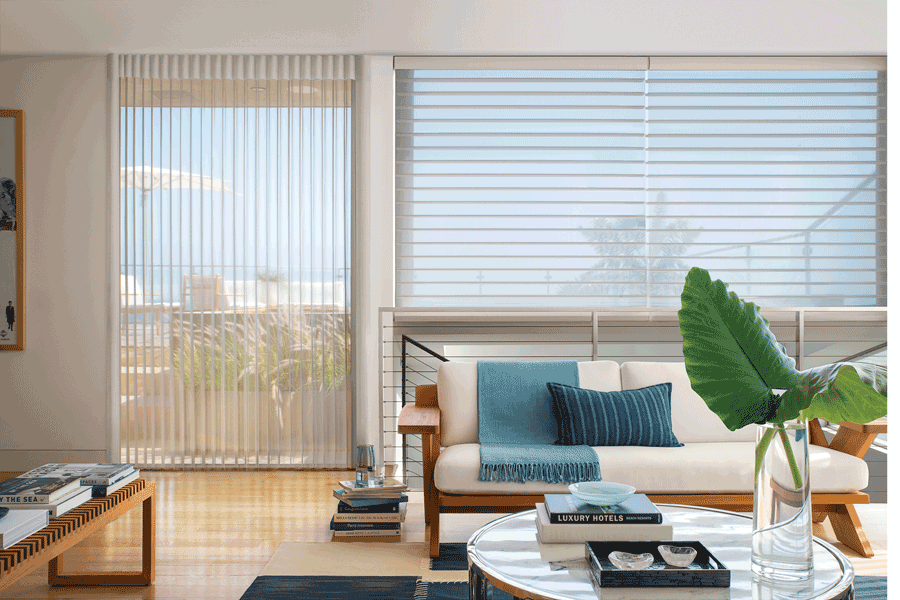 You may be concerned with choosing window coverings designated for a shared space. There is no need to worry. The beauty of Hunter Douglas products means that you can choose from different collections of window treatments with complementary styling options. Even in a shared space, you are able to choose exactly the window coverings you need!
Single Functioning Shades
The beauty of simplistic design comes with the ease and amazing benefits of single functioning shades. Simply put, these window coverings offer style and benefits that cover your windows when you need light control and privacy, with levels of energy efficiency and UV protection.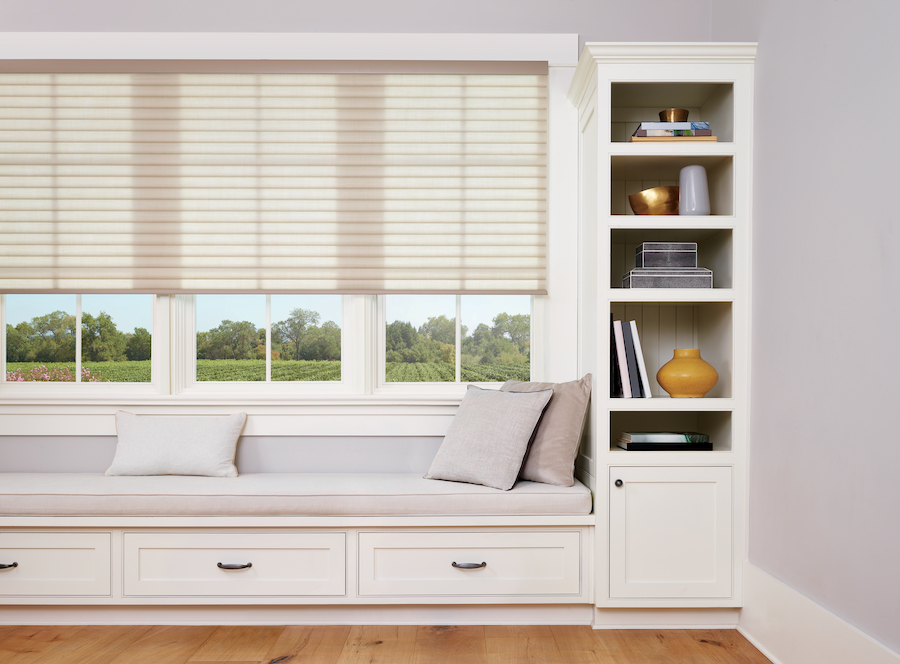 Single functioning shades adjust and operate easily, offering control at the tips of your fingers for opening and closing, all the way or with a partial adjustment. The operating systems allow you to choose the right function for your windows, including features like top/down, bottom/up.
Decorator Tip
"Think of single functioning shades as a light switch, easily clicked on and off at your convenience"
Convenient Features:  Many of our clients enjoy single functioning shades in children's bedrooms and guest rooms. Ease of operation means child safe protection, along with simplistic operation for someone wanting to adjust for levels of daylight. Single functioning shades are a wonderful addition to bathrooms for high levels of privacy, while the quick adjustment means you can have full light when you need it. From the classic beauty of roman shades to the energy efficiency of honeycombs, single functioning shades will offer you heightened styling with amazing benefits for light control, privacy, energy efficiency and UV protection.
Dual Functioning Shades
Complexity of design offers you window coverings for rooms that deserve dramatic atmosphere and high quality function.  The amazing benefits of dual functioning shades offer light control, privacy, energy efficiency and UV protection in a whole new way. These window treatments have multiple layers of presentation for different times of the day and various functions of the room they highlight.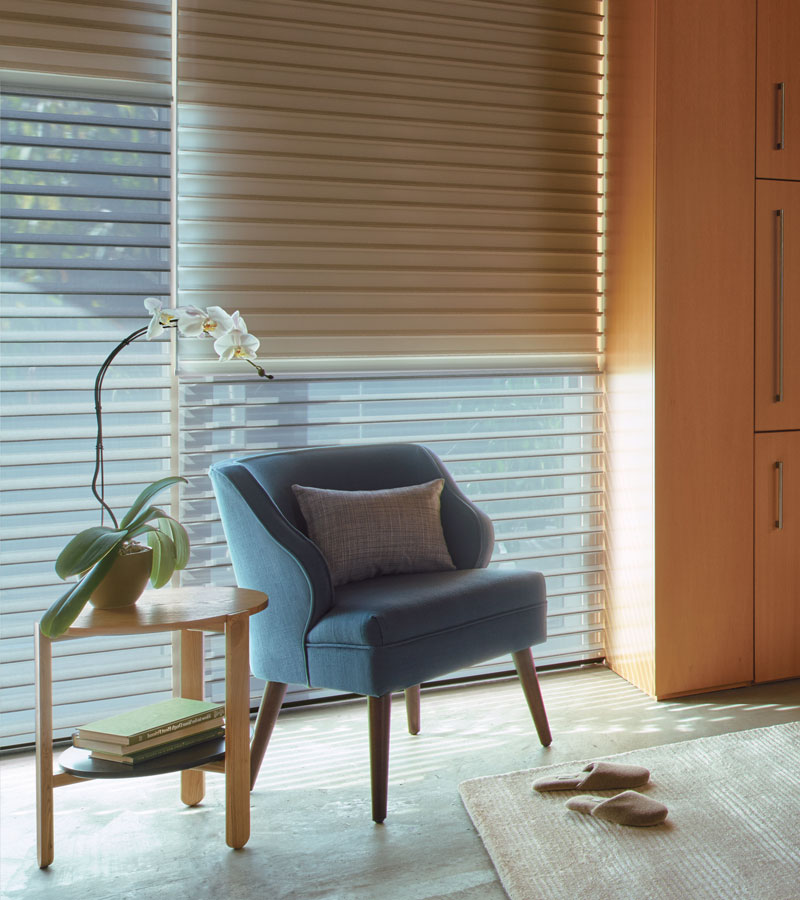 The name Duolite describes our dual functioning shades that offer you these amazing features of versatility. A perfect window treatment for large windows, these shadings allow you to display ultimate light control and beauty in great rooms, living rooms, family and media rooms. Let's look a little closer at the features that will meet your home's needs and improve the styling of the rooms your family is in the most.
Decorator Tip
"Think of dual functioning shades as a dimmer, providing a beautiful range of atmosphere and lighting" 
The Perfect Backdrop: Often times chosen for windows that boast incredible views of your picturesque landscape,  dual functioning shades are perfect when you want to enjoy the view without the harsh rays of the sun. Diminished glare, even when adjusted to offer daylighting, your home is filled with soft, filtered light.
Versatility of Design
Commonly referred to as 'Soft Shutters', these window treatments provide ultimate view-through. Your windows are highlighted with the beautiful styling of complementary fabric of the slats, while the sheer backing reflects the outside sunlight. Simple adjustments of these fabric slats allow you to create just the right mood for any time of the day and into the evening. Fully closed, dual functioning shades can provide the flowing look of roman shades, while continuing to provide you with the sought after benefits of window treatments.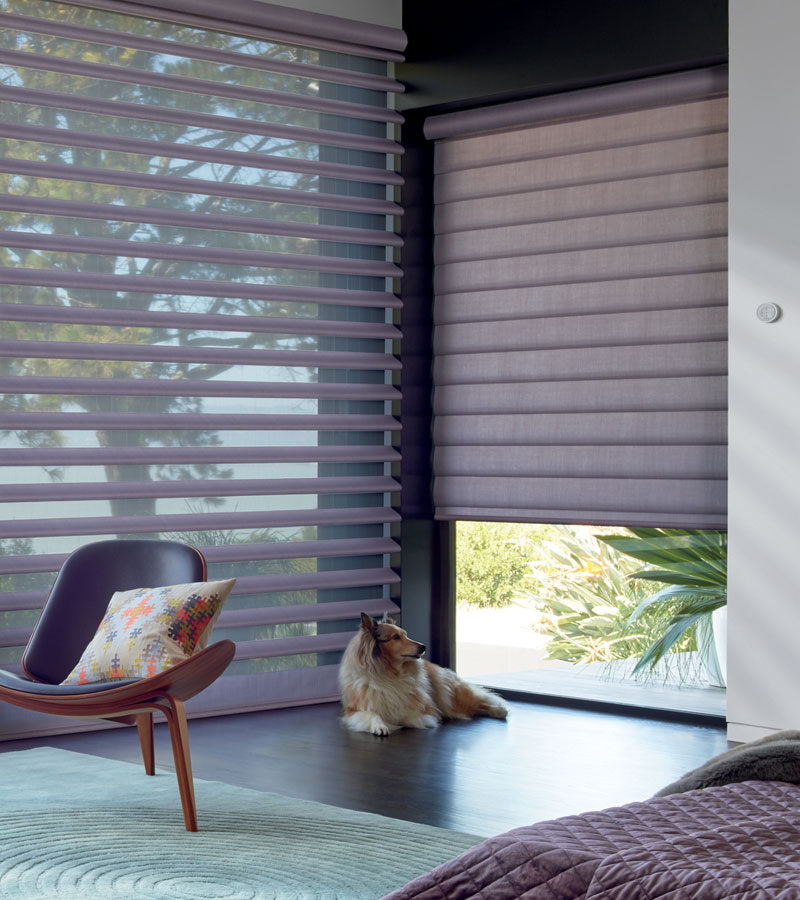 Beautiful in Any Room: Pirouette window shadings provide the room-darkening benefits you may need for watching a movie without glare, or the cool, calm of a quiet evening all to yourself. The ability of these shades to offer room-darkening means that they will also provide amazing benefits for your master bedroom suite.
Looking for the Perfect Window Treatment?
Window coverings for each and every room in your home…this is the beauty of Hunter Douglas. From the classic styling of single functioning shades to the innovative versatility of dual functioning shades, the team at Skyline Window Coverings can help you decide what your windows need to improve the beauty of your home and the function of your lifestyle. Contact us for a free, in-home consultation.