The skyline of Chicago. It's not only an amazing sight for tourists arriving for a visit, for many of our clients, it happens to be the backdrop of their home. Expansive windows, floor to ceiling views of architectural paradise…when the skyline of the city rivals the most sought after artwork, you need window coverings that help you enjoy the best of both worlds on your floor to ceiling windows. The beauty of the cityscape can make you gasp with each and every sunset or lightning storm, but without window coverings that provide protection while maintaining view-through, you may start to feel as if you are inside one large convection oven. The team at Skyline Window Coverings has a great deal of experience with floor to ceiling window coverings solutions. Here are some of our favorites…
Designer Roller Shades or Designer Screen Shades.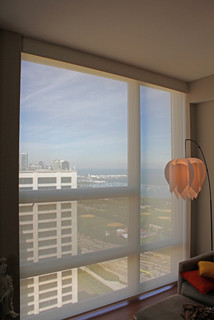 These one-dimensional shades offer sleek profile with high-end design qualities. The effortless operation and amazing benefits of Designer Screen Shades allow your home UV protection and light control so you can enjoy your view while diffusing the harmful glare. Take a look at this project we did, with window coverings that offered our clients a picturesque landscape while providing protection against the harsh rays of Chicago sunshine.
 Another project features Designer Roller Shades, with another favorite (Pirouettes) we have listed below. Pirouettes offer the contours of design and dimension, while Designer Roller Shades add simplistic sophistication to any room. The effortless operation of roller shades allows you to open, close or adjust for exactly the right amount of light control and privacy.
Nantucket Window Shades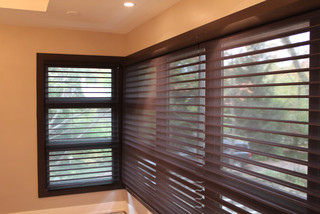 These shadings offer amazing benefits of light control and privacy, while providing a two-dimensional appearance. Adjusted to the open position, the view-through is similar to the beauty of a screen shade, while offering more privacy and protection when adjusted closed. The functionality of a roller shade means you can experience this adjustment with effortless operation.  Check out the project we did, with window coverings that gave this home's floor to ceiling windows a heightened element of style with the shutter-like appearance of black Nantucket window shades.
Pirouette Soft Shadings
Sophisticated elegance and perfect design qualities offer you an amazing solution for those large floor to ceiling windows. Beautiful design qualities and fabrics allow you to have window coverings that coordinate and complement the style of your home, while offering you tremendous view-through in the open position. The sheer backing provides reflective protection against harmful rays and harsh light. Because the fabric vanes tilt and adjust easily, you will enjoy varying levels of light control and privacy with Pirouette Soft Shadings.  This project showcased the backdrop of the Chicago skyline, while the clean lines of designer fabric complemented the chic decor.
We love our own view of the Chicago skyline; it was the inspiration for naming our business! We also have personal experience with the beauty – and troubles – you might experience without the right window coverings for your floor to ceiling windows. Call our team, at Skyline Window Coverings, for a free, in-home consultation. We will save your view!