There's something about the dawn of a new year that stirs up a desire for change. Are you itching for things to be a little different in 2016? Why not try out a new look in your home this year? Metallic decor is topping the style charts, and it could be just what you've been craving to reinvigorate your home and your life. You can go all out if you want, but there are also lots of small, easy things you can do to refresh your home with this decor trend. Here are three simple ways to style up your spaces with metallic decor for a fresh new look this year.
1. Add a Hint of Industry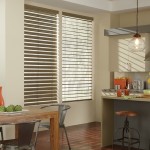 If you're thinking of incorporating metallic decor into a space, going with an industrial look is an obvious choice. Finding inspiration in factories, warehouses, and garages, industrial styling revolves around metal, and a little goes a long way toward having a big visual impact. The mixed metal seating, light fixture, and aluminum blinds are all this kitchen needs to boast gorgeous industrial appeal. Combined with splashes of color amid neutrals, the space is lively, welcoming, and comfortable. By adding just a few carefully selected pieces, industrial metallic decor can rejuvenate the look of your home this year.
2. Add a Touch of Shine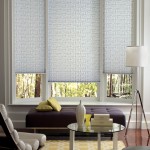 If the hard-edge of the industrial look doesn't suit your fancy, try a softer, more elegant approach to metallic decor. Accenting with shine instantly adds beauty and contemporary charm to your home. The gleam of the lamp, chair, and sofa bench bases polish the look of this living room–while the pleated shades by Hunter Douglas take center stage. Not only do they add upscale character to the space, but they also add incredible lifestyle function. Available in metallic colors–such as Liquid Metal Titanium, Iridescent Polished Pewter, and Luxe Gold–pleated shades are a stunning and unique way to update the look of your home in the new year.
3. Add a Taste of Distinction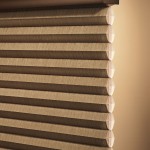 Another take on metallic decor is one of distinction. Just as a fine piece of jewelry made from top-of-the-line platinum or gold stands out and brings an air of prestige to the wearer, products from the Alustra Collection by Hunter Douglas do the same for your home. With exclusive metallic fabrics, finishes, and hardware, sheers and shadings from the Alustra Collection are perfect for achieving an unprecedented, extraordinary, and customized look. Get them with PowerView motorization, and really set your home apart in 2016. Right now, you can even enjoy a free Pebble remote when you opt for the convenience of PowerView.
So, do you love the industrial look? Are you drawn to polished elegance? Do you want to distinguish your home with exclusive products? However you envision metallic decor taking shape in your home, we'd love to give you the new look you want for the new year. Our design experts can bring samples, ideas, and advice right to the rooms you want to refresh. Contact our team at Skyline Window Coverings for a free, in-home consultation today.