Moving Season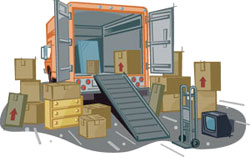 June and July are the two busiest months for moving to a new residence.  Whether you are moving just down the block, or across state lines, it can be overwhelming to pack up your entire life.  To help you navigate this process, we have compiled a small list to help prepare you. The key to keeping stress low is to start weeks in advance. Many of the tasks can be started ahead of time, leaving the days just before the move dedicated to packing your belongings.
A few weeks ahead of your move…
Change your mail service.  Visit https://www.change-my-address.com/ to take care of that prior to your move. You can set it to start mail service the day you move.
Utility service providers need to be contacted to stop service in one residence and start in another. Most of the time, utilities such as gas, electric and water/sewer/garbage can be taken care of immediately upon calling.  Other services, such as cable, internet and phone take longer.  Appointments may need to be scheduled two weeks ahead of time. Don't forget to take time right before the move to return your cable box and other electronics to the provider.
Notify your banks and credit cards of your new address.
Schedule the move with the trucking company to make sure the size truck you need is available for your specific dates.
Start to use all of the items in your freezer and fridge to reduce waste and garbage.
You need packing materials, and they can be expensive. You can buy them in the offices located at either your local storage facilities or moving truck companies.  Ordering them ahead of time online may allow you to get a deal, from companies such as these: https://www.moveout.com or https://www.uboxes.com.
Try to pack things you aren't using: clothes out of season, extra dishes, ect.
Come back next week for part 2!  "The days just before"