Seven years in, with three children–ranging in age from 6 months to 5 years old–we'd spent the last four years concentrating on renovating our home. The one thing that we needed to focus on was us. This is the story of our master bedroom makeover!
"We're creating a life we love–just the way we like it–focused on what's important."
I had decorated our daughter's nursery the winter prior, and my husband mentioned that he wished I would decorate our bedroom with as much love and care as I put into her's. Of course, we had put a lot of time and energy into the rest of our home, with the thought that our bedroom wasn't as "important." His statement must have planted a seed because I decided for our 7 year anniversary, I would surprise him with a master bedroom makeover.
The Challenge?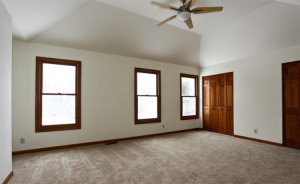 We had bought this as a foreclosure 4 years ago, and while it had a good foundation, it needed some serious updating! Also, Scott travels for work, and I work from home, sometimes late–after the kids are in bed. With no family nearby, handling three little ones on my own can be a full-time job in itself. How on earth was I going to do this?!? Step-by-step, one day at a time. After all, he would be in China for a week. That's realistic, right?
Step One: Make decisions.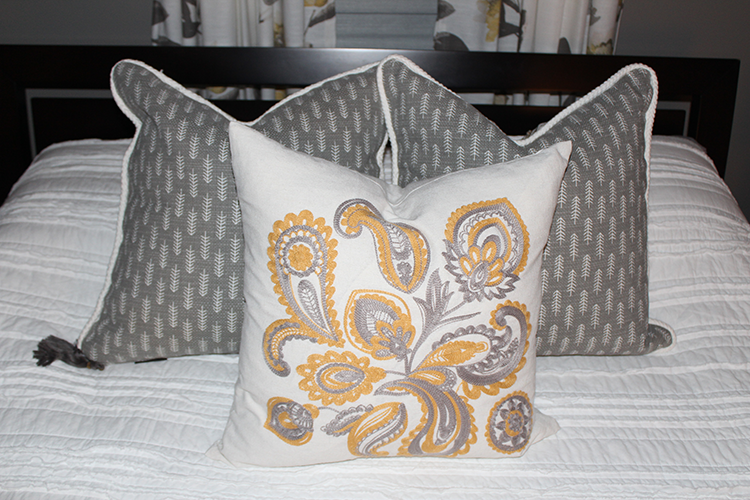 The most important thing I've learned over the past few years–the key to reducing stress and making decorating choices easier–is to narrow the field. Choose your palette. Before you begin, remove 90% of the options. Trust me. You'll find what you love, and it will be so much easier. And, it's a lot more fun. I felt a mixture of relaxation and refreshment when I discovered these pillows–and the palette was born. I went with yellow, gray and whites–with little touches of aqua, (because that's just who I am).
Step Two: Get started.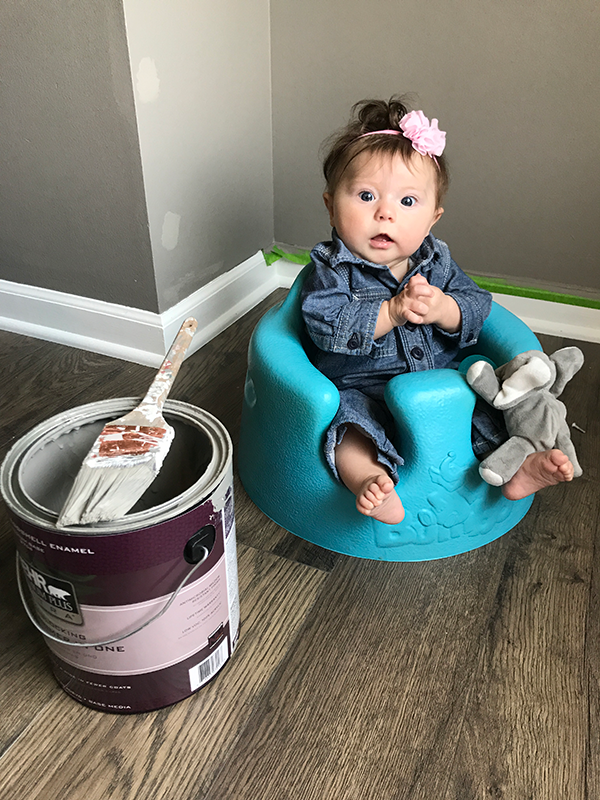 Sanding trim, painting trim. Taping walls, painting walls. Shopping for design elements like frames, curtain rods and knick-knacks. With three children, you realize quickly how important the function of a space can be. That's why I'm always choosing design elements based on two decisions…Do I love the look? How will this make my life better? (***Disclaimer: Photo purely staged for a text sent to the other side of the world.) The trim was finished. The room got painted. Next…
Step Three: Focus on the function.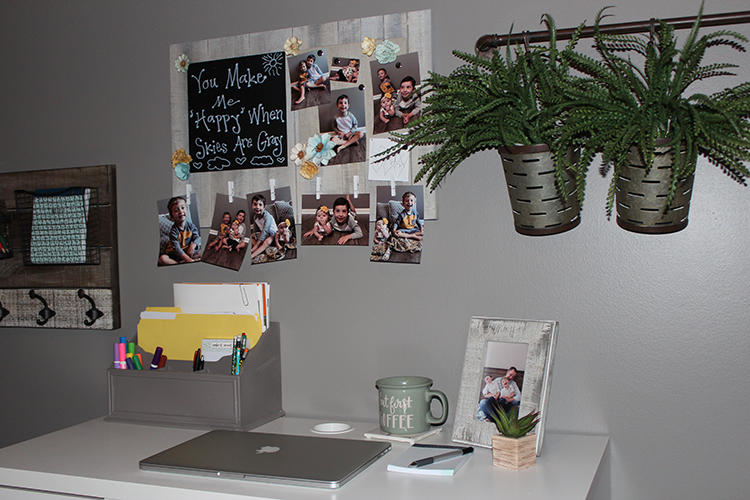 Working from home, my "office" has to be in our bedroom since we currently have a playroom set up in the room most people would use as their office. And, I wouldn't have it any other way. I designed this eclectic office space with my children in mind. Not just because they're beautiful little people (I'm probably biased), but because they are in and out of here all the time. I have to be realistic. And, I'm the best version of myself when surrounded with what I love. Hence, the coffee mug that's always full–and right next to me. How is the space functional? I have exactly what I need, as minimal as possible–with all permanent markers out of hands reach. The space is fully stocked with art supplies for children who wander in while I'm working. I did a little photo session with the kids after the palette was chosen so their outfits would be part of the design, and I love how their little faces brighten up the space with this collage. Office–done.
Step Four: Get creative (& be yourself).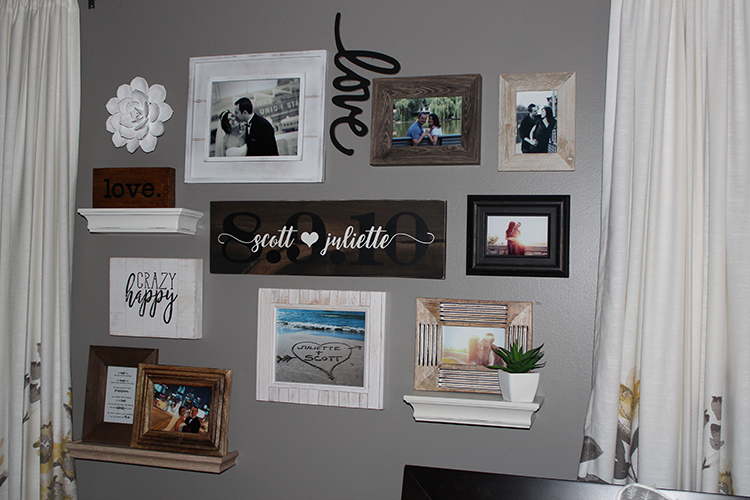 I had decided on a gallery wall as the actual "gift" for our anniversary. So of course, I spent a ridiculous amount of time on Pinterest–and scrolling through photos of us over the past 10 years. While perfectly framed, matching photos are eye-catching, they aren't "us". I love mixing materials, colors and textures. Wanting "us" to be the focus, I chose accents that would remind us of who we were together. I bought pieces, I returned pieces. I created the wall on my floor over and over again, in different configurations and designs. You can't be afraid to try something nonsensical…I was committed to adding that cursive "love," but again and again, it just didn't look right. Turned on its side? Perfect.
A Successful Master Bedroom Makeover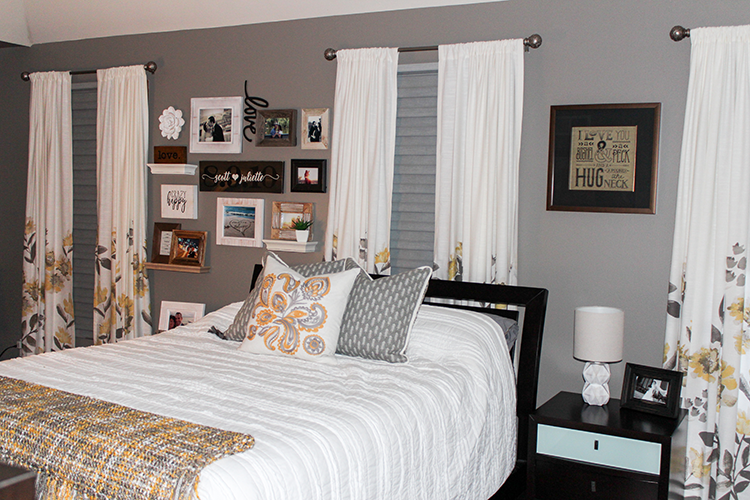 I love how it turned out, and I'm happy to report that Scott was overwhelmed by the project.
One of the major "solutions" of our master bedroom makeover are these amazing roman shades. Room-darkening, cordless and energy efficient, they helped me create the perfect atmosphere for the space. And, of course, the layers are beautiful. Our kids also have these Solera shades in their rooms, and I swear by them. Not only are they child-safe, they are child proof! Thinking of doing a master bedroom makeover in your own home? Try these tips, and see if they work for you!