Like the calm, serene ocean, or a bright, spring sky, the color of blue tells a story with its peaceful aura. In the design world, this color is always on trend, making it a beautiful option for home decor. What's your story of blue? Whether it's splashed across your walls or displayed in small accents, blue leaves a lasting impression. Let blue become the center of attention in your design.
The Modern Hue of Blue
This kitchen tells us that the story of blue can be told using a permanent fixture or a small accent piece. The backsplash, which features light tones of blue, will stay in style for years. And, because the hues are so soft, they'll pair gorgeously with a number of different colors. The chairs add the right amount of modern appeal, while brightening up this space with their bold hue. And, we can't forget the accents of blue in the flowers, plates, and rug.
Springtime Serenity
Bright Blue & Full of Life
This living room tells a story of blue using a mix of traditional and light hues. The natural elements, like the natural wood tones and greenery, bring an airy appeal to this space. Neutrals and naturals will help to ground the space, making it stylish, yet keeping it from being too modern. And, of course, don't forget the window treatments! We think Pirouette shades would look spectacular here, allowing for a nice view while protecting the furnishings from UV rays. Which treatments would you choose?
Dreamy Kids Room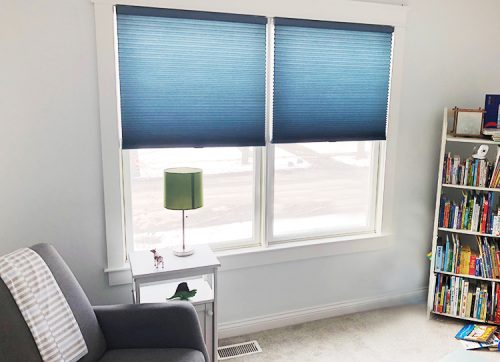 This story of blue is playful and fun. If you have kids, you know their rooms are used for many activities. From playing to sleeping and everything in between, kids rooms look great with youthful, bright decor. One of our Chicago area clients chose a beautiful blue shade to complement their child's nursery. Not only does the bright hue add a special charm, but the shades also keep out unwanted light and protect their privacy. On top of that, these Honeycomb shades are energy efficient. You can amp up your space's style while bringing in incredible function, too.
Work in Peace
As we said, blue is known for being calm and relaxing. Home offices are becoming more and more popular, and we love finding ways to make them functional, stylish, and inviting. This soft blue, similar to Serenity (Color of the Year 2016), is so tranquil, yet invigorating–exactly what you need for working. This story of blue is one of comfort and success. The window treatments, which flow effortlessly with the design, ensure that you won't be bothered by glare or harsh UV rays. When it comes to your home office, choose window treatments with directional control so that you can adjust the lighting to your liking.
Dining Room Design
Have you seen the newest trend known as the "fifth wall?" Take a look at the ceiling. We're seeing this everywhere in home designs this year, and we can see why. The ceiling is covered with paint, adding a chic touch to this dining space. Whether you use the same color as your walls or pick an accent color, you'll make an unforgettable design statement. This dining room's story of blue is elegant, stunning, and tells us about the character of the home. But, remember that painting the ceiling can make your space seem darker. You can use natural light to illuminate your rooms with top down shades. The fresh daylighting will spread across the ceiling, brightening your space while keeping out the glare.
What's Your Story of Blue?
Are you more into the bright, bold hues or soft and dreamy blues? We want to help you tell your own story of blue in your home. We'll complement your space with window treatments that give you control over light, privacy, and atmosphere. Let's get started on your project. Contact our team today at Skyline Window Coverings for a free, in-home consultation.