The layered look in home design is similar to wearing a layered outfit. Layered fabrics at the window allow for window treatments to serve your room for both function + style. Add warmth, texture, color, pattern, and visual interest to your space by creating layers. Our team can walk you through our many collections of shutters, shades, blinds, and draperies, allowing you to mix and match, creating the atmosphere you love.
Start with Neutrals
Neutrals, if done incorrectly, can make a room fall flat and lack interest. However, neutrals also have the power to completely elevate a space and tie it all together when done correctly!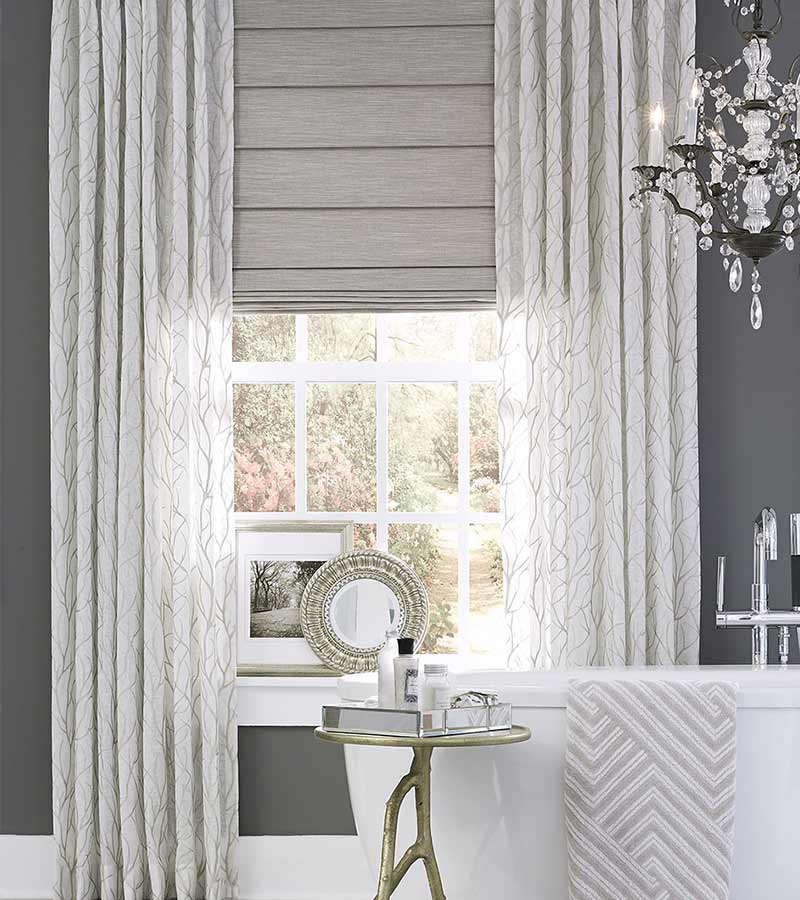 The large scale windows capture the eye and the draperies hung at the ceiling help to draw that eye all the way up. Both of these strategic design choices help make the space look larger and show off the windows, while still offering light control when necessary.
A Look into Moody Design
Moody colors are making themselves known in the design world! And not just in small ways… but on a large scale, as well. A moody look requires balance. Select your color palette, then add in layered fabrics in different prints, textures, and solids within that palette to keep a cohesive, yet interesting atmosphere.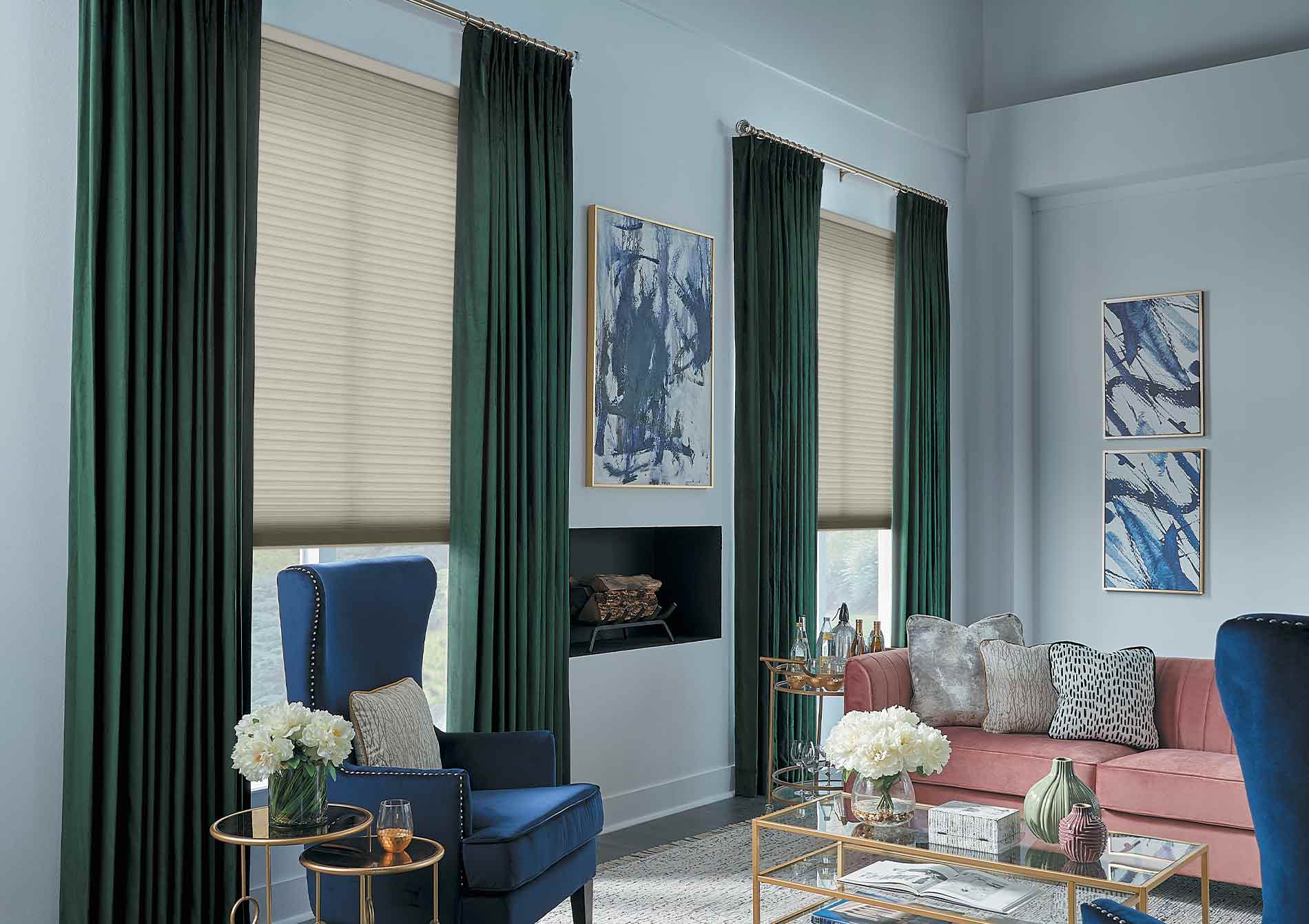 Pairing the darker, more moody textile shade with the lighter, more simple draperies creates a beautiful, timeless look with a bit of modern contrast mixed in.
Pairing Both Style & Function
Not only do layered fabrics provide a statement style, but they excel in functionality as well! The base shade adds privacy, light control, easy use, and energy efficiency. Bringing draperies to all of that will heighten the control of light and add insulation to your windows as well.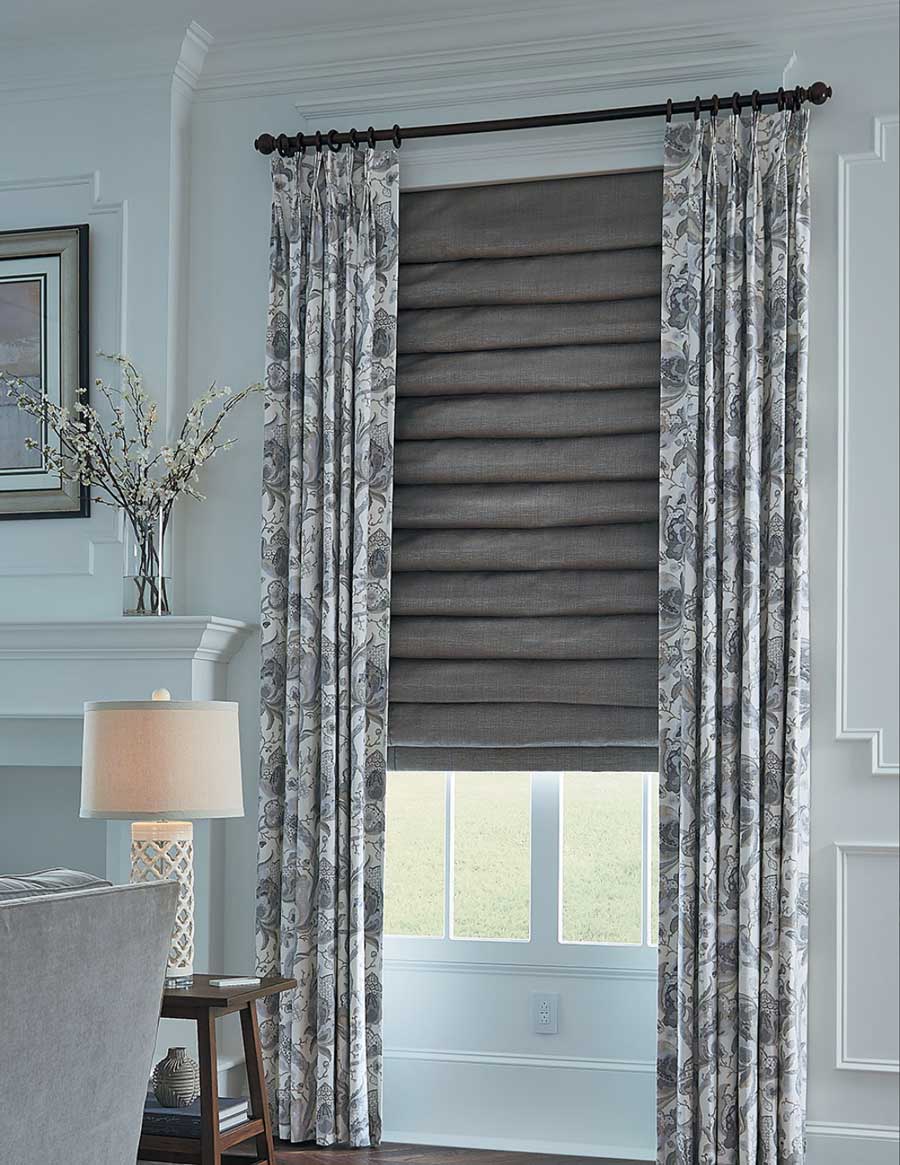 Patterned drapes can be a great way to add dimension to a space and update the look of any existing window treatments you have.
Ready to Add Layered Fabrics to Your Home?
We don't blame you! Layered fabrics add style, function, and personality to any home. Our team of experts can help you narrow in on the treatments that will suit your windows best and then help you find pairings of treatments that are just as stunning as they are functional. Contact us today to set up your FREE consultation.