Downtown Chicago in Spring…it's such a refreshing time. The air is warmer, the sun is shining, and Summer is just right around the corner. It won't be long now, and we will all be complaining about the heat! Living in downtown Chicago is an amazing experience, but if you're like us, your downtown space needs reliable window coverings. Every space we visit in the downtown area is different and unique; the one thing everyone has in common? Great solutions for custom window coverings are an absolute must! Do you want to know what other Chicagoans are using? We'd be happy to show you! Hop on over to our Houzz page to visit some recent projects. In addition, our company offers an extensive collection of Hunter Douglas products, but there are several favorites that our clients choose over and over again.
Designer Roller Shades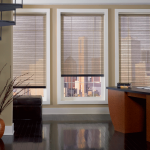 Not your grandmother's shades, these window coverings in downtown Chicago will give an upscale, contemporary appearance to your space. Choose from fabrics that shine with urban styling, to traditional classics that offer texture and patterns for added dimension. The opacity can be customized to suit your lifestyle and home, along a spectrum, from blackout to almost sheer. Depending on the room you are designing, Designer Roller Shades might be a great option to block out various lights you experience at night.
Designer Screen Shades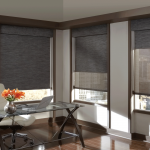 For window coverings in downtown Chicago that easily allow you to diffuse the glare while still enjoying the view, these shades will heighten the style of your living space with the low profile appeal of roller shade operation. Available in a variety of colors to add a splash of personality, Designer Screen Shades will complement the styling of your space and allow you to use the Chicago skyline as the artwork of your home.
Pirouette Window Shadings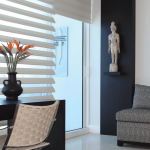 One of the most versatile window coverings on the market, Pirouette window shadings can offer you levels of light control based on your chosen preference. These are one of the most popular window coverings in downtown Chicago. Why? They are perfect for windows of large expanse – windows that remind you how beautiful this city really is. You don't want to give up your view – and you shouldn't have to – regardless of what room you are in. The fabric vanes allow you to direct the light, while the sheer backing continually diffuses the glare. And at night? Pirouettes can provide room-darkening. In your bedroom, that means a peaceful night of sleep. In your living room? You can watch a movie without streetlights and traffic interrupting the experience.
Applause Shades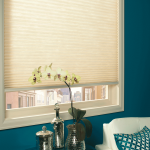 Streamlined colors, fabrics and operating systems, with energy efficient cellular structure, Applause shades are an affordable option that you could compare to our Duette collection. Able to cover large windows, these window coverings in downtown Chicago can be customized to meet your needs in both style and function. Specialty shapes are available in this line, allowing you to coordinate window coverings throughout a shared space. And with the option for top/down, bottom/up, enjoy your privacy while still filling your home with natural light.
Nantucket Shades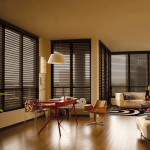 Similar to Silhouette window shadings, enjoy the versatility of light control as the adjustment of fabric vanes allows you to create the perfect ambiance. The sheer backing offers you the experience of receiving soft, filtered, natural light – ideal window coverings in downtown Chicago! Affordably priced, this streamlined collection will complement your home with fabrics and colors that highlight your decor, while the sophisticated styling of 3" vanes will showcase your beautiful view of the city.
Life in Downtown Chicago
We know you're busy. Life shouldn't have to slow down for your window coverings. That's why you can have it all. With PowerRise window covering automation, your lifestyle and your home will be transformed. Simple function at the wall, on a remote or your favorite smart device, and you have light control at the touch of a button. Scheduling the perfect atmosphere of your home has never been easier for your window coverings in downtown Chicago. Still not sure what you're looking for? We'd love to help. Contact Chrissy & Jason at Skyline Window Coverings in downtown Chicago for a free, in-home consultation.