It's hard to believe that the home office was once an afterthought for many people. With a big shift toward working remotely over the past few years, this work-at-home space is more important than ever before. So what are the essentials here? Light control, atmosphere, privacy, and organization. With the right combination of these elements, you'll fashion a room that'll foster productivity and success. Ready to see some options? Take a look at what you need to create the ultimate custom environment in your home office.
Balanced Light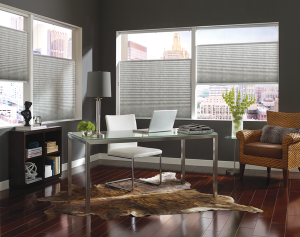 Did you know that too much light can be a disaster in your home office? Think about it. Glaring screens are huge distractions, and they strain your eyes. Flooding light can tire you out. Your coffee might carry you through for a while, but it won't be long before you're thinking more about a nap than the project you need to complete. The same goes for poor lighting. It saps your energy and makes you squint–which is an invitation for headaches.
Top down shades are incredible solutions for the home office. They create the right balance of lighting. As natural light enters across your ceiling, you'll feel your mood and productivity soar! And you know what you won't feel? Strain and fatigue! Positioned perfectly, top down shades block glare and direct rays.
An Ideal Temperature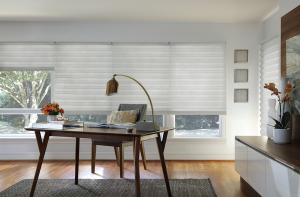 It's amazing how much the temperature varies throughout the year here–and even throughout the day. In order to stay focused, productive, and energetic, it's crucial to maintain a comfortable temperature in your home office. Have you ever tried typing with cold hands or thinking of anything besides ice cream when you're sweating bullets? It's practically impossible! For work to happen, you need a temperature that's just right.
Energy efficient shades help you control the light and temperature of your space, and they do it with energy savings in mind. That makes them a pretty powerful component in your home office design. Motorized blinds and share are another powerful component–quite literally! They're an effortless solution that move to your schedule and work with your home integration system.
A Home Office Where You Can Have It All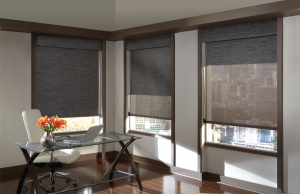 Working from home has its advantages, certainly. But it's not without its pitfalls. For instance, you're never really "away" from work. And it's far too easy for your personal life to blend into your work day. Overcoming the challenges of working remotely starts by creating a home office that's customized and designed to let you have it all.
A customized home office environment offers a range of solutions for light control, comfort, and privacy. What window coverings will deliver? Dual shade systems are ideal for adjustable control; they let you have it all! The secret is in their marriage of blackout and sheer fabrics. One system features two independent shades–one blackout, one sheer–that function individually. Simply raise and lower them in any combination for the perfect atmosphere. Another uses sheer and blackout fabrics together in one shade. Transitioning your environment takes only a simple shift of vanes. Here at Skyline Window Coverings, our team would love to help you start 2018 off right with a home office environment that'll set you up for success. Let's get started with a free, in-home consultation today!