Whether you're thinking of selling your home, or making decisions to renovate, it's important to know which changes will be worth it in the long run. Home investments can be overwhelming to think about, so we're breaking it down for you. Plus, we've got advice on where window treatments fit in.
The Top Selling Rooms
In the home industry, there can be changes over time. But, one thing that still remains the same? Kitchens and bathrooms are going to be the top rooms to renovate for the biggest return on investment. The reason why? These rooms can be pricey to upgrade, especially in older homes–30 years or more.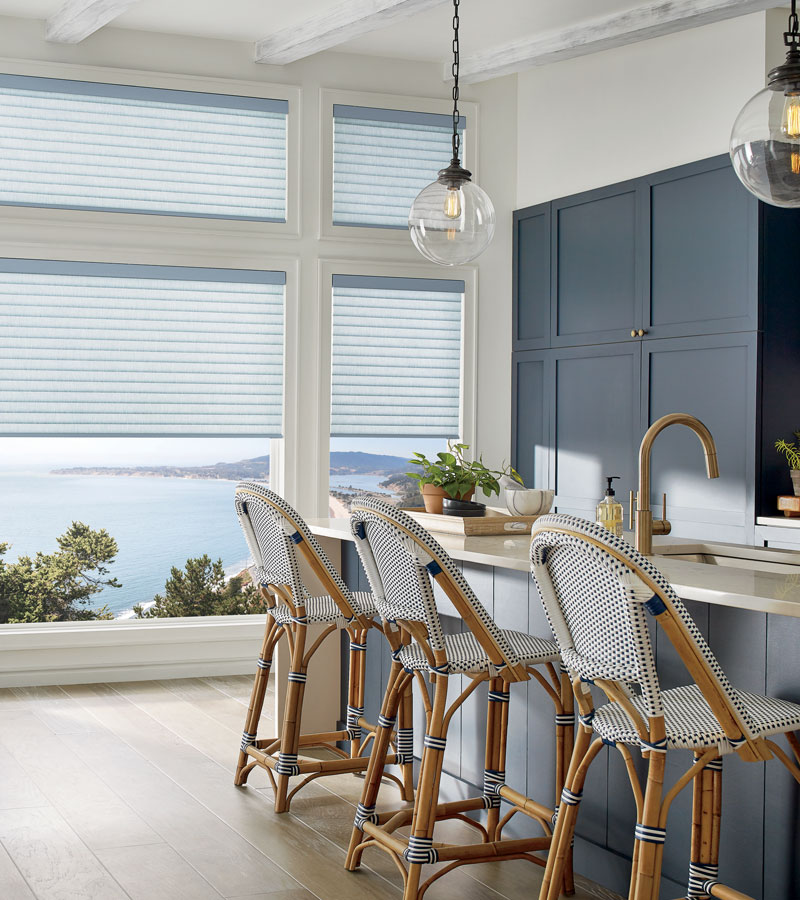 The importance of these rooms goes well beyond style and modern updates. Kitchens and bathrooms get used on and off through the course of your day-to-day life. The upgrades you do now will have a huge impact on your quality of life.
How the Exterior Performs
The front of your home–the curb appeal–leaves a lasting impression, setting a distinct tone. While siding and roofing renovations will need to be done after a matter of years, it's the upkeep of the elements that can offer the true appeal. Power washing the siding and front walkways, maintaining healthy landscaping, and even adding a fresh coat of paint to your front door, can go a long way.
The backyard space is where you'll want the charm of a relaxing staycation. For those who are selling, this is one of the areas where buyers can fall in love with the lifestyle. If you're renovating, this is a place for your friends and family to spend quality time. A relaxing, beautiful space should be your goal, with comfortable and stylish chairs and a dining table. Freshen the look with exterior decor–in minimal amounts, choosing to decorate seasonally. Make the most of green space–again, keeping up with landscaping and fence repairs for a manicured appearance.
What About the Windows?
If your home is more than 30 years old, with original windows, chances are you're considering replacing them. What's stopping you? Probably the budget. New windows are a big expense. But, they can also be costing you a small fortune in energy bills. If you don't have the budget for an entire house of new windows, there are two things you can do.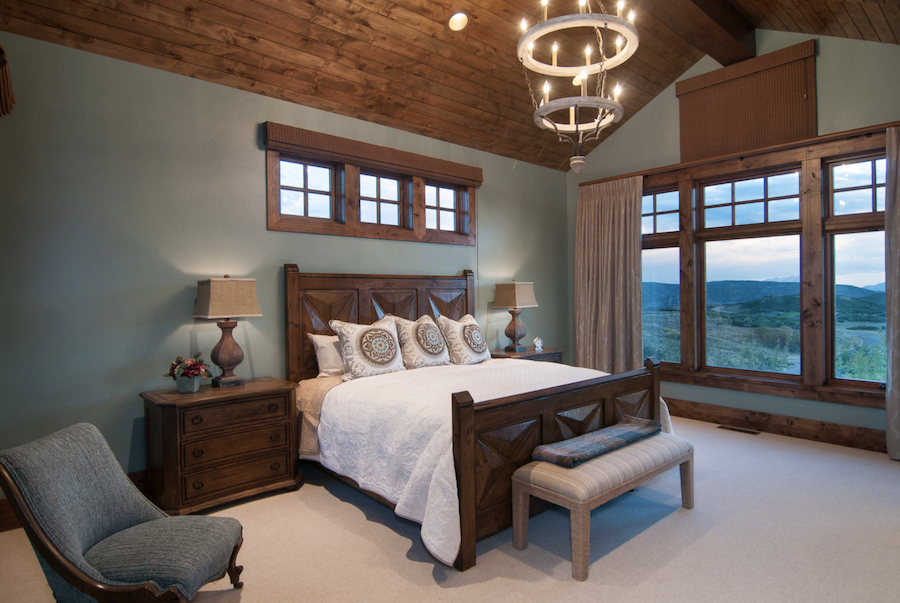 The first is to buy new windows in sections. Most experts would recommend doing all of your front facing windows at the same time, for a cohesive look. But, the others? You can do a few windows at a time, from the other sides, on a schedule to break up the spending.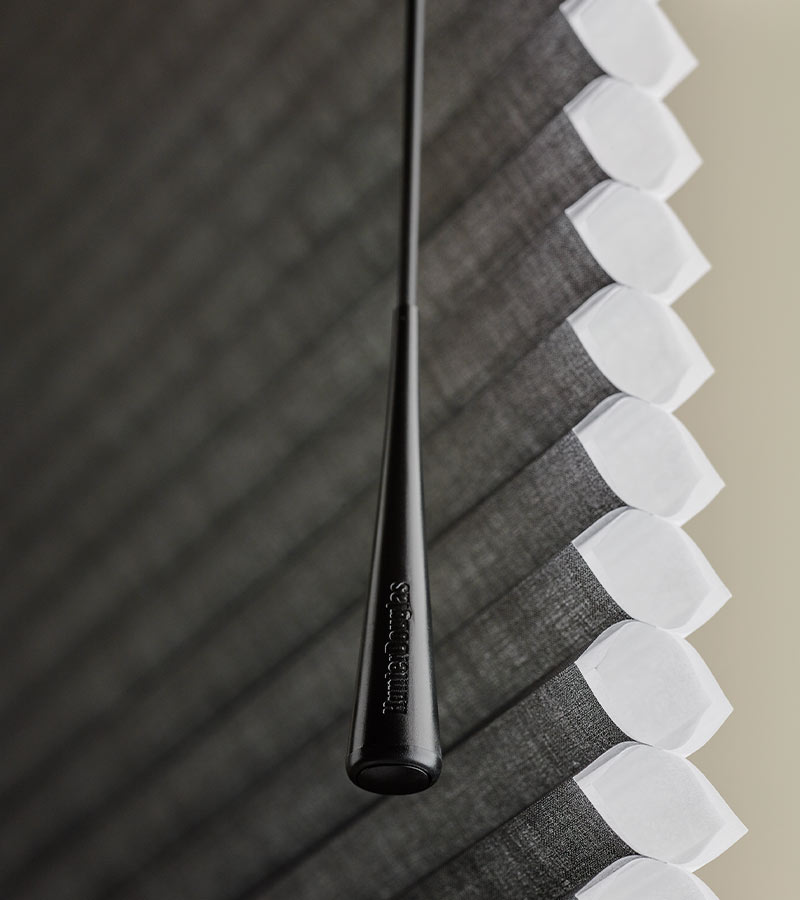 The next option? Consider the windows that experience the most weather issues–heat and drafts–and have energy efficient window treatments installed to block the elements.
Decisions About Flooring
Everyone has their own preference when it comes to flooring. But, if you're making decisions, you know that budget can play a role in the decision. There are rooms where you'll want tile, but the majority is probably hardwood. What about carpet? Carpet does have a place in interiors, but the concept of carpeting has fallen off the popularity charts in previous years. Carpet faces more wear and tear, along with being harder to keep clean–easily collecting dust, dander and allergens.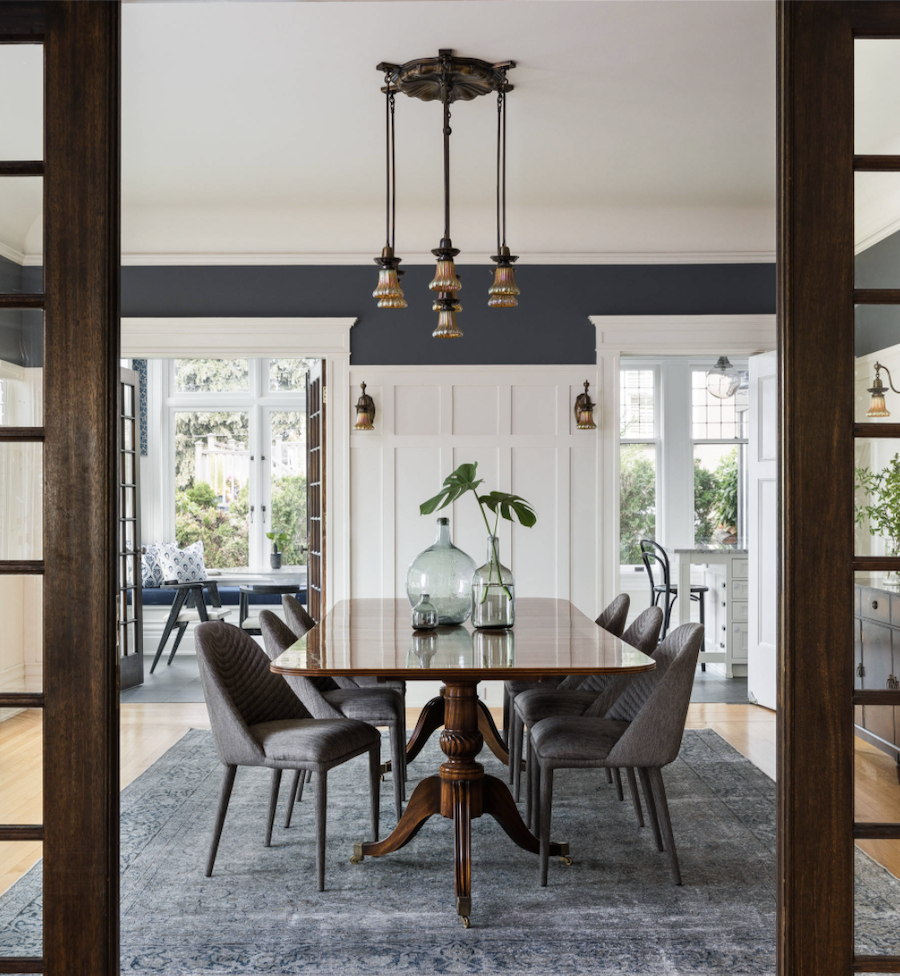 The other factor you may notice is the cost. Carpeting used to be thought of as a "budget friendly" option, compared to other flooring. However, to experience the long-lasting durability that you'll want, it's the higher quality brands you'll be choosing from–which means much higher prices. Moral of the story? If you're ripping it out, you should second guess adding carpet back into the same space. If you want to up the cozy factor, add an area rug.
The Little Details Add Up
Sometimes, it's not the large home investments that turn a house into a home. It's all about the small details that come together. The good news is that most of these projects are ones that you can do yourself.
Transform your home with a fresh coat of paint, (neutral if you're selling)
Swap old area rugs and doormats for new
Change the hardware on cabinets (kitchen & bathroom)
Install new lighting–chandeliers, flush mount lights & ceiling fans
Organize your closets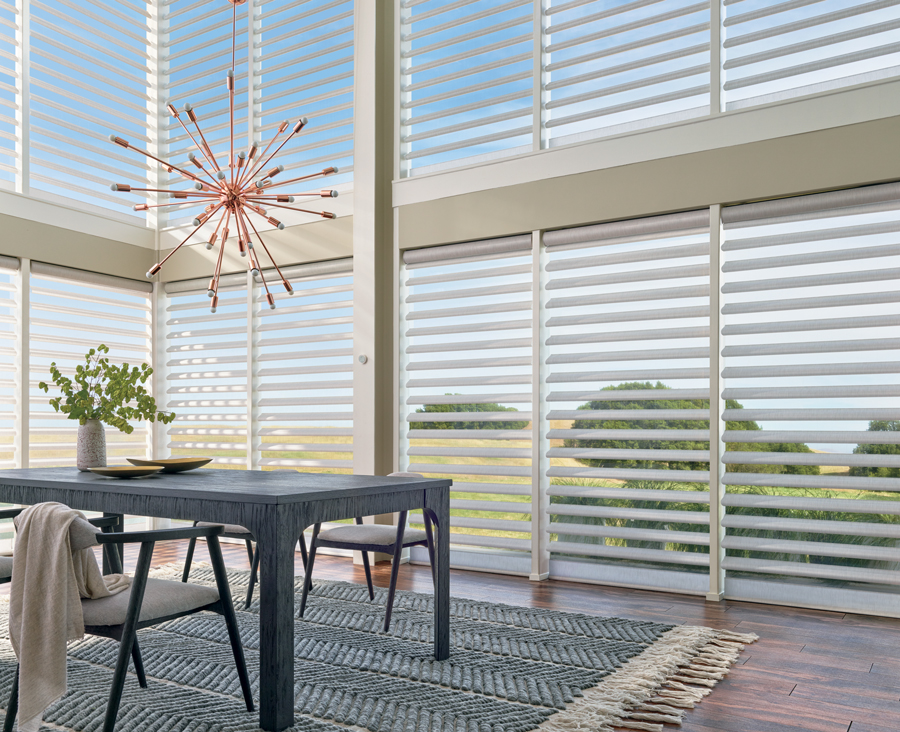 What Window Treatments Can Do…
Beautiful light, amazing atmosphere, adjustable privacy–these are all qualities that transform a home. Window treatments play such an important role in creating the ambiance of a home. Because they surround you, they should coordinate the decor, highlight the beautiful aspects in your home and improve your lifestyle.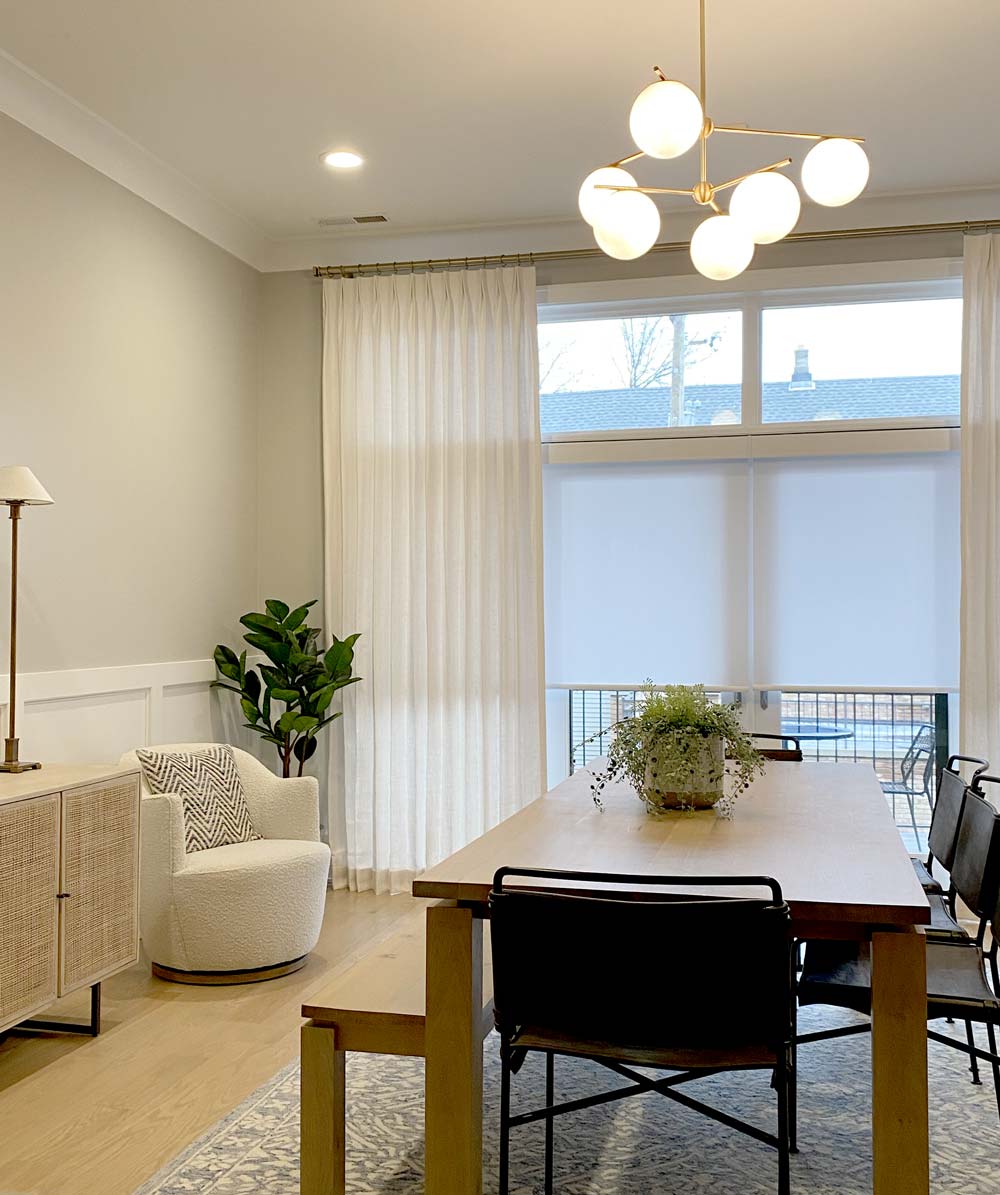 With today's sought-after features of automation and dual shades, you're creating your very own dream home. And, not only do these features make it a dream space, but they offer the incredible function you need to help your home reach its full potential. If you've got the real estate market on your mind, know that names like Hunter Douglas–an industry leader–help sell a home.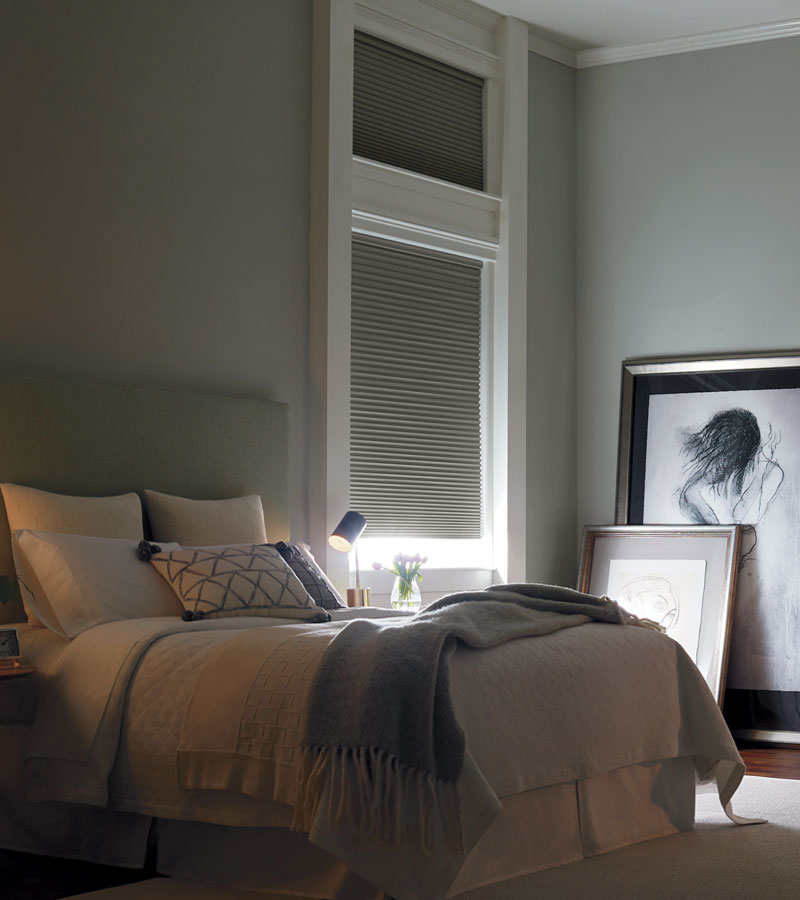 When buying, or remodeling spaces in your home, don't put off choosing the window treatments. We have clients that choose to outfit their entire home, and we have clients who make decisions in phases. Bedrooms and bathrooms are high priority spaces, due to privacy and room darkening. But, one more space that is essential? Rooms that get flooded with Southern or Western light, causing high temperatures, direct light and UV ray damage.
Which Home Investments Are On Your Mind?
At Skyline Window Coverings, our goal is to help you upgrade the style and function of your home. Window treatments help so much when it comes to comfort, efficiency, style and atmosphere. We'd love to sit down to chat about your home. We'll come right to you for a FREE consultation. Get in touch with our team today!