The largest windows often bring the most beautiful light & views. But, they can also wreak havoc on your home's atmosphere. When covering large windows, there are a number of questions to ask yourself so you can create the ideal environment for each room in your home…
What type of light do I need?
It's no surprise that the individual rooms of your home need various types of light control. But, when you add large windows to the mix, it might have you wondering what's best. Basically, focus on the function, and don't worry that you're dealing with huge windows. It's still important to think about bedrooms having access to room darkening and privacy. When it comes to windows that face the Western sky, you'll want a different option than those that face East.
Is privacy important?
Bedrooms and bathrooms come to mind quickly when thinking about privacy. But, with large windows, privacy can be a concern because there is such a vast view into your home–especially at night, when the lights are on. Depending on which rooms have the large windows, and what times of day you use them most will determine the privacy factor you're looking for.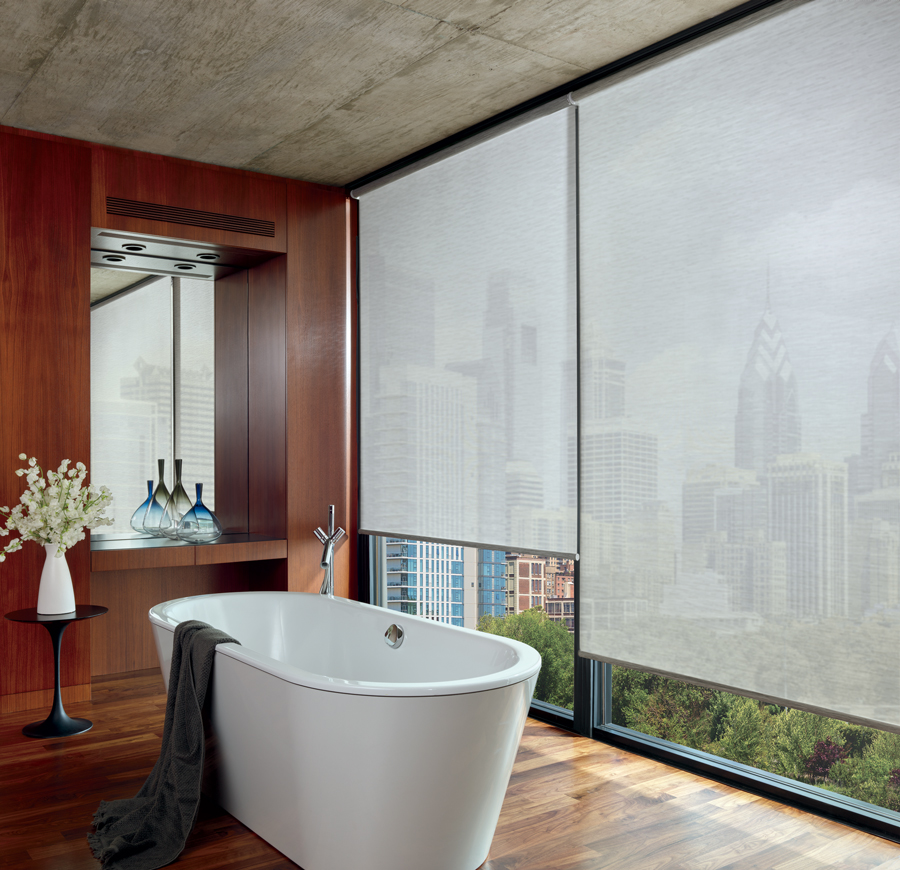 Do I want to enjoy the view?
When we think about large windows, the view immediately comes to mind. But, there's a chance that not every view to the outside will be considered breathtaking. If your floor to ceiling windows overlook the pool and a stunning landscape, of course you'll want to take it in. But, what if the view simply reveals the neighborhood? You might want to choose window treatments that let in the light, but not necessarily the homes or buildings that surround you.
Is energy efficiency a concern?
Energy savings is important, and there are certain window coverings that are rated higher for blocking the light and heat that can affect the the temperature of your interiors. When it comes to covering large windows, it can be very important to identify which direction the windows face. Western-facing windows will bake your home from lunchtime through sunset, compared to the Eastern-facing ones that bring in softer morning light. And, Southern exposure will offer light all day long. Knowing the rooms of your home, and how the light interacts with them will help you make good choices about the window treatments.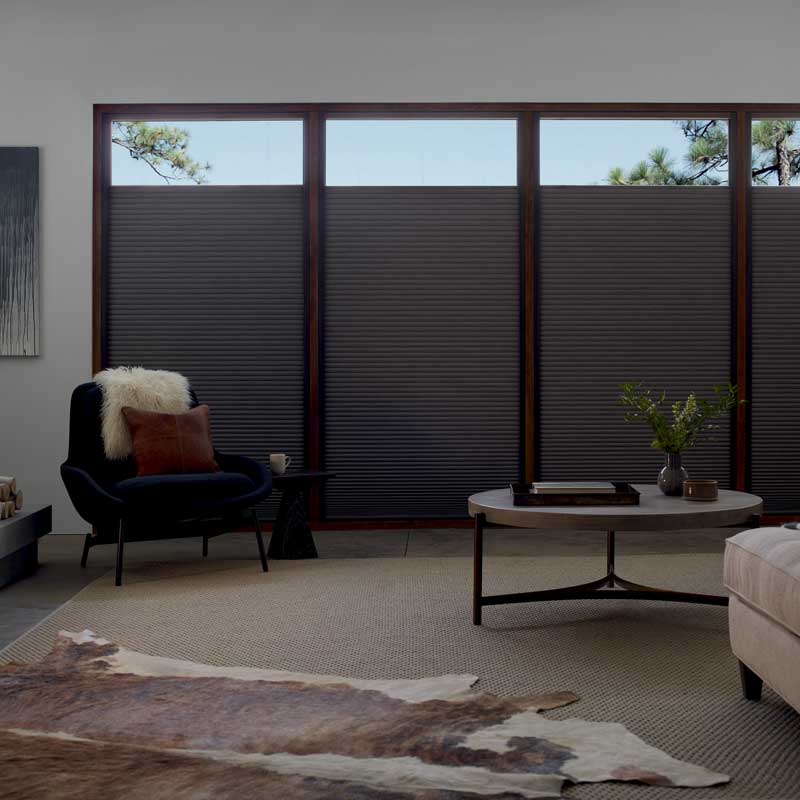 How do I want to make adjustments?
With large windows, we find that room specifics create two types of adjustments needs: Those that adjust frequently & not at all. For rooms where the large windows bring in natural light and show off a lovely view, we find many clients that appreciate setting the window treatments in place and not ever really adjusting them. But, when the room has varying types of light throughout the day, or ever-changing needs, covering large windows means you're creating the right atmosphere over the course of the day. That can call for frequent adjustments. In that case, choosing smart control will allow you to instantly change the environment with a voice command to Alexa, or a simple tap on the remote.
The Best Thing to Do When Covering Large Windows…
Sit down with a window covering specialist. Our team at Skyline Window Coverings will listen to your concerns–what you need, what your hesitations are. They'll help guide you to the best choices for covering large windows in YOUR home. Chances are, you'll need different solutions depending on the room. That's normal. Another great option is to visit the showroom nearest you. You'll see everything up close and in-person. You can experiment with smart control and decide which features you like best. Get in touch with us today for your FREE consultation.