Have you been thinking about how to set an awe-inspiring scene in your dining room this holiday season? Would you like a little inspiration? Well…we've got it! Our team sifted through countless photos to find incredible dining room design ideas that cover a whole range of styles. From classic to modern, breathtaking backdrops to statement-making accents, we know you'll find something to love from our top 10 favorite spaces. Check them out…
#1 It's Classic. It's Modern.
This dining room design is a gorgeous example of how to breathe new life into classic design elements. When it comes to decorating, we all know that gold and wallpaper are time-honored. Yet they're both trend-setting favorites of designers right now. Here, the gold accents and geometric wallpaper speak to tradition with a strong modern twist. Combined with a black ceiling, the result is purely jaw-dropping!
#2 Fresh & Bountiful Bouquets
With a neutral backdrop, this dining room design is poised to showcase any color. Elegant and happy, these fresh, yellow roses draw the eye and give a pop of color that perfectly completes the space. While it's pretty standard to focus more on jewel tones during the holidays, we love the energy and joy of yellow. We're also smitten with the impact of using multiple bouquets. Genius!
#3 High Contrast in Finishes & Color
The popularity of contrast in the style world has remained a constant for quite a while now. And this dining room design is the epitome of why. It plays with contrast on so many levels, and the result is spectacular! The sparkling glitz of the contemporary chandelier meets with the organically rustic wooden tabletop and leafy greenery. Then, the deep blue wall juxtaposes the white in the photography and trim for eye-catching appeal. Wow, wow, wow!
#4 Fabric Shades That Drip with Style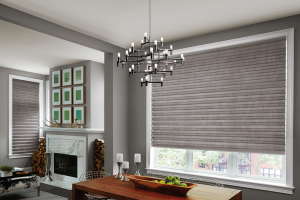 When your eyes sweep over this dining room design, they simply can't miss the incredible look of the shades. Solera Roman Shades from Hunter Douglas are absolutely beautiful in this space. Texture comes through on both the fabrics themselves and the structured nature of their design. While they certainly boast incredible style, their function is phenomenal too. Simple operation, insulating properties, and adjustable light control are just the beginning of the many benefits they bring!
#5 Lighting that Brings Industrial Flair
When it comes to lighting, fixtures that boast a bit of industrial flair are super trendy this year. In fact, this dining area features one of the hottest styles: lights encased in glass with a minimal metal frame. While this particular fixture is zinc, there are lots of other metals to choose from. Wrought iron, steel, brass…they'll all add a sophisticated edge to any dining room design.
#6 A Statement-Making Space
We love that this dining room design makes a very personal statement. It's clear that each element was chosen with intention. What jumps out first? The blue wall. The way it quietly adds character while bringing a richness to the overall design is incredible. As for the furnishings and accents, they lean more toward traditional styling, while the geometric wallpaper and upholstery express more contemporary appeal. The result? A space that feels chic, luxurious, and oh-so personal.
#7 Stunning Simplicity
We've all heard the saying, "Less is more." Well, this dining room design turns that simple saying into a fact. The minimalist style works beautifully. Each piece is essential and totally chic! We love the natural elements, especially the greenery. The varying heights and rich green color offer fabulous visual interest.
#8 Black & White & Always in Style
Black and white decorating is timeless and foolproof. It's really hard to go wrong. Mixing and matching patterns, textures, and design elements is a breeze because the common thread of black and white naturally pulls them together. It also makes it easy to add color and metals into the space. Gray and gold are infused effortlessly into this dining room design, and the effect is full of classic elegance and modern glamour!
#9 Bold is Beautiful
While some love minimalism and neutrals, this dining room design appeals to those on the other end of the spectrum. Whimsical and mesmerizing, this space is a giant feast for the eyes. Patterns abound, brilliantly bold colors dance throughout the room, and metallic elements shine. Eclectic styling defines this area, and it simultaneously feels like a designer space and home.
#10 Tailored for Comfort
Here's a dining room design that does neutrals really well. Everything appears perfectly tailored and beautifully comfortable. The custom draperies are a major reason why. They add softness and flow while also offering adjustable light control for just the right amount of natural sunshine. We love the bits of purple and the unique chairs too. They bring contemporary allure into the more traditional design.
Dining Room Design: Do You Have a Favorite?
Which scene did you love the most? Did any of these dining room design elements surprise you? We'd love to be a part of creating a beautiful space in your home. We'll come right to you with inspiration, fabric samples and a great deal of expertise on how to add the perfect balance of lifestyle function and jaw-dropping design. Contact our team at Skyline Window Coverings for your free, in-home design consultation. We have clients throughout Chicago and the Western Suburbs, as well as both the Portland and Vancouver areas.