Don't you just love the sunshine and beautiful views? I'm sure your pets do, too. Pets are curious, and they often have a favorite spot where they like to see all that's going on outside. In a recent article on Houzz, they offer a tour to make sure your home is pet proof. We are taking that one step further by making sure that you know how to choose pet safe window coverings.
Consider Durability.
Years ago, we had a dog that would bark every time someone passed by. I'm sure it scared the daylights out of anyone who cared to dawdle, as just before barking, she would climb on top of an armchair, only revealing her head through the vertical blinds, making her appear to be at least five feet tall.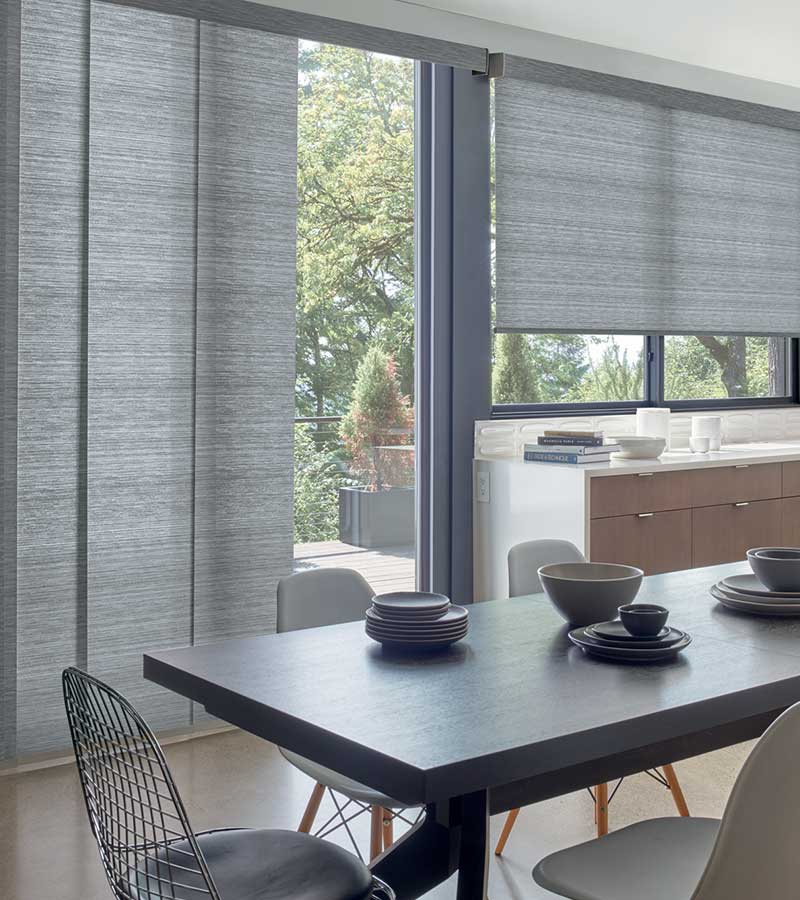 High traffic areas, such as sliding glass doors, or the entryway to your home, are an ideal candidate for pet safe window coverings. They get a lot of attention from furry friends. Vertical solutions, like the contemporary appeal of Skyline Gliding Panels, are designed for high amounts of use in both safe function and durable materials.
Go Cordless.
Hunter Douglas goes above and beyond for families that are looking for child and pet safe window coverings. Both LiteRise, SimpleLift and PowerView automation offer options for cordless shades and blinds. Those window coverings that need a cord can utilize a short retractable one, with UltraGlide, or a continuous cord loop that can be securely fastened.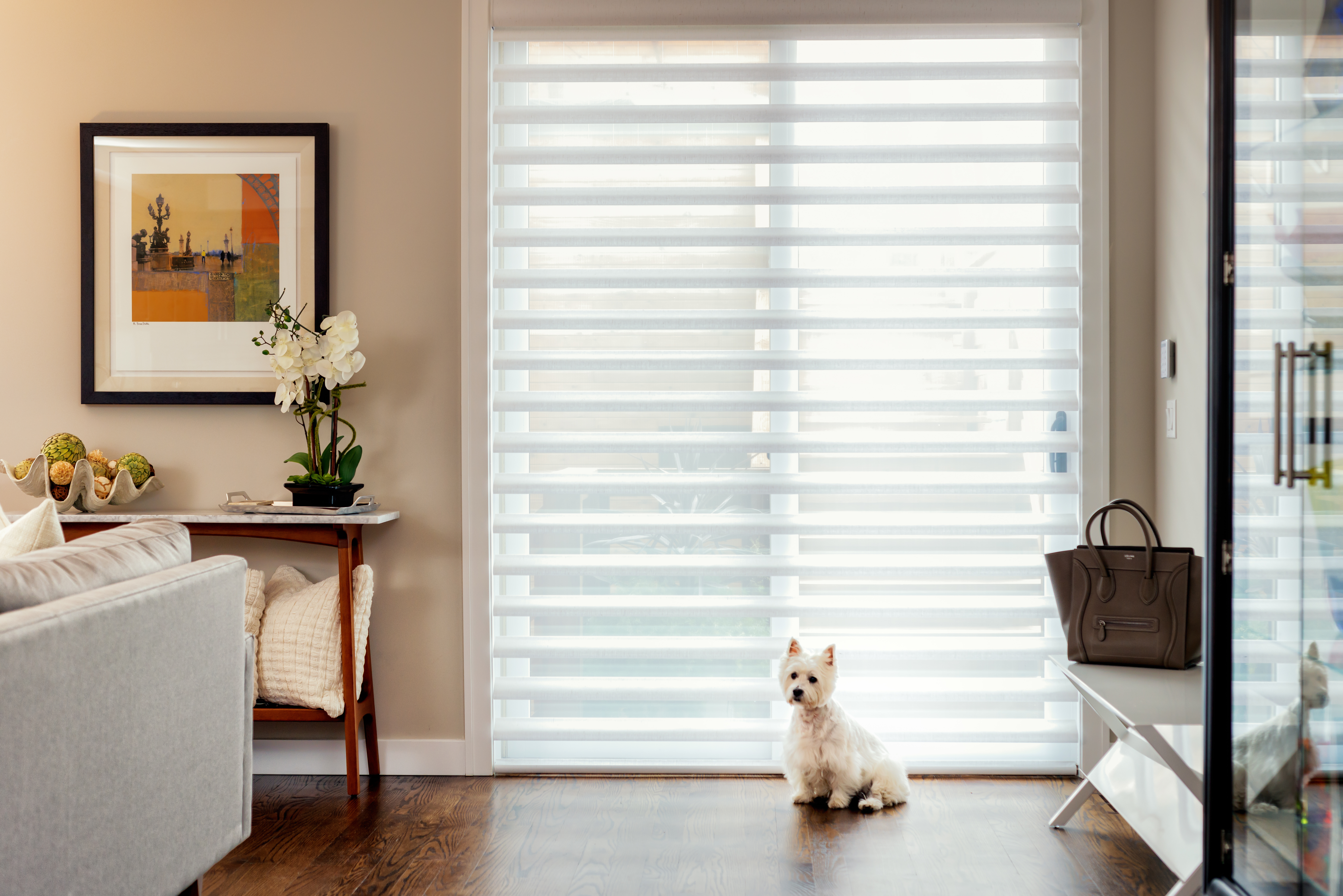 These operating features are designed to ensure that your furry friends don't get tangled up or hurt. One way to increase safety is to reduce the interaction with the window coverings. With versatility for function, Pirouette Window Shadings feature vanes which can be adjusted open to reveal a beautiful view with sheer backing that diffuses the glare. Your pets will see outside without having to push anything with their paws or noses.
Think About Maintenance.
When looking into pet safe window coverings, don't forget about cleanliness. Pets shed. They track dust. We love them all the same. When you have pets, options for fabrics and materials that are easy to clean and don't attract a collection of hair are important.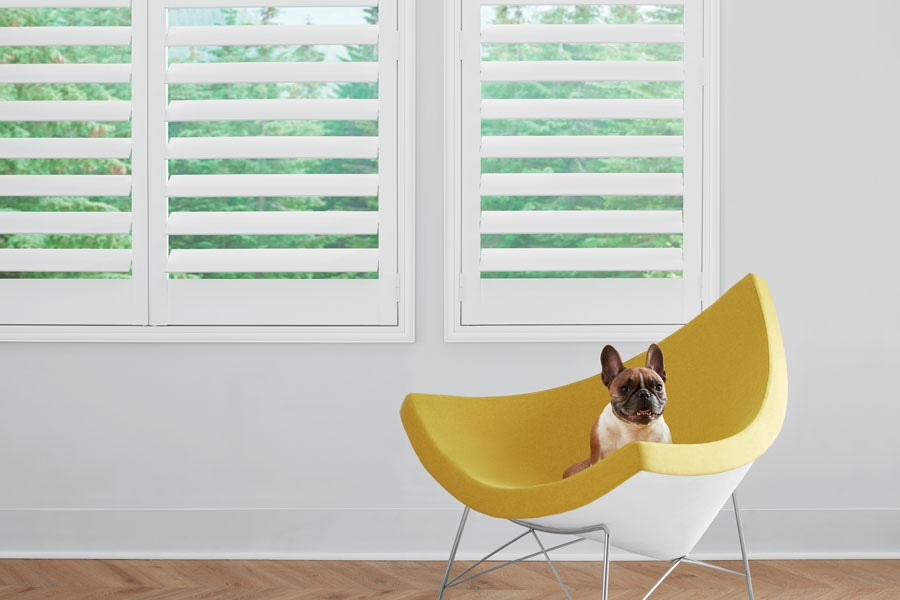 Many of our products offer fabrics that are soil and dust resistant for this very reason. With pet safe window coverings, like Duette Architella Honeycomb Shades, even the pleats are designed to stay looking crisp and fresh – regardless of the traffic in your home.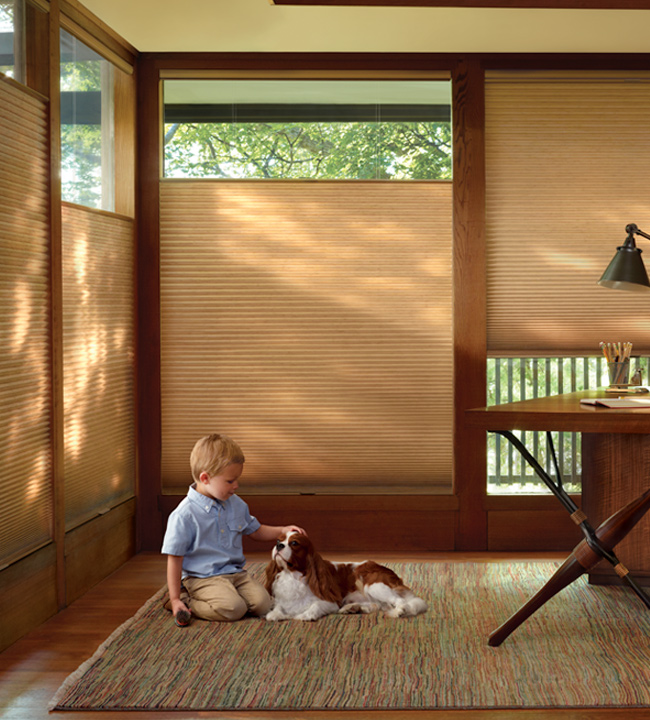 Give Them a View…Or Not.
Sometimes, the view to the outdoors is a perfect spot for your cat or dog to spend the day. Sometimes, it's not. With the top/down, bottom/up feature of many pet safe window coverings, like our Vignette Modern Roman Shades, your pet will enjoy watching the world throughout the day.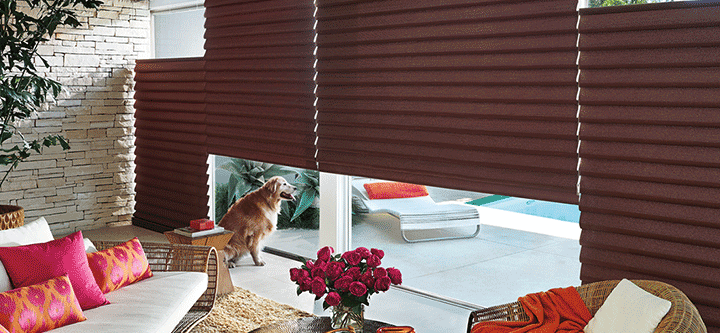 However, there are times that too much traffic outside your windows can be overwhelming. Barking, whining and high levels of excitement may not be the result you are hoping for. In an effort to control the environment, choose window coverings that offer the ability for a dramatic view or the seclusion of opaque fabric, based on your pet's needs.
Upgrade to Pet Safe Window Coverings
Your home is their home. For your own peace of mind, choose pet safe window coverings that not only provide them with the right environment, but add an upscale look to your home as well. We have a vast selection of pet safe window coverings. Our team, at Skyline Window Coverings, will help you decide just what features you need to pet proof your window covering needs. Contact us for a free, in-home consultation.