The summer season has arrived, and those hot temps have a way of sneaking up on us. While the sunshine is a welcome sight, the heat can be too much to handle. Is your home ready? Or, do you need to bring in some of the best energy efficient window coverings?
Innovation at Work
When exploring efficiency for your home, it's important to know which factors affect the performance. The window covering industry has made incredible innovations towards energy saving home features. Let's take a look at the design elements that go into protecting your home…
Insulation
Stop air flow from happening. The honeycomb design of cellular shades has achieved awards for the best energy efficient window coverings for years. This insulation protects your interior, maintaining temperatures year-round.
Guiding Channels
Side channels seal out the light, and prevent even more air flow. These U-shaped channels guide the shade, adding one more level of efficiency to your window coverings.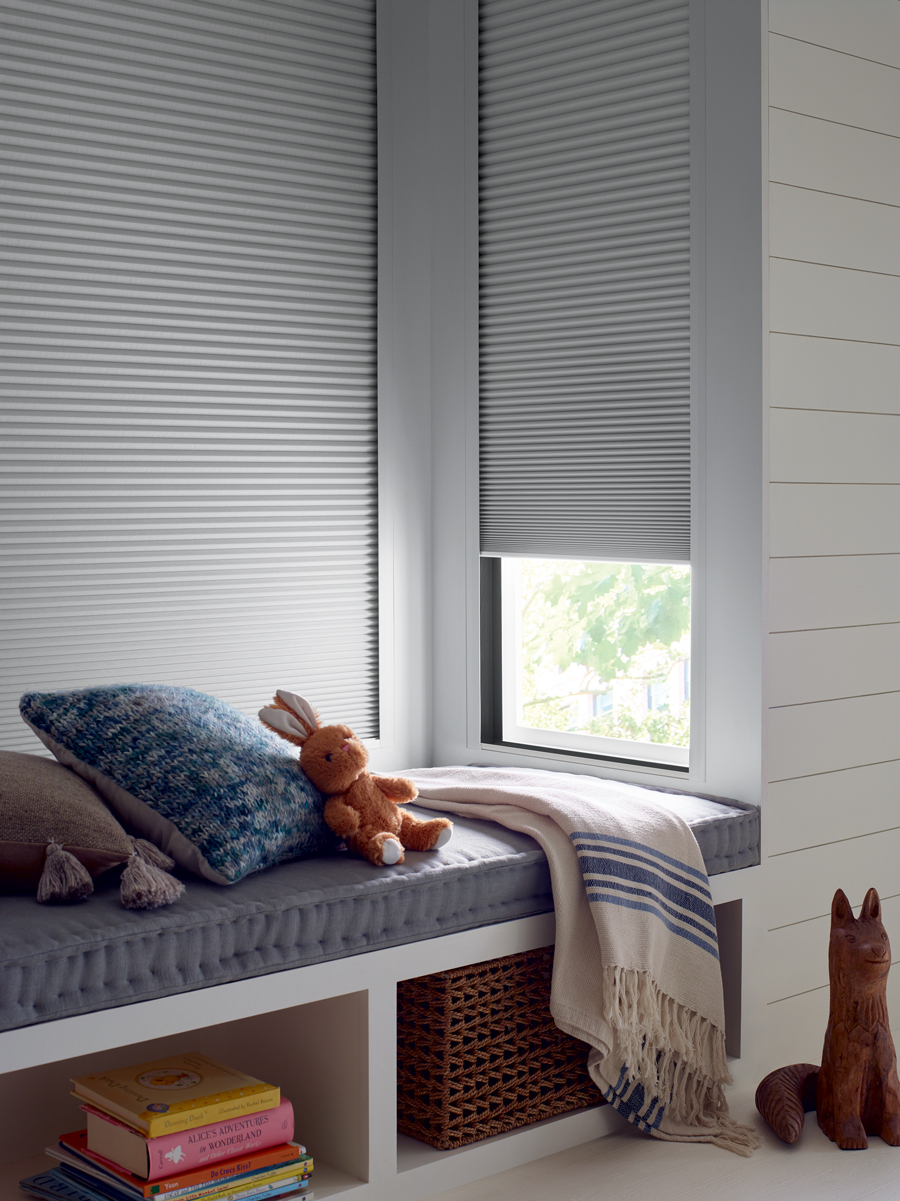 Exclusive Finishes
Materials are crafted with intense sunlight in mind. Protect your home against harsh UV rays. Stop the direct light from heating up the interior of your home. And, while you're at it, know that these custom-crafted materials were designed to prevent warps, cracks and damage from the sun.
Smart Adjustments
Adjusting your window treatments can be pretty easy. But, to achieve the ideal atmosphere throughout the day, the continual movement of your shades could become a full-time job. And, some of your most affected windows are out of reach. That's why smart home automation is leading the way as one of the best energy efficient options for your home. Schedule adjustments to occur when the sun is shining directly in, closing off your home and protecting the atmosphere.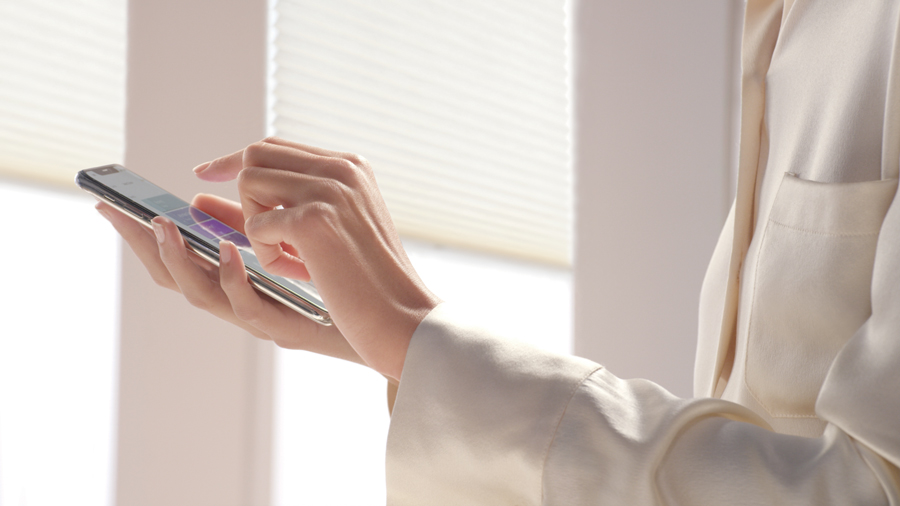 Which Benefits Sound Good?
When considering the best energy efficient options, homeowners quickly think of new windows. But, the price tag of those can be off-putting. You know what else? Most people will STILL need window coverings. You'll get huge amounts of energy efficiency–AND a host of other benefits:
Room darkening for improved sleep

Privacy when necessary

Glare-free living 

Beautiful home style

Smart home adjustments

Natural lighting
Feature Favorites + Energy Efficient Window Coverings
Energy efficiency gets a major boost from the structure and fabrics used. But, added features create an atmosphere of energy savings. You'll customize your home for efficiency, comfort, safety and convenient living with these favorites:
Automated Adjustments: Integrate other smart home elements of your home for automatic adjustments, scheduled closings and voice command changes to instantly create the best environment.
Two in One Shades: Dual shades allow varying degrees of lighting to soften the atmosphere or just block out the sun.
Top Down Bottom Up: Lowering from the top means that you bring in ample light while protecting your interiors from intense sunshine.
Specialty Windows: Tilt/Turn windows, custom shapes and glass door windows can be insulated with the right coverings.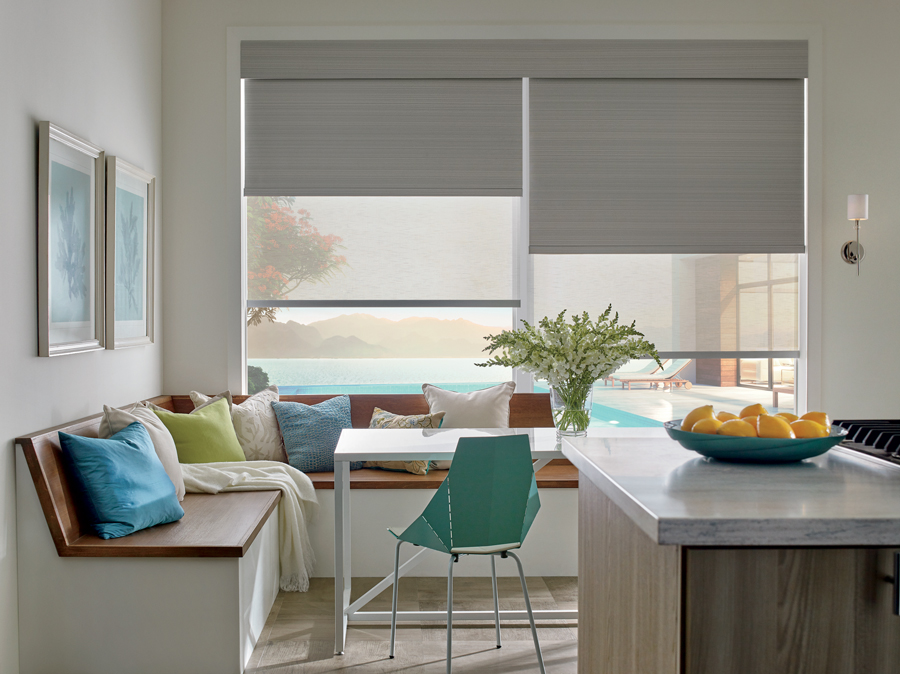 Our Top 5: The Best Energy Efficient Coverings
Each & every home is different. Some of the factors that cause a need for energy efficiency have to do with more than just the climate where you live. Window direction, room layout, usage and family schedules all come into play. That means, you might be searching for options that will best suit your home and lifestyle. Check out our top 5…
#1 Honeycomb Shades
Cellular design was custom crafted to trap air. This structure prevents energy loss by stopping the air flow that warms your home in the summer and creates the drafts you feel in the winter. Hunter Douglas has developed a range of cellular shades so you can select the ones that fit the function and style of your home.
#2 Roman Shades
Roman shades layer fabrics at the window, naturally blocking sunshine and reducing air flow. The fabrics and the opacities you choose can have a dramatic effect on the comfort of your home.
#3 Roller Shades
Block the light when it becomes too intense. You'll maintain comfort and prevent UV damage. In a modern move that combines roller shade function & cellular design, the newest shade is from the Sonnette™ collection.
#4 Draperies
Beautiful fabrics at the window–they do more than complete the look of your home. They are capable of blocking light & heat. Add motorization to the mix for a powerful solution.
#5 Plantation Shutters
Remember back to science class when you learned that wood does not conduct electricity? Same goes for heat. Plantation shutters stop heat from penetrating your home, keeping it cool. By adjusting the louvers open towards the ceiling, the light flows up, creating daylighting without the heat.
Is your home ready for the summer sun? Frustrating glare, direct rays, UV damage and intense heat…let us help you find solutions to prevent discomfort this summer. Create the right atmosphere for your home year-round with the best energy efficient window coverings. Get in touch with the team from Skyline Window Coverings for your FREE consultation.