Are you wondering just how important the right window coverings are to your home? Are you looking for the perfect amount of privacy and light control while still maintaining your outside view? Take a look at this before and after and see how the addition of gorgeous roman shades can transform your living space.
Before: Harsh Glare, No Privacy
Maybe leaving these windows bare will give you the best possible outside view during your morning coffee or evening meal, but what about when the sun is out and shining directly into your eyes? It makes the view a bit hard to see after all, doesn't it? Without window shades in place, there's no way to control the harsh glare streaming into your windows–or the heat coming from the glass. The temperature alone could make this room uncomfortable to sit in during every part of the day except early morning. Add to that the absolute lack of privacy, and you can see how adding window treatments is becoming more and more of a priority! There are many ways to reimagine this space. Adding window treatments doesn't mean taking away from the natural beauty of your windows or your view of the landscape. The perfect shades can give you the light control and privacy you want, without altering your view or the style of the room itself.
After: Subtle, Yet Elegant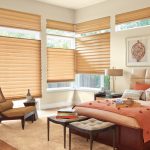 By adding these sleek, sophisticated roman shades, there's a dramatic transformation. You get just what you need to filter the incoming sunlight, eliminating harsh glare and giving your eyes and furnishings much-needed UV protection. These subtle, yet elegant shades transform this room from harsh and uncomfortable to rich and inviting without taking away from the natural beauty of the window–or the natural light. With top down bottom up shades, you can place your window coverings in the exact spots you need, based on window location, while still enjoying partial view. And the adjustment open for full viewing is simple with either manual operation or PowerView motorization. Motorized shades give you the chance to save your favorite settings for individual windows, creating the perfect scene–all with your personal preferences. You can't get much better than control at your fingertips!
Before and After: Space Reimagined
It's truly amazing what the right window treatments can add to your home. And with so many styles, fabrics and colors to choose from, it's simple to coordinate with existing home decor or completely reimagine your space with a whole new look. As you can see from the before and after scenario above, it doesn't take much to transform your living space into an enticing, comfortable environment.
Whether you are thinking of a subtle change or prefer something bold and dramatic, we have the knowledge and window coverings to transform your living space and bring elegance and style to your home. Contact us today for your free, in-home consultation and let our design experts give you the inspiration to reimagine your home, one room at a time!