Stores have transformed into every window shopper's dream. Lavish holiday displays will make you stop in your tracks to ogle at their beauty. Your eyes take in spectacular sights as you gaze into windows, thinking of gift ideas, and perhaps your own wishes. They should do the same when they look out of the windows in your home.  You love your view, but you might not love the glare, direct sunlight, and UV rays that come with it. It's time to consider window coverings for large windows. They'll make your home stunning and your life merrier this holiday season. Check out these four great options.
Pirouette Window Shades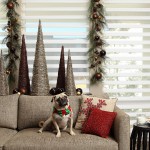 Pirouette Window Shades filter out problematic elements–like glare, brightness, and UV rays–while allowing you a view-through to enjoy the city panoramas. Their soft fabric vanes are an impressive display on floor-to-ceiling windows; open they appear to be floating, and closed they look like a contemporary shade. Equip them with PowerView motorization for effortless operation, and both you and your holiday guests will be awestruck at their beauty and function. Pirouette Window Shades truly stand out as exceptional window coverings for large windows.
Skyline Gliding Window Panels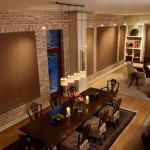 The modern, sleek design of Skyline Gliding Window Panels is perfect for any home. Suited for large expanses of glass, like those on sliding glass doors and bay windows, they'll add a dramatic element to your urban styling that'll rival the sensational displays you've been admiring this season. Motorization is a great feature for these window coverings for large windows and doors because it gives you easy access to the view when you want it and allows you to block direct sunlight with the touch of a button. You can even use them in interior spaces to set boundaries and divide rooms. Decking your halls, windows, and doors with Skyline Gliding Window Panels will make your season a little brighter this year.
Designer Roller Shades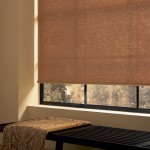 Don't leave designer style at the Giorgio Armani and Burberry stores; bring it into your home with Designer Roller Shades. Customize and tailor the look of your windows with hundreds of fabric choices. Go for an eye-popping pattern, or select a traditional solid color. Enjoy the city's festive view with a sheer opacity, or opt for blackout to help your holiday guests settle in for a long winter's nap. Enhance the function of your floor-to-ceiling and large-scale windows with PowerView Automation by eliminating hard-to-reach cords or wands. A simple tap on a remote or in the app on your favorite device makes adjusting your shades a snap. With Designer Roller Shades, you can have what you want! Aren't those magical words this time of year?!
Duette Shades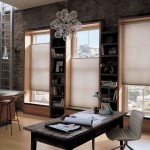 While a necklace or watch might be calling to you from the Tiffany's or Rolex windows, Duette Shades might just be the best gift you can give yourself, and your home, this year. Duettes are known for their energy efficiency, so they'll keep you warm during our frigid winter and cool when summertime rolls around again. You can select fabrics that will improve your room's acoustics and absorb outside sound, so music and conversation can flourish at your holiday get-togethers. Top-down, bottom-up operation gives you ultimate light and privacy control, and motorization offers superior function. Give yourself the gift of window coverings for large windows with Duette Shades.
As the windows transform into gorgeous wonderlands for your eyes this holiday season, your windows at home can, too. Outfit them with window coverings for large windows, and you as well as your friends and family will be amazed at their beauty and function! We are ready to help you find the right options for the windows in your home. Contact our team at Skyline Window Coverings for a free, in-home consultation.