Beginning your day the right way is vital. The challenges of your bathroom design can easily get in the way of balance in this all-important space. You might be surprised to learn that most of our clients deal with the same frustrations as you do! Need answers? Ready to find solutions to these bathroom design elements? We've got ideas to help guide you…
The One Question We Don't Have to Ask…
"What's the most important function you need?" We don't ask it–we know the answer. In your bathroom design, when you're choosing window treatments, you're looking for privacy. It's everyone's priority.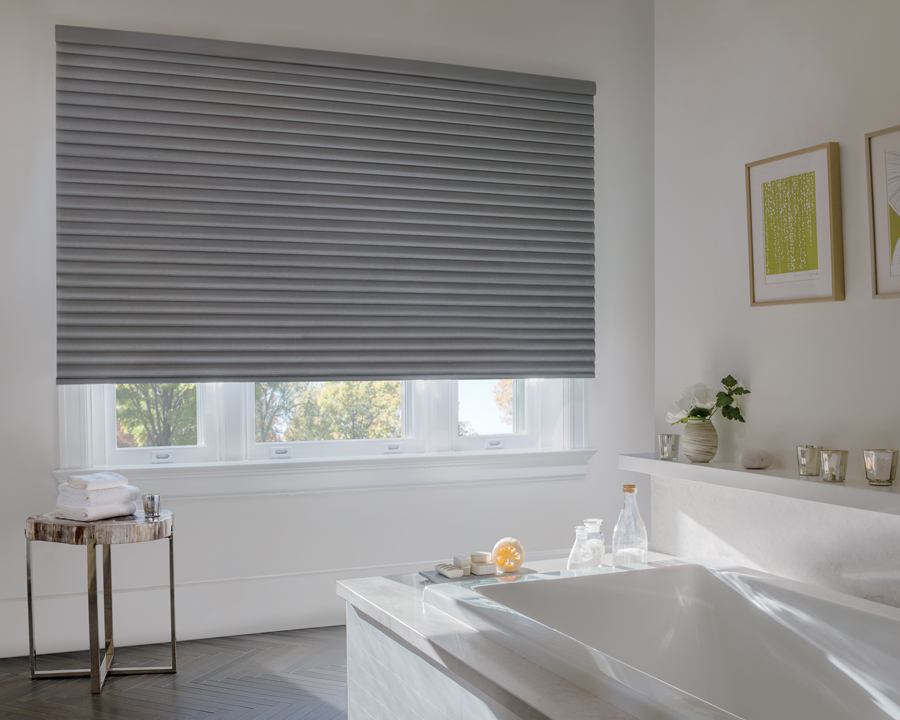 Privacy is easy. Covering your windows is simple. Even adding gorgeous style to your bathroom design is par for the course. But, we have to warn you. You may still get frustrated. Why?
I have privacy. How do I get some light in here?
This is what we call balance. This–in fact–is what most people are searching for. They want a lovely atmosphere that balances natural light with much-needed privacy. Finding balance is where the fun begins. We love showing your the fabrics, fit and features that can deliver exactly what you need.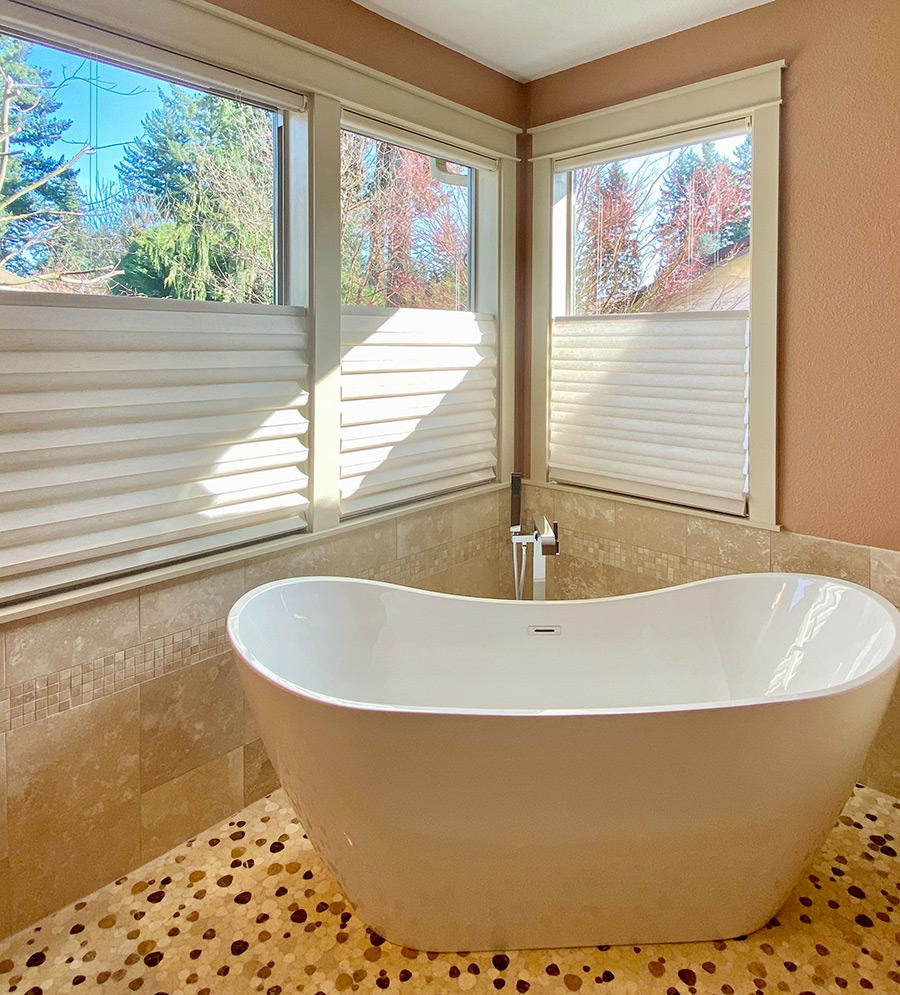 Top down shades are a popular choice for bathroom design that offers a window behind the tub. Why? This is a space, due to layout, where window treatments probably aren't going to be adjusted often. Top down bottom up allows you to leave your shades in an ideal position to maintain privacy while enjoying natural daylighting.
I want adjustments. What's the easiest way?
Based on your bathroom design, you may need to do regular adjustments. There are options for you! In the same layout, with the window behind tub, plantation shutters offer that top down concept with split tilt. How is this different? Motorization. When you add motorization to your shutters, blinds and shades, you change the atmosphere instantly. Your voice, remote or phone allows you access.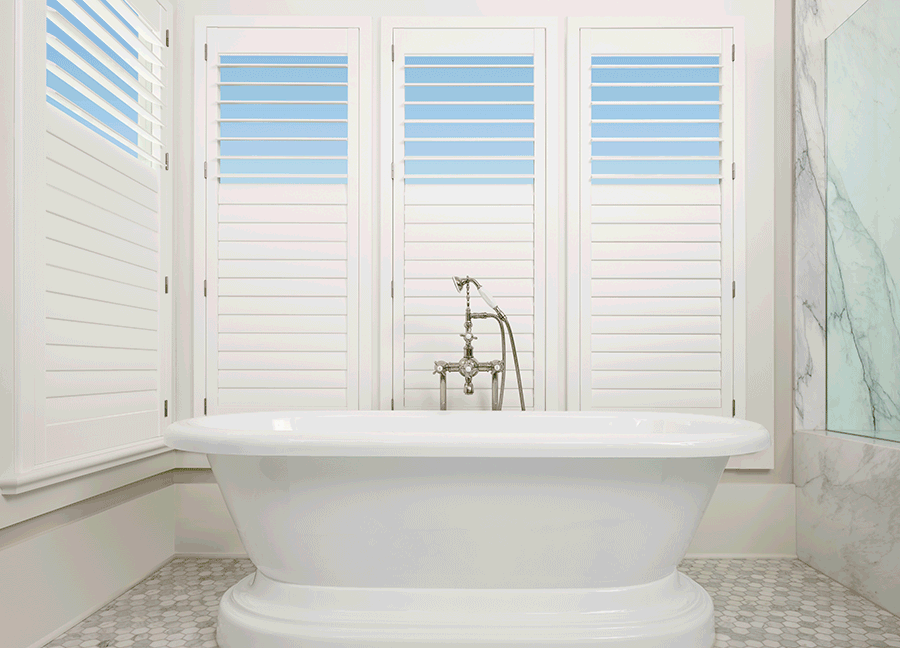 Motorized blinds, shades and shutters respond–easily integrated with other smart home elements, like Google Home or Alexa. Convenience and control come together to give you the ideal balance of privacy and light control.
How about smaller bathrooms, or smaller windows?
When you talk about smaller bathrooms, or just smaller windows, you really start addressing the idea of space. In smaller bathrooms, access to the window is usually easier…sometimes too easy. If you have children in your home, cordless or cord-safe is the way to go. Typically, smaller bathroom windows are within reach, making dangling cords a tempting (and often dangerous) toy for children.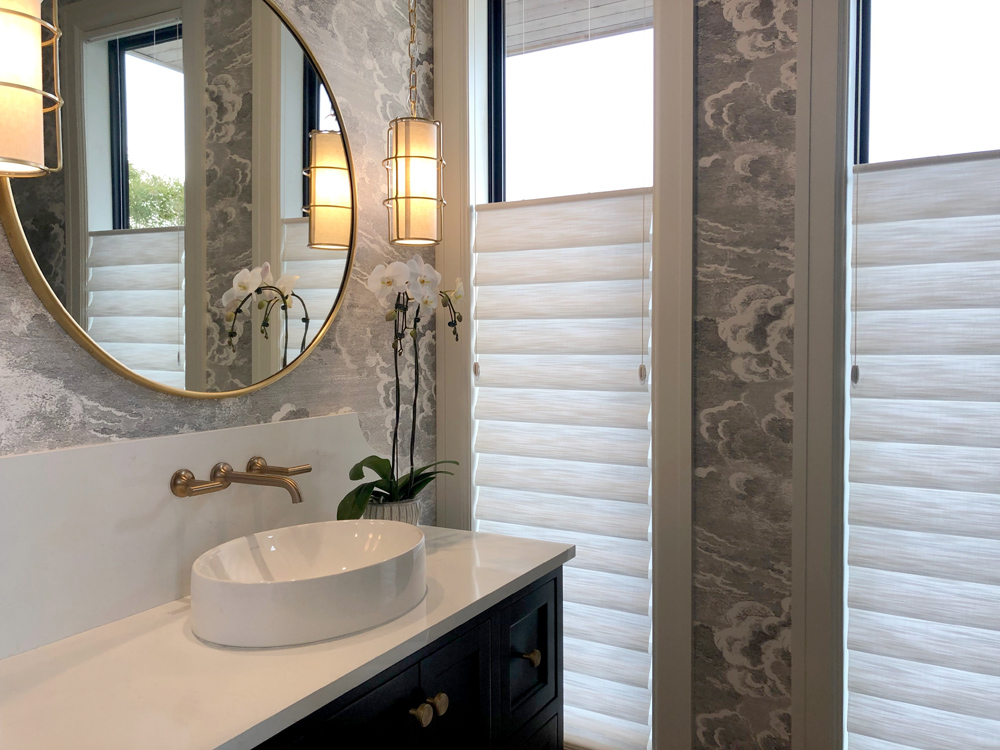 Old-fashioned blinds and shades make adjustments difficult. An easily accessible window becomes a nuisance, either closing the room off to natural light or staying open, inviting discomfort. With modern innovations, simple adjustments with your hand change the position of your window treatments. Effortless convenience combines with child safety for the perfect control.
Bathroom Design: I'm so overwhelmed!
We love working with our clients to make their design dreams a reality. Bathroom design can be a challenge because there are so many choices. You might spend months, even years, trying to figure out exactly what you want. Don't put off your dreams. Let us help.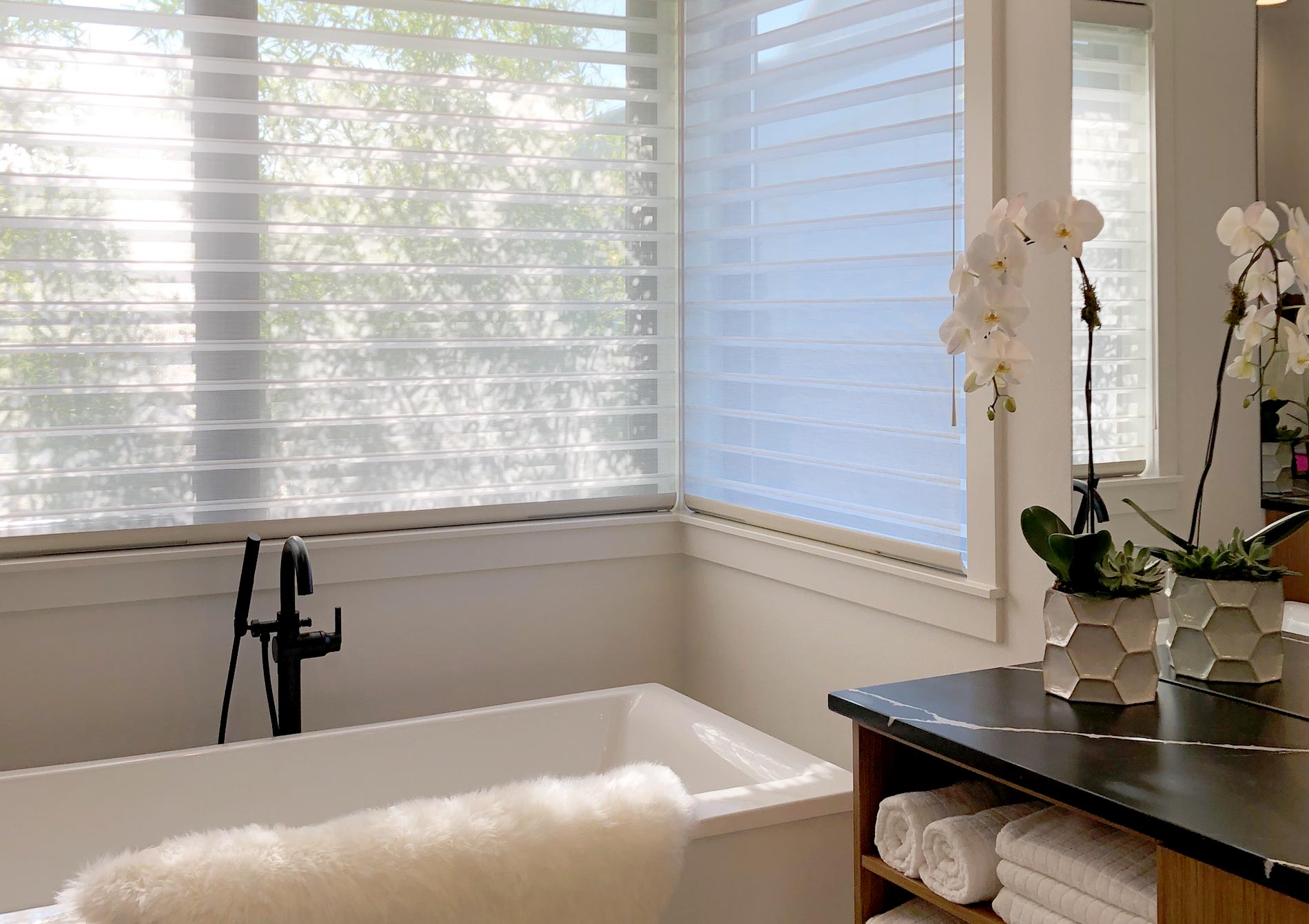 At Skyline Window Coverings, we sit down with you to listen to what you want–all the features and function you deserve. Then, we show you how it's possible. Our goal is to help you achieve the perfect balance of privacy, convenience, beauty and natural light. Sound difficult? We make it easy and fun. Contact our team for your FREE in-home consultation today!